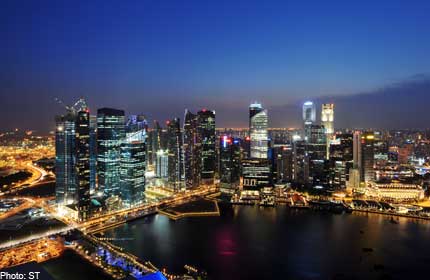 SINGAPORE -Singapore has overtaken Japan to become the largest foreign exchange centre in Asia, according to the latest survey by the Bank for International Settlements (BIS).
The Republic is now also the third largest forex centre in the world, behind London and New York.
The average daily forex turnover volume in Singapore grew 44 per cent to US$383 billion (S$490 billion) in April 2013, compared with US$266 billion in April 2010, when the BIS last conducted its triennial survey of global forex centres.
Global turnover growth in the same period was 35 per cent, said the report.
Average daily interest rate derivatives turnover volume in Singapore also grew 6 per cent to register US$37 billion in April 2013, the second largest volume on the continent, behind Japan.
The Singapore Foreign Exchange Market Committee (SFEMC) also carries out a semi-annual forex survey of the top 30 trading banks in the Republic. The most recent survey done for April 2013 recorded an average daily turnover at around US$381 billion, a 6 per cent increase compared to the last survey in October.
Key global centre
Ms Jacqueline Loh, deputy managing director of the Monetary Authority of Singapore, said: "The results of the BIS and the SFEMC surveys demonstrate Singapore's consistent standing as a key foreign exchange centre in the world and in Asia.
"Our growing strength in foreign exchange complements the development of capital market and asset management activities in Singapore. It will also better position our financial centre to serve the investment and risk management needs of financial institutions and corporates throughout Asia."
For the BIS' preliminary global results, go to http://www.bis.org/publ/rpfx13.htm.

Get The New Paper for more stories.