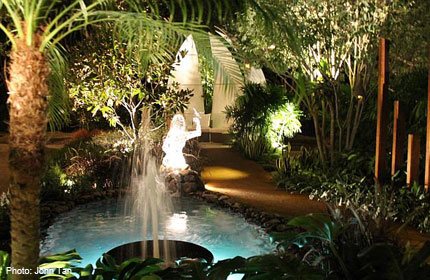 Despite battling heavy rains from a passing typhoon and working with a language barrier, a pair of Singaporean landscape designers has won the top prize at the Gardening World Cup in Japan.
Taking home the Gold Award and Best of Show in the international show gardens category, Mr John Tan, 53, and Mr Raymond Toh, 52, beat seven other international competitors.
With 100 sq m of space to work with, and a 6 million yen (S$75,906) budget, they built their whimsical garden from scratch. They partnered with a Japanese contractor, who helped them source for materials and build the garden.
But it was not all smooth running through the set-up phase of the annual competition, which took place at Huis Ten Bosch, a theme park near Nagasaki that has replicas of 17th-century Dutch buildings.
Mr Tan, who runs Esmond Landscape and Horticultural in Neo Tiew Crescent with Mr Toh, said: "Even though we had a translator, the Japanese contractor didn't quite understand how we wanted to execute the design I had drawn. And then Typhoon Danas came, and it was raining non-stop.
"We had to stop work and remove the plants so that they would not be damaged. We lost days setting up but I told myself there's nothing that I can do. We just carried on."
He has been there since Sept 30 to start building the garden. It was designed around the competition's theme of A Prayer For Peace With Flowers And Greenery.
They defeated tough competition, which included New Zealander Xanthe White, who won Silver at the prestigious Chelsea Flower Show two years ago, and Japanese designer Yousuke Yamaguchi, who worked at the Japanese Garden in the famed Royal Botanic Gardens, better known as the Kew Gardens, in London.
Praising his competitors, Mr Tan thought that the judges would pick Ms White's exhibit, which had a huge boulder with a waterfall carved into it, and a hut which was surrounded by ferns and orchids.
Mr Tan, who won Best Of Show at the 2010 Singapore Garden Festival with his treehouse-in- a-garden design, said: "I was surprised at the unanimous decision from the four judges that ours was the winner. Perhaps, they were used to seeing English-type gardens, and so, were more taken with our tropical design."
The duo's winning design - they were the only team of two - paid homage to Singapore's tropical landscape, using tropical plants such as Dendrobium white.
Background music and sounds of birds chirping and crickets noises were piped into a speaker system and filled the pavilion. Their piece de resistance was a wire sculpture of a woman with a bird on her hand, which they borrowed from local sculptor Victor Tan.
The team also got support from four Singaporean landscape designers, who flew to Japan on their own expense to help them set up. They were Mr Jeverss Choo from Mao Sheng Quanji Construction, Mr Chioh Ser Koon and Mr Low Yong Hoon from Far East Flora and Mr Vincent Chia from Tropic Planner & Landscape.
Mr Tan, who spent another 2 million yen of his own on top of the budget, said: "They wanted to be part of the experience and check out the show as well. Their feedback really helped. I was already tired from setting up the garden, so their fresh eyes helped me spot mistakes and they gave me advice on how to make it better."
The win is a feather in the cap for the team at the prestigious competition, which started in 2010. Though young, those in the gardening circuit compare the Gardening World Cup to the Chelsea Flower Show in London, which is known for its tough criteria, stringent judging and top gardens.
The Japanese show has attracted well-known designers such as British landscape and garden designer Andy Sturgeon and Australian Jim Fogarty.
Aside from the show gardens, there was also a home garden section, where seven designers worked with just 25 sq m of space and a smaller budget. All 17 landscape designers across both categories come from nine countries, including South Korea and France.
The show opened to the public last Saturday and will end on Sunday. Tickets cost between 2,000 yen and 7,200 yen, depending on the type of ticket bought.
There are also fringe events such as garden tours and floral arrangements displays to check out, including one by floral designer Harijanto Setiawan, who runs Boenga in Harding Road here.
He was invited to the show after winning the Silver-Gilt award at this year's Chelsea Flower Show.
Mr Tan said: "It's such a good feeling to win at such an event. I'm on top of the world. It was truly a Team Singapore effort."
natashaz@sph.com.sg

Get a copy of The Straits Times or go to straitstimes.com for more stories.