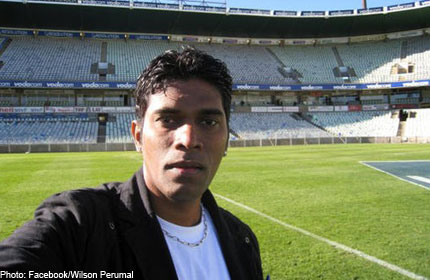 The covert operation started about seven months ago.
The target was to crush an alleged international football match-fixing syndicate with suspected Singapore links.
On Thursday, The Telegraph reported the success of the sting, which resulted in the arrests of six men in Britain, including a Singaporean, who is said to have played a vital part in the syndicate.
They were arrested on suspicion of fixing English football matches.
The New Paper can now disclose that anti-fraud agency SI Sports Intelligence was the one who started the ball rolling in May this year.
Said Mr Michael Pride, director of operations at SI Sports Intelligence: "I can't stress enough that these arrests are significant because the people involved aren't known for 'one-offs'.
Their syndicate has been around for many years and has been set up for that very purpose."
The agency had infiltrated the "kelong" outfit when its runners had tried to source for funds.
Slowly, the Singaporean man, 33, began to confide in the SI Sports Intelligence undercover operators.
The suspect, allegedly an associate of convicted Singaporean match-fixer Wilson Raj Perumal, claimed in numerous correspondences that football matches in Britain, other parts of Europe, Australia and South-east Asia could easily be fixed for a fee.
He had even boasted that Wilson Raj was his boss.
Wilson Raj was arrested in Finland in 2011 and was sentenced to two years' jail for travelling on a fake passport and bribery.
SI Sports Intelligence has provided TNP with first-hand accounts of how Wilson Raj, now a prosecution witness in Hungary, is linked to this group.
The Singaporean suspect had flown to the UK on a few occasions to meet his contacts.
Recently, SI Sports Intelligence's investigations reached a point where it was determined that all information and activities concerning this group should be handed to the UK authorities to act accordingly.
The Telegraph was also roped into the sting since it was already involved in its own match-fixing probes.
SECRET MEETINGS
The newspaper helped by recording the secret meetings, which has since appeared on its website.
Last week, the Singaporean, who previously owned a sports and events company here, had again met his contacts in the UK to allegedly fix two football matches in Britain's Conference League this month. The league is a lower division football league.
Luckily, his "kelong" plans failed in what has been described as the largest match-fixing scandal in the UK.
Said Mr Pride: "It wasn't a big team that started the sting. What's important is that you need to have someone in place, constantly looking for (matchfixing) threats.
"You can't get information by talking about match fixing at conferences. You have to be proactive."
Britain's National Crime Agency, which had detained the suspects, said on Wednesday that it was working closely with UK's Gambling Commission and the Football Association.
Among those arrested were three football players and a UK-based Indian man who works for a sports management company.
S'pore match fixer talks aboout work, boss
The alleged match fixer was in the UK for a job to fix two matches in the Conference League this month.
Below are excerpts of his conversation with an undercover investigator from SI Sports Intelligence.
Investigator: So, on Saturday, when we talk to players, you would ask them or tell them or what?
Fixer: No, once I meet them on Saturday - it's best I go alone - I talk to them. Double confirm. I will tell them, 'This, this, this is what I want.' So, tell me how many goals you can give. Give you at least five. I don't need five - 3-2 or 4-1 or zero. I don't need five, four is enough for me.
Fixer: One yellow card is about £5,000.
Investigator: But do they tell you who will take the card, or do you tell them?
Fixer: I say, 'OK, who is going to take the yellow?' One player will say he will. So I say, 'OK, in the first 10 minutes, I need to see the yellow. If there's no yellow (card), that's it, I will not pay you anything.'
Fixer: I have a boss I work for. I go. I've been to most countries. My boss... Investigator: Sorry, mate. I'm just thinking. Yeah, OK.
Fixer: You go to the Net, you search Wilson Raj Perumal.
Investigator: Wilson Raj Perumal?
Fixer: Kelong King.
Investigator: Kelong King? What's that?
Fixer: It's like match fixing, he's the king.
Investigator: Is he?
Fixer: Yeah.
Investigator: And he's your boss?
Fixer: Yeah. He's my boss. Everybody in the world knows him.
Wilson Raj denies connection
There was almost a hint of pride when the alleged match fixer spoke about his "boss".
The soft-spoken Singaporean, who had unknowingly disclosed intimate operational details about his kelong syndicate to an undercover investigator, was unaware that he was being recorded.
He was also being watched by the UK authorities.
The man had told his Caucasian listener at a UK hotel bar: "You go to the Net, you search Wilson Raj Perumal... Kelong King." The investigator must have appeared confused at the Singaporean slang or his less than perfect English.
The man, who lives in Hougang, quickly added: "It's like match fixing. He's the king... he's my boss.
Everybody in the world knows him."
Unfortunately, the man he had regarded highly did not share the same view.
Wilson Raj told The New Paper in an e-mail last night that he had nothing to do with the arrested man.
He said: "Yes, I know this guy very well. He was acting on his own. He was set up." Wilson Raj, currently a prosecution witness in Hungary, went on to say that the Singaporean man had called him from the UK.
He said: "I told him to be very careful (that) this may be a set up. Those guys wanted only UK matches and no other matches... "
This was not the first time Wilson Raj is blamed for an alleged fix.
In September this year, the Victorian police had named him for allegedly directing fixed matches in the Victorian Premier League in Australia.
Wilson Raj's syndicate was said to have earned A$2 million (S$2.3 million) in betting winnings.
AWARE
Referring to the man's situation in the UK, Wilson Raj said: "I know A to Z on what happened there because this guy was keeping me posted on what he was doing even though I never asked for it."
But SI Sports Intelligence does not believe him.
Mr Michael Pride, its director of operations, said: "Wilson Raj had in-depth knowledge of what was occurring in the UK.
"He has been actively seeking investors to support match-fixing activities controlled by him in several regions."

Get The New Paper for more stories.