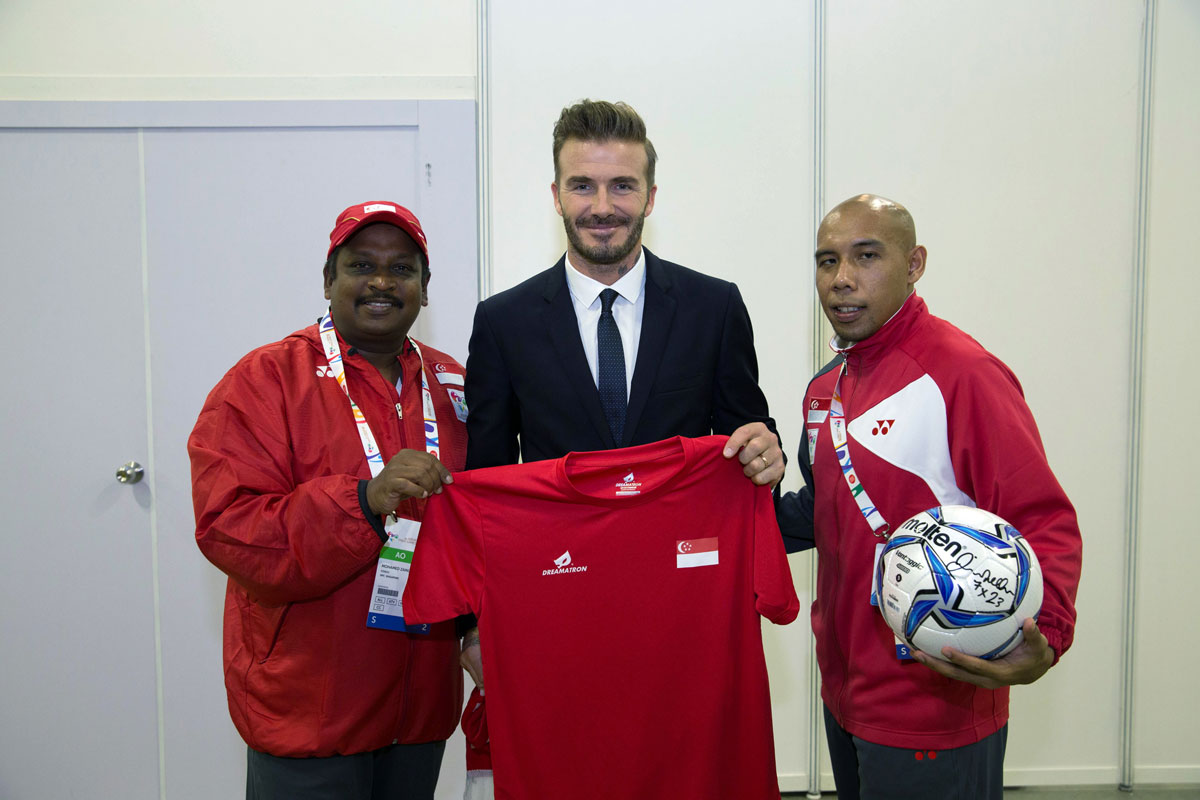 Over the past few days, Singapore cerebral palsy footballer Khairul Anwar Kasmani has captured the imagination of fans and caused nightmares for opponents with four stunning long-range strikes at the ASEAN Para Games.
Yesterday, as the 29-year-old sat in a private room at the Marina Bay Sands (MBS), it was his turn to be mesmerised.
He was told by coach Mohamed Zainudeen to expect a media interview.
What Khairul got next was totally unexpected: His idol walked in, looking as sharp as ever in a designer suit.
David Beckham - renowned for his magical set-pieces - warmly embraced the Singaporean, whose pile-drivers have seen him trend on Twitter and earn comparisons with the former England captain.
Beckham had been made aware of Khairul's left-footed howitzers by MBS staff and asked to meet him.
"When Mr Beckham saw my goals on an iPad, he said: 'Great job, amazing goals, keep it up,'" Khairul gushed to The Straits Times, his mood considerably brighter as Singapore had lost 5-0 to tournament favourites Thailand earlier.
"He also signed a ball for me. It made my day."
Khairul's resume of strikes include a swerving free-kick from 25m and a looping effort from the half-way line against Myanmar - reminiscent of Beckham's famous goal against Wimbledon in 1996.
The 40-year-old Englishman was in town to support Sands for Singapore, MBS' corporate social responsibility programme.
He also watched the five-a-side football game between Singapore and Thailand at the integrated resort's convention centre.
For Khairul, the five-minute meeting with Beckham - which was also attended by MBS chief executive officer George Tanasijevich and Sport Singapore chief Lim Teck Yin - was a timely perk-up before his team's final group match against Malaysia today.
He said: "David Beckham likes the way I play. I don't want to let him or my team-mates down."

This article was first published on December 7, 2015.
Get a copy of The Straits Times or go to straitstimes.com for more stories.