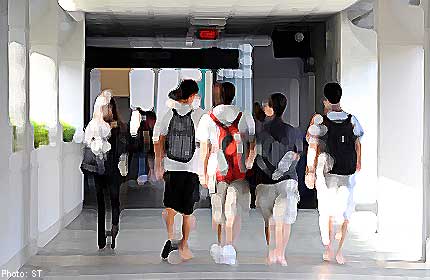 SINGAPORE - Since his mother retired from her job as an administrative officer three months ago, Mr Tan Yong Jie and his family have had to rely on their life savings.
But the third-year student at Singapore Polytechnic will now have a lighter financial load, thanks to the Singapore Polytechnic Graduates' Guild Endowment Fund.
"It will definitely help to pay for my school fees and I may not need to work odd jobs on weekends any more," said the 22-year-old, an only child who lives with his divorcee mother.
Mr Tan is one of the first 25 financially needy students to benefit from the fund, which was established in July last year by school alumni to help students who have fallen through the cracks of existing bursary schemes.
They received the fund award last month and will have a bursary of at least $1,800 each year.
The school is only able to help fewer than half the applicants who require financial assistance every year.
Many cannot benefit from the other financial schemes because their academic grades do not meet the requirements.
The fund stands at over $450,000, thanks to donors such as the Lee Foundation and former students who donate to their alma mater.
Fund chairman Jimmy Lim, 54, who played a key role in setting it up, hopes it will hit the million-dollar mark by the end of this year.
"I almost could not complete my first year at school back in the 1970s due to a dire lack of money," he recalled. "If not for the support, financial and otherwise, I would not have been able to obtain my diploma - a passport to the working world.
"Just as I was a beneficiary of kindness, I also want to pass on this torch of kindness in the form of a priceless gift of education."
goyshiyi@sph.com.sg

Get a copy of The Straits Times or go to straitstimes.com for more stories.