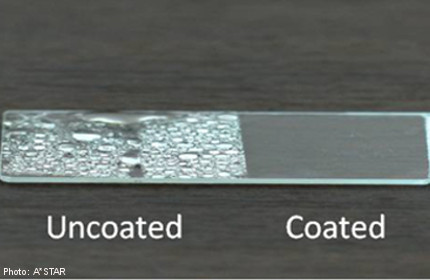 SINGAPORE - When it comes to fogged up glassware or windows, the best way to keep a clear view seems to be by wiping the water droplets away constantly or having coatings that prevent the water from sticking to the glass.
Scientists at A*STAR's Institute of Materials Research and Engineering (IMRE) have discovered that doing just the opposite - collecting the water to create a uniform, thin, transparent layer - actually helps produce a better, clearer view.
IMRE has invented a new technology, CleanClear, which is a durable and permanent ceramic coatingthat is transparent and superhydrophilic, which means it attracts water instead of repelling it.
This creates a layer of water that prevents fogging on glass or plastic surfaces, and keeps surfaces cleaner for a longer period of time.
Water-forming coatings create an additional uniform water layer to produce a better view as opposed to water-repelling technologies that form water droplets which impair vision.
The new ceramic coating is also durable, permanent and only needs to be applied once.
Currently, commonly used chemical coatings degrade easily with continued usage and have to be re-applied. IMRE's new ceramic coating is durable, permanent and only needs to be applied once.
"CleanClear could be used to help create a sort of a clear 'vision shield' for today's car windshields during heavy rain," said Dr Gregory Goh, the lead scientist from IMRE who developed the technology last year.
"Or we could use it to replace current daytime, UV light activated coatings with an all-day, all-night CleanClear coat on building facades to keep glass cleaner."
IMRE is in talks with companies to further develop and license the technology.