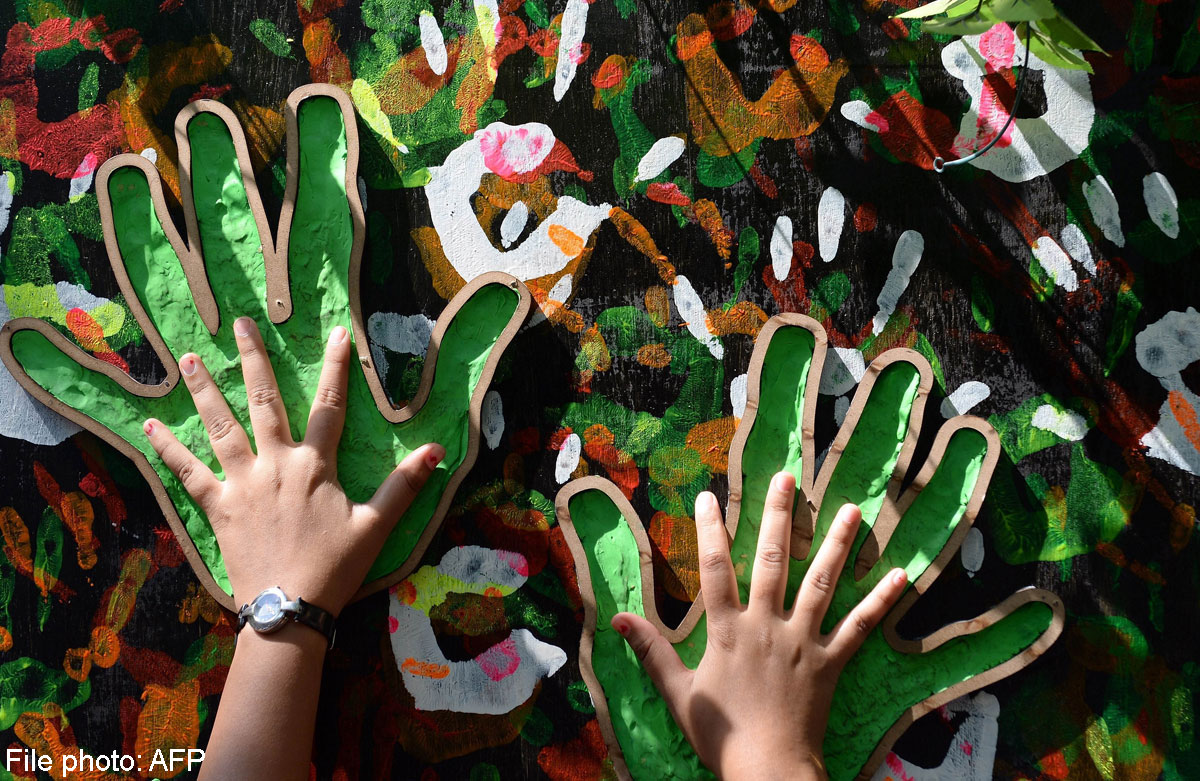 SINGAPORE - Three students from the Institute of Technical Education College Central represented Singapore in the recently-concluded Kala Ghoda festival, one of the largest arts festivals in India, which is held in Mumbai every year.
It was the first time Singapore students had participated at the festival, which took place in Mumbai from Feb 1 to 9.
The students, Shaul Hameed, Kenneth Chua and Muhamed Hanafi, were selected by Indian sculptor and artist Sunil Padwal based on the designs they had done for the CDL Sculptor Competition in Singapore. The competition took place last year to showcase Singapore's uniqueness as a city in a garden. Kenneth was the winner of that competition in the student category while Shaul was the first runner-up and Muhamed Hanafi won a merit award.
This initiative to send Singapore students to the Kala Ghoda festival was taken by Dragon Fly Productions (DFP), a non-profit organisation registered in Singapore and owned by Ms Payal Nayar and Ms Shalaka Ranadive.
The duo told tabla! that DFP's intention is to connect youths with established artists from Singapore and India across the multi-disciplinary arts and also bridge cultural gaps by organising specific cultural events and exchanges. DFP, together with the Arts House, brought Indian writer Jaishree Misra to Singapore for a literary collaboration and workshop in June last year as part of the World Voices series.
Keeping this in mind, the Kala Ghoda arts festival became the obvious choice to showcase the ITE students' works.
The three students, all 17, are currently in the second year of the Space Design and Architecture programme at ITE.
"It was just a coincidence that the three best designs chosen by Sunil were all from ITE students," Ms Nayar and Ms Ranadive said.
The students' installation at the festival was based on the theme of momentum and they were mentored by Mr Padwal. It featured a rocket-like runway and two planes, one which had already reached its height and the other in the process of ascension. The students used timber planks for the installation and took two days to complete it.
Speaking on behalf of the three students, Shaul said their participation in the festival gave them a new perspective on art and how it can coexist in day-to-day life among people.
He said: "The feeling you get from the festival is that art can change people's lives."
The students were also thankful for the mentoring they received from Mr Padwal. "After a visit to his studio in Mumbai, we realised what thinking out of the box really meant. What he taught us in those three days, no books can teach you," Shaul said.
This new perspective on art and a newfound love for pav bhaji, a popular fast food of Mumbai, was their biggest takeaway from the event.
Continuing on their cultural exchange initiative, Ms Nayar and Ms Ranadive have invited Mr Padwal to Singapore to exhibit his work and also conduct workshops for students in May this year.
DFP will also continue its association with the Kala Ghoda festival by taking more students and artists from multi-disciplinary arts to Mumbai next year.
ankitav@sph.com.sg

Get a copy of tabla! for more stories.