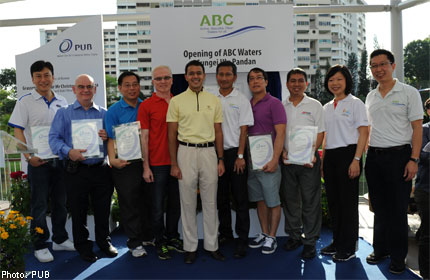 SINGAPORE - Residents living in the west now have another water playground to enjoy. Active, Beautiful, Clean Waters (ABC Waters) at Sungei Ulu Pandan was declared open by Guest-of-Honour Mr Christopher De Souza, Member of Parliament for Holland-Bukit Timah Group Representation Constituency (GRC) during the opening ceremony this morning.
This is the first river classroom under the ABC Waters programme. A 600-metre stretch of Sungei Ulu Pandan near Clementi Avenues 4 and 5 has been transformed to include environmentally - sustainable green features like cleansing biotopes, vegetated swales, floating wetlands and a sedimentation basin .
Mr Tan Nguan Sen, PUB's Director of Catchment and Waterways, said, "ABC Waters at Sungei Ulu Pandan is the first project to adopt the theme of River Classroom . We hope schools can make use of this outdoor living laboratory to carry out hands-on experiential learning and better understand the importance o f keeping the runoff that enters the waterway clean. "
Residents can also look forward to more community spaces by the water with new gathering and viewing decks, ideal as venues for outdoor classrooms, recreational activities and community bonding.
Arising from residents' feedback, a new design of staircase with a w heeling ramp is piloted at Sungei Ulu Pandan to ease cyclists from carrying their bicycles up and down the stairs.
Mr Tan added, "ABC Waters projects are built for the community to enjoy and use . We are happy to get the support of residents and community groups, whose feedback has helped us enhance the usability of this communit y space. Rain water from estates as far as Bukit Timah and Commonwealth drain into Sungei Ulu Pandan , we also hope everyone will take ownership of our waters and play a part in keeping our waterways free of litter."