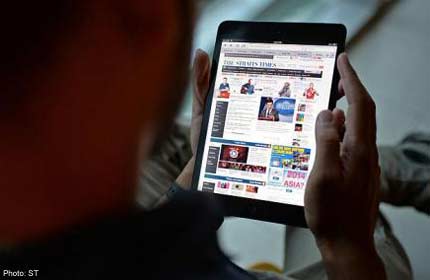 The Straits Times (ST) is still the most-read daily newspaper here, with its online and mobile editions reaching more readers this year, according to the Nielsen Media Index Report 2013.
The English daily maintained its combined print and digital readership - at 33.6 per cent of the population aged 15 and older, reaching out to 1.37 million people. Last year, its daily reach was 34.4 per cent, according to the annual report released yesterday.
Nielsen's annual study polled 4,073 individuals aged 15 and above over 12 months from July last year.
Excluding the digital edition, the print product was read by 29.5 per cent of people (or 1.2 million people) this year compared with 31 per cent (or 1.25 million people) last year.
This was a 1.5 percentage point drop, but the overall readership was bolstered by the growth in ST's online and mobile editions.
ST editor Warren Fernandez said the paper is thankful to its readers for continuing to make The Straits Times the largest-selling newspaper in Singapore.
"Many of our readers continue to read our print paper, and we will continue to serve them well," he said.
"We also know that many people, in Singapore and beyond, are turning to us throughout the day, across our online and mobile platforms, for the latest news on Singapore and the world. We are working relentlessly to meet their needs to stay up to date with the news, wherever they are," added Mr Fernandez.
In contrast, freesheet Today's combined daily print and digital readership dropped by 3.8 percentage points year-on-year to 14.3 per cent. It was the hardest hit of all newspapers here.
Excluding the digital versions, the reach of Today's print product fell by a larger 4.3 percentage points to 12.5 per cent.
Today's decline has put Chinese daily Lianhe Zaobao neck and neck with it as the second most-read daily. Lianhe Zaobao held firm with its readership, and secured a combined print and digital reach of 14.4 per cent this year.
Overall, close to seven in 10 people in Singapore still read newspapers daily, whether in print or online, although there was a slight year-on-year dip in readership numbers.
The latest Nielsen report put the total number of hardcopy and digital newspaper readers at 2.85 million daily, compared with 2.9 million last year.
But there was an upswing in media consumption via mobile devices, from 5 per cent last year to 12 per cent this year.
The study also found a decline in daily viewership across Media- Corp's Channel 5, Channel 8 and Channel U, registering an overall decline of 2.7 percentage points in free-to-air television viewership to 70.8 per cent of the population.
Daily cable TV viewership also dropped for the first time in more than a decade to 29.9 per cent. Last year, daily cable TV viewership stood at 32.6 per cent.
On the other hand, Internet usage rose, becoming the daily activity of seven in 10 people compared with two-thirds of the population last year.
itham@sph.com.sg

Get a copy of The Straits Times or go to straitstimes.com for more stories.