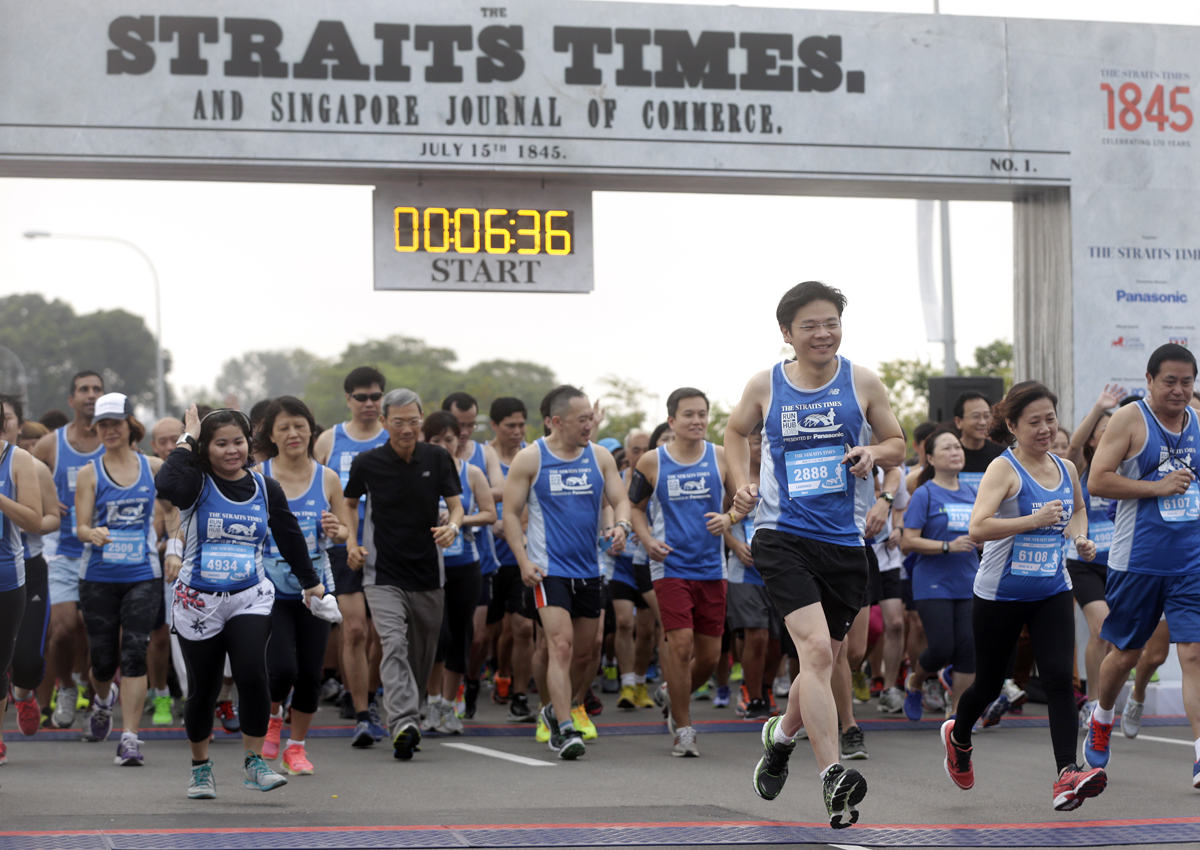 Clear skies, fresh air and beautiful sights were on the menu at The Straits Times Run at the Hub yesterday morning.
More than 20,000 participants from all walks of life rose early and were treated to clear views of Singapore's cityscape.
With the haze staying away early in the day, runners took in some of the city's famous and latest landmarks, including the new Jubilee Bridge, the Singapore Flyer, the picturesque Gardens by the Bay and Marina Barrage.
The run, presented by Panasonic, finished inside the 55,000-capacity National Stadium, where a post-race carnival welcomed participants.
Kenyan David Kibet, 27, was the first to cross the finish line, winning the 18.45km men's race in a time of 58min 33sec, while compatriot Margaret Njuguna, 46, topped the women's section in 1:12:06.
Mr Kibet said: "It's my first time running in Singapore. My friends who stay here told me to take part in the ST Run - I'm glad I listened to them."
Besides admiring stunning views of the city's waterfront landscape along the route, runners were also taken on a journey through the decades.
"The scenery is amazing, and we get to go past so many historical parts of Singapore," said Lissy Ukken, 48, an executive assistant.
At various points, they were entertained by music of different eras - from the 1950s to present day - accompanied by dancers dressed in the respective eras' fashion and a live acoustic band.
"The performers, the music along the way helped me to finish the race... especially when I felt like giving up. I thought I wasn't able to make it but I'm so relieved I did," said architectural assistant Raul Montoya, 41.
For some participants, it was apparent that enjoying the scenery and running experience was a highlight, taking precedence over a good timing.
Some of them stopped to pose for photographs with the performers, while others gamely took selfies with cut-out photo signs such as an afro hairdo.
"Out of so many runs I have taken part in, this is one of the most beautiful races," said Karan Kumwar, 41, an IT consultant.
Participants gathered at the Sports Hub as early as 3am to limber up and get the best starting slots for the 18.45km and 10km routes, which took off at 5am and 6.30am respectively.
Straits Times editor Warren Fernandez was present to flag off the mass runs, including the 5km fun run which Culture, Community and Youth Minister Lawrence Wong took part in.
This article by The Straits Times was published in MyPaper, a free, bilingual newspaper published by Singapore Press Holdings.