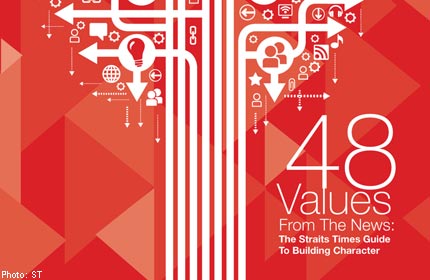 SINGAPORE - The Straits Times programme for values education has won a World Young Reader prize from the World Association of Newspapers and News Publishers (Wan-Ifra).
For the second time since 2010, the broadsheet topped the Learning With The News core category, which recognises outstanding achievements by a News In Education programme globally.
"Our enterprising Schools team is always on the lookout for creative ways to aid learning in the classroom," said The Straits Times editor Warren Fernandez.
"This latest award is further recognition of their efforts to connect with our young readers. We will not let up in this effort."
The paper launched a two-page section in its weekly magazine for secondary school students, IN, to address personal development and ethical issues.
It then produced a special 96-page teachers' handbook - 48 Values From The News: The Straits Times' Guide to Building Character - that showed how to use the news in class to discuss responsibility, choice and identity.
The two new initiatives led to a tie-up between the newspaper and the Education Ministry in July, under which the daily will be distributed to all secondary schools with special editions of IN on four occasions this year and next year.
The two issues this year marked Racial Harmony Day and the National Day Rally, and the ministry also purchased 800 copies of 48 Values to distribute to its character and citizenship education teachers.
Said the Wan-Ifra judges: "This is an extremely difficult topic to teach in schools, and difficult to address without being seen as a nag... Using the news- paper as a resource makes it a win-win for both the paper and the community.
"Not only did this programme act as an education supplement, it also provided emotional development tools during the crucial adolescent stage."
The Straits Times' Schools editor Serene Goh, who led the team on the project, said: "The newspaper - however we read it - is the only place you'd find inspiration here, disaster there, then suddenly, a picture of Miley Cyrus that's just inexplicable.
"These stories open up so much scope for discussion in class about what it means to live in this world, at this time. They get young people talking about what it means to be responsible or have respect, what it means to show kindness, and how to be part of a community. The news gives readers that chance every day."
Initially developed for teachers, the 48 Values handbook was so well-received that latter print runs included a new segment for parents to adapt its content for use at home.
It is available in major bookstores - such as Popular bookstore - for $15, including goods and services tax.
The prize will be awarded at Wan-Ifra's Youth Engagement Summit in Warsaw, Poland, in December.
Last year, The Straits Times' Schools team picked up two global awards for its event, the RHB-The Straits Times National Spelling Championship. In 2011, its STep education programme won the Young Reader prize from the Pacific Area Newspaper Publishers' Association.
serl@sph.com.sg

Get a copy of The Straits Times or go to straitstimes.com for more stories.