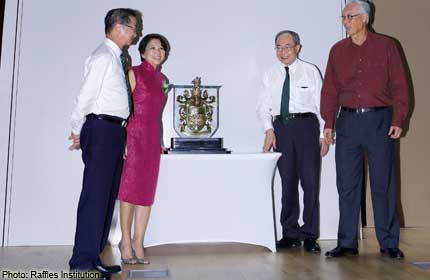 SINGAPORE - Emeritus Senior Minister Goh Chok Tong on Saturday warned of the threat of elitism, saying it can divide the inclusive society that Singapore is striving to build.
This may happen if society's brightest and most able think they made good because they are inherently superior and entitled to their success, when economic inequality gives rise to social immobility and the winners of meritocracy seek to be an exclusive social class not representative of Singapore society, he said.
And the way to guard against it is to adapt and strengthen the practice of meritocracy that has served Singapore well.
"What we need is to get the successful to understand that they have a responsibility to help the less fortunate and less able with compassion, to give back to society through financial donations, sharing of their skills and knowledge and spending time to help others do better...," he said.
He made the point at Raffles Institution's 190th anniversary dinner, where he received the Gryphon Award, which honours the school's most distinguished alumni. The citation was read out by Professor Tan Ser Kiat.
Mr Goh called on top schools to play a role in ensuring that elitism and a sense of entitlement do not creep into the minds of their students.
The Government, on its part, will continue to have policies and programmes that give a leg up to those who have fallen behind.
He said: "Those of us who have benefited disproportionately from society's investment in us owe the most to society, particularly to those who may not have had access to the same opportunities. We owe a debt to make lives better for all, and not just for ourselves.

Get The New Paper for more stories.