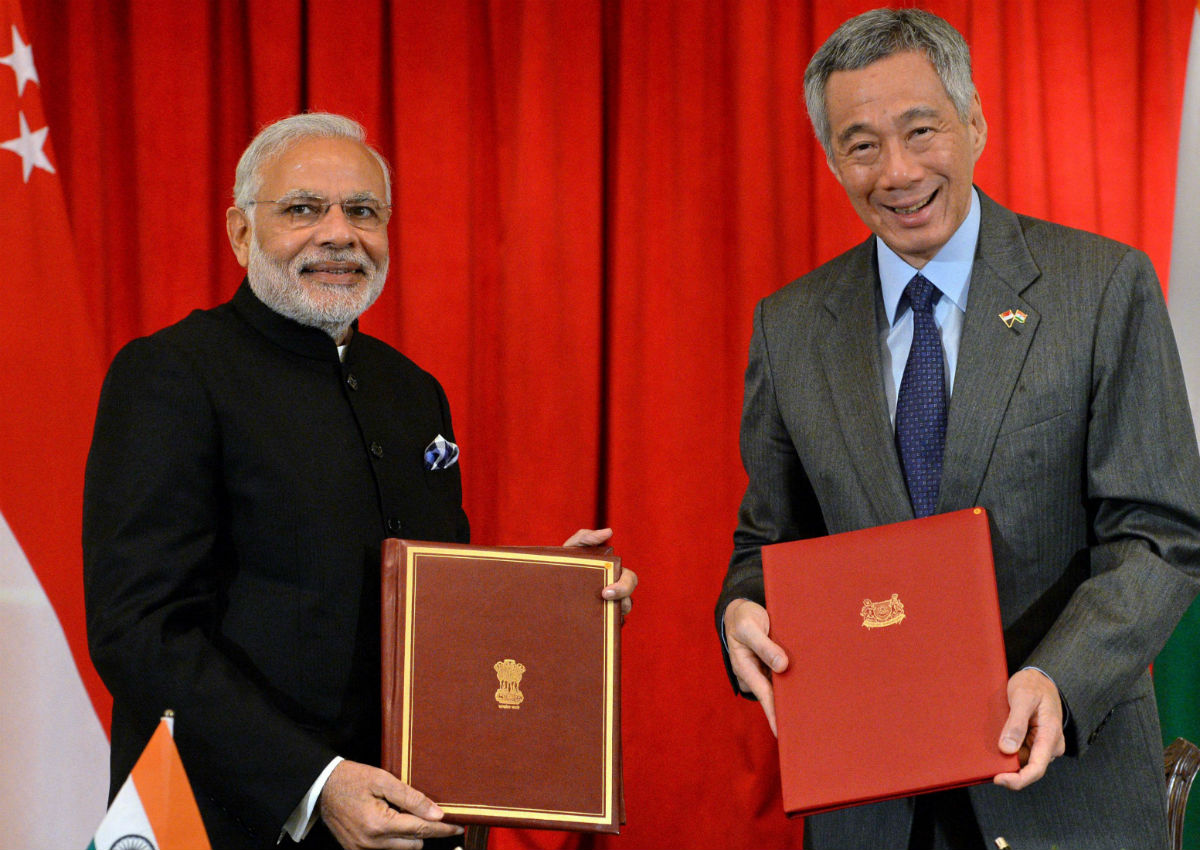 SINGAPORE and India just got closer. The two countries have entered into a strategic partnership, taking the already strong bilateral relations to a new high. The signing of an agreement formalising the strategic partnership was the highlight of Indian prime minister Narendra Modi's two-day visit to Singapore on Nov 23-24.
While the new partnership level strengthens co-operation between Singapore and India in vital areas like defence and economy, it extends to deepening cultural co-operation, skills development and capacity building, all of which open up new avenues for interaction between the people of the two countries.
What is particularly going well for the Singapore-India partnership is that the popularly-elected leaders of both countries seem to have developed a personal rapport. Mr Modi gave a hint of this in his Singapore lecture on Nov 23, when he said that Prime Minister Lee Hsien Loong and he had been on the road together in recent weeks having been at the G20 meeting in Turkey, and then in Kuala Lumpur for the ASEAN and East Asia summits.
The two leaders' closeness and informality was clearly visible when PM Lee and his wife hosted Mr Modi to a simple vegetarian dinner at popular eatery Komala Vilas in Little India soon after the Indian leader had delivered the Singapore Lecture.
Set out vision
At the Singapore Lecture, Mr Modi set out his vision for India as a modern and forward-looking nation, increasing India-Singapore co-operation going forward, expounded on India's Look East policy and for working with global leaders like China, US and Russia for promoting global growth and combating the evil of terrorism, which he said needs to be delinked from religion.
At the outset Mr Modi paid tribute to Singapore's visionary founding father Lee Kuan Yew, who believed in India's growth as a friend and well wisher of the country. He noted that the effective transformation of a nation begins with a change in the mindset of its people. Mr Modi said that he has similar aspirations for India and under the Clean India campaign the aim is to transform the way people live and work.
"We are moving on many fronts. The wheels of change are moving in India and spreading across the nation," said PM Modi, who was voted to power 18 months ago on a huge wave of popularity following his promise of clean governance, growth and jobs for the youth of the country.
"Singapore's success is an inspiration for India," said Mr Modi, who had previously visited the Republic as chief minister of Gujarat. He noted that as India opened up, Singapore become its springboard to the world. While there were strong business and economic relations between the two countries, there were also comprehensive defence and security relations.
Mr Modi said that Singapore would help "us to build the India of our dreams". Singapore's partnership with India that started with helping to build the landmark Information Technology Park in Bengaluru several years ago, has progressed well and the Republic is now at the forefront of helping to develop Amaravati, the new capital of Andhra Pradesh.
Moving to the world stage, Mr Modi said Asia's emergence as the growth centre of the global economy was the greatest phenomenon of our times. India is now the bright hope to sustaining growth in Asia. He said that as Asia is still finding its path, Singapore and India must work together to help achieve this.
The Indian PM valued the good working relationship between India and ASEAN and recognised ASEAN as the anchor for India's Act East policy. He said ASEAN is leading the way to Asian regionalism and he fully supported an early completion to the Regional Comprehensive Economic Partnerhip.
Links with ASEAN
Mr Modi said that as India is linked with ASEAN by geography and history, the 1.9 billion people in India and ASEAN must be more deeply integrated with each other.
"We must work hard to realise the full potential of the Asian century. Here in Singapore is where currents converge. Singapore will be a major player in India's journey," said Mr Modi.
The lecture was chaired by Mr Tharman Shanmugaratnam, Deputy Prime Minister and Coordinating Minister for Economic and Social Policies.
Prime Minister Lee Hsien Loong, Minister for Foreign Affairs Vivian Balakrishnan, Minister for Trade and Industry (Industry) S. Iswaran, and Acting Minister for Education (Higher Education and Skills) and Senior Minister of State, Ministry of Defence Ong Ye Kung, were at the lecture.
The Indian delegation included Mr Ajit Doval, national security adviser of India; Dr S. Jaishankar, foreign secretary of India and former Indian high commissioner to Singapore; Mr Anil Wadhwa, secretary (East), ministry of external affairs; and Ms Vijay Thakur Singh, high commissioner of India to Singapore.
More than 1,000 people attended Mr Modi's Singapore Lecture at Shangri-La Hotel, which was organised by ISEAS Yusof Ishak Institute.
Asked to comment on Mr Modi's talk, Switzerland's ambassador Thomas Kupfer said: "PM Modi's impressive speech showed clearly the new dynamic the Indian leader wants to give to India-Singapore and ASEAN relations. It demonstrated also very well the special historical relations between India and Singapore and its people."
Ukrainian Ambassador Pavlo Sultansky said he specially noted PM Modi's "trust in the huge capacity of India and hence his nation's responsibility for regional concord as a prerequisite of sustainable and harmonious growth globally".
Indian national Inderpreet Walia, who works in Singapore and was at the lecture had this to say: "Marketing of 'Brand India' has never been so important and he has been successful in infusing a new hope for a new India. As the Singapore Lecture series is designed to be a platform for contemporary issues, I believe PM Modi successfully promoted goodwill which can help strengthen the bond between India and Singapore."
On Nov 24, the Indian PM was accorded a ceremonial welcome at the Istana after which he called on President Tony Tan Keng Yam, and had meetings with ESM Goh Chok Tong and Prime Minister Lee Hsien Loong. PM Lee later hosted him to lunch.
Besides entering into the strategic partnership, Singapore and India signed a slew of agreements, including a vital one on furthering defence co-operation between the two countries.
Mr Modi presented Mr Lee a reproduction of a map of Singapore dating back to 1849. The map, measuring 52 inches by 52 inches, is based on a survey that was done during 1842-45.
The two leaders jointly launched two stamps. Depicted in the joint stamp issue are the presidential residences of both countries - Singapore's Istana, and the Rashtrapati Bhavan of India.
The Indian PM had a busy afternoon. Mr Lee took Mr Modi on a tour of the Institute of Technical Education in Ang Mo Kio, where the two leaders toured the maritime, aerospace and precision engineering sections of the campus. He also visited the Indian National Army (INA) memorial marker.
Later, the Indian PM addressed business delegates at the India Singapore Economic Convention held at Marina Bay Sands convention centre. He pitched the benefits of investing in India to the businessmen, describing India as a vast laboratory and Singapore an exciting incubator.
Mr Modi's last engagement in Singapore was his address to the Indian diaspora at the Singapore Expo. To great applause from the audience which was estimated to be around 18,000, he started off by noting that even though the Deepavali festival was over, the decorative light-up in Little India has been extended by a week, for which he expressed his gratitude.
The Indian PM noted that the world was applauding India and looking at it with trust thanks to the immense contributions of overseas Indians. Where ever they had gone, Indians had assimilated with the local population and contributed to progress through their dedication and hard work.
The progress of Singapore was an inspiration and an example of determination through its dramatic transformation over the last 50 years. "We may be a nation of 1.25 billion people but we have to learn a lot from Singapore," said Mr Modi.
The Indian leader highlighted that foreign direct investment (FDI) had shot up by 40 per cent since he took charge. While FDI was traditionally seen as inwards capital flows, for him the acronym meant first develop India.
Mr Modi said India needs FDI to bring about change in the country. For instance the country's huge railway network was in urgent need of modernisation.
For the first time, in a major policy change India now allows 100 per cent FDI in railways. "We must tap the global resources and bring in the latest technology. Railway is not just about transportation, I see it as an engine of transformation."
The Indian PM said India spends a lot on its defence imports. To encourage the making of defence equipment in India, the country had opened up the sector to 49 per cent FDI. For top technology projects even 100 per cent FDI would be allowed in the defence sector.
By the time the Expo event, organised by the Singapore NRI Forum, ended it was 10pm and Mr Modi headed off to the airport.
tabla@sph.com.sg

Get a copy of tabla! for more stories.