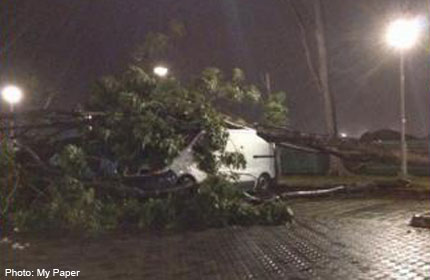 SINGAPORE - Strong winds yesterday morning felled several trees across the island, including one that collapsed onto a parked van at the Marina Barrage carpark.
Photos that captured the destruction from the uprooted trees were posted on citizen-journalism website Stomp yesterday.
Stomp contributor Andre Rufino Pereira, 23, said that he and his cousin found themselves in a "danger zone" while driving through the carpark at Marina Barrage at about 4.15am.
The national serviceman was giving his cousin a lift to work when they got lost, and decided to stop at the carpark to use a global-positioning-system device.
Mr Pereira told My Paper that they felt "a huge gust of wind shake the car", and saw leaves "flying everywhere".
"Sand from a construction site that was beside the carpark was also flying in the air," he said. "It was like a mini sandstorm."
It was then that they heard a tall, uprooted tree slam onto a stationary van, parked just about 25m away from their car, with a "loud sound".
"We were really shocked," Mr Pereira said, noting that it was fortunate that no one was inside or near the van.
"If the tree had fallen to its left side instead of the right, it could have hit us," he added.
Another Stomp contributor, who goes by the name Alex, said that he narrowly missed getting hit by a fallen tree while driving along Admiralty Road West at about 4.25am yesterday.
"The tree nearly collapsed on my vehicle," he said.
Separately, a netizen known only as Ct posted photos of uprooted trees that he saw in Chinatown.
He said that he was taking a stroll along Chinatown when the felled trees caught his attention.
tsjwoo@sph.com.sg

Get My Paper for more stories.