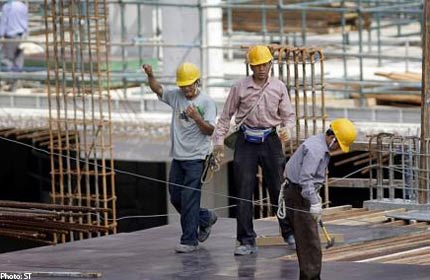 SINGAPORE - The collapse of a support structure on Wednesday in Sentosa left 10 workers injured and one dead – bringing the number of worksite fatalities this month to nine.
A 36-year-old Chinese national died on the way to the Singapore General Hospital, where he and the other injured workers were taken.
The Straits Times understands that nine of the surviving workers are in stable condition in hospital, with one in a high dependency ward. The remaining worker, Indian national Beljinder Singh, 28, has been discharged.
The 3.10pm accident occurred on the site where the island's three-storey Family Entertainment Centre is being built just behind Palawan Beach.
Preliminary investigations by the Manpower Ministry (MOM) showed that a group of workers was on top of a formwork structure which was supporting a mould for a beam that was being built. The structure collapsed as the concrete was being poured into the mould.
According to Mr Poh Hua Nong, project director with construction firm Debenho, which employs the workers, 13 people were on top of the three-storey-high structure when it fell.
Speaking to reporters at the scene, he added that the structure was only a few days old.
Mr Singh, who sustained cuts and abrasions to his right arm, right leg and forehead, said: "We were working then suddenly everybody went down. And I also went down. I'm lucky I fell to one side and didn't get hurt too badly."
He said this was the first accident he has witnessed in his five years of working for the company.
Sentosa Development Corporation's projects director Kwoh Kok Kiong said that work at the 15,000 sq m site began in the middle of last March and was due to be completed by the end of this year.
He added that the area of the collapse affected only an 18m section of the 78m-long beam.
Trams servicing Palawan Beach were diverted till about 8.30pm on Wednesday, after the cordons around the worksite were removed, a Sentosa Development Corporation spokesman said.
Investigations are ongoing and MOM has ordered all work at the worksite to stop for now.
This is at least the sixth construction site accident to occur this month – with three of them happening in the past week.
Last Thursday, a worker died after falling 19 storeys at a construction site in Sengkang. The day before, two workers fell to their deaths at a worksite along Fusionopolis Way at One-North.
On Tuesday, another worker fell four storeys to his death at a worksite along Eunos Road.
Mr Poh declined to comment when asked about how he felt about the recent spate of worksite accidents.
yeosamjo@sph.com.sg
Additional reporting by Linette Lai

Get a copy of The Straits Times or go to straitstimes.com for more stories.