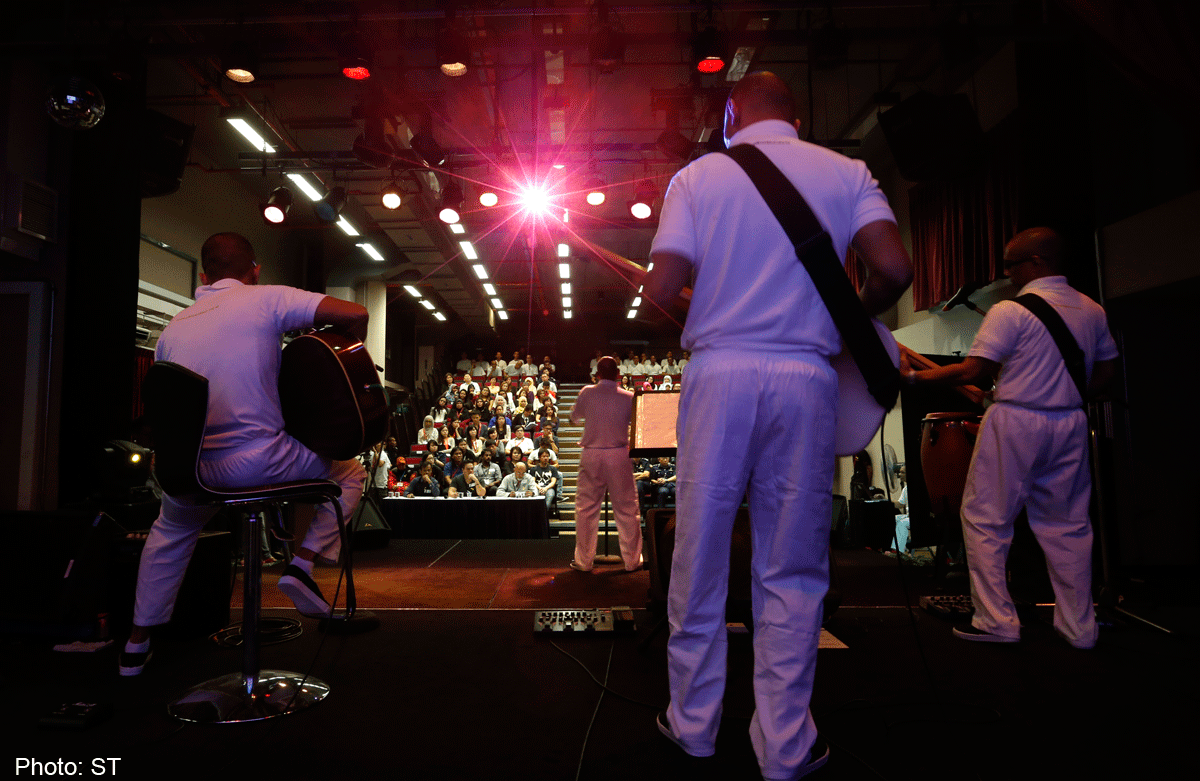 Having spent almost eight years behind bars after being convicted of drug charges, his hopes of finding love have been slim.
Azman's (not his real name) story of a man hoping for a second chance in life and acceptance was penned into a song, Only You, which on Friday won the best lyrics award at the Yellow Ribbon Songwriting Competition 2014.
"Only you in my thoughts, don't leave me here alone, I can't breathe on my own..." he sang.
The mentorship course and talent contest aim to use music in the rehabilitation of inmates.
The programme took place for the seventh time this year since it was first held in 2004. It was organised by the Yellow Ribbon Project, which is dedicated to the rehabilitation of former offenders, and the Composers and Authors Society of Singapore (Compass).
Ms Caroline Heng, the assistant manager of membership and public relations at Compass, said it allows participants to hone their musical skills, connect with their loved ones during performances and pave the way to future employment.
"Sometimes it's really hard to tell people 'I'm sorry', or 'I love you'," said Ms Heng.
"We wanted to use music as a tool to bridge the gap between inmates and their communities, and as a way for them to express themselves to their families."
The programme consisted of 12 three-hour sessions over 15 weeks, with inmates being taught how to craft lyrics, melodies and diction under the mentorship of local artists such as Jack & Rai, and songwriters like Derrick Tham.
Forty inmates took part after being selected through auditions, and 16 finalists pitted their compositions and vocals against each other in an emotional finale on Friday.
Love was a central theme for most of the songs - often love that inmates have received from family members as they serve their time.
In the song Two Hearts, 40-year-old Azman sings: "And we are here to show no mountain is too high... Someday you'll see we fly, embrace the sky."
Another song Azman penned for a fellow inmate, whose wife was frustrated by his incarceration, apologises for the anger and hurt caused. It pleads: "Please love our child, she needs so much more, so please love our child, she's mine, she's yours, she's ours."
In the audience, brimming with pride, were the performers' mothers, daughters, girlfriends and fiancees - their musical inspiration.
Azman said singing keeps him away from drugs. He hopes to pursue a career in music in the coming months when he is released early for good behaviour.
He has written more than 60 songs since his first songwriting course last year and bagged awards for best lyrics and best melody in this week's final.
"His songwriting talent has grown, his writing is sharper now," noted Ms Heng. "His voice has always been pitch perfect, it's quite amazing to hear a local performer sing like that."
Azman attributed his growth in music to the songwriting programme. He has spent the toughest eight years of his life in jail, hitting "rock bottom" but also learning to find himself. "I want to write more, and sing more, once I'm out," he added. "Pursuing a career in songwriting and singing is my dream."
hpeishan@sph.com.sg
This article was first published on Dec 21, 2014. Get a copy of The Straits Times or go to straitstimes.com for more stories.