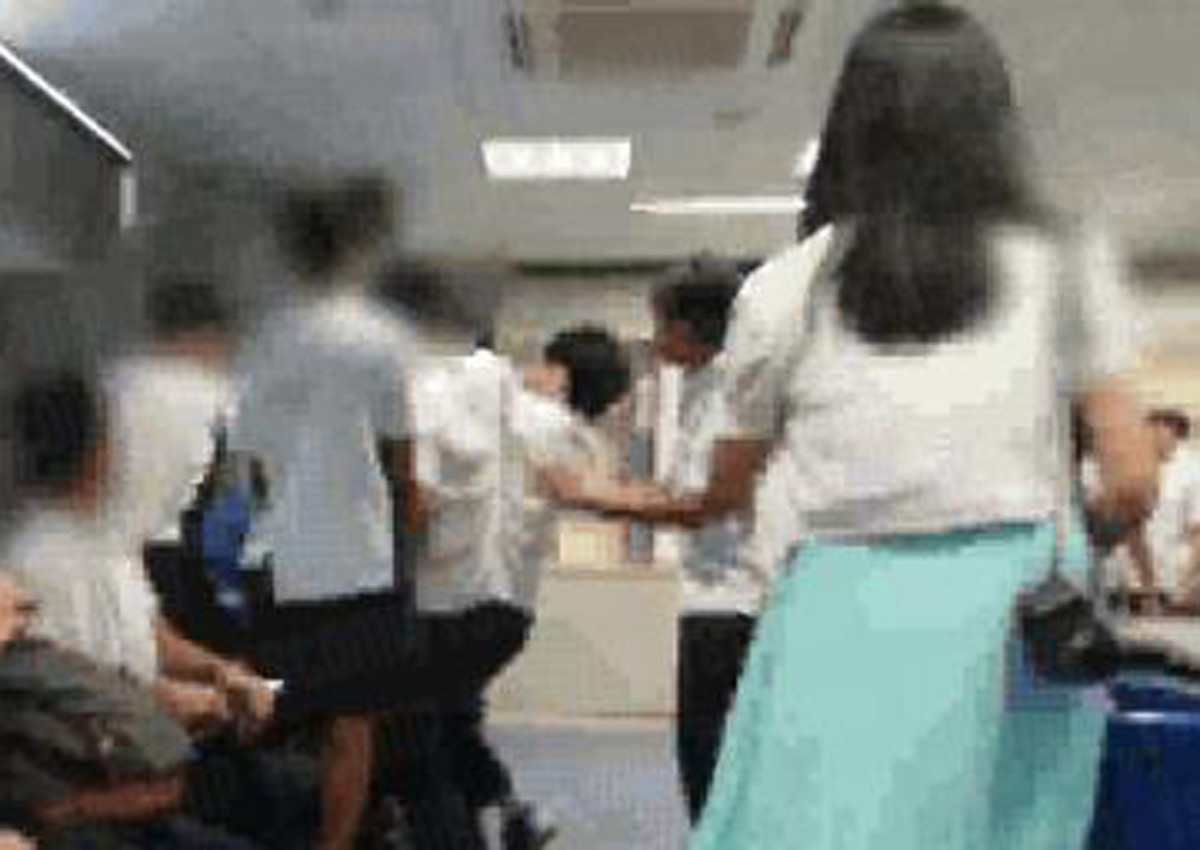 What was apparently supposed to be a joke between two boys turned out into a fight involving several Secondary Four students last Friday (Jan 22).
Stomp contributor D, whose child was in the class and saw the fight, shared a video of the incident that took place at Serangoon's Peicai Secondary School with the citizen journalism website.
According to D, the 'fight', which happened during a lesson, was supposed to be a joke between two boys. However, one of them took it 'seriously' and it became a real brawl.
This apparently led to some students joining the scuffle while others attempted to break it up.
D told Stomp in a phone interview:
"The lady in the blue skirt is the co-form teacher who filmed this as she wanted to use it as evidence.
"It seemed that she couldn't stop the fight because she feared for her safety, but she did manage to get some students to call a male teacher.
"Compliments to the teachers for their quick actions in resolving this issue."
Raising her concern about the increasing use of violence among youths these days, D added that her "main concern is that the students of 2016 are beyond teachers' control". 
D also said the incident was reverted to the school's discipline master, who advised the students involved. Their parents were also informed of what had happened.
The subject of caning children has always sparked debate among parents and the community.
Many modern parents feel that no one but them should be allowed to hit their kids, while others feel that the youths of today are getting out of hand and should be appropriately punished.
A recent report dated Jan 28 from The New Paper shared how a mother to a special needs child said: ""No one has the right to discipline my child except myself and my husband."
Mrs Jacqueline Sng had filed a complaint with the Ministry of Education two years ago after a teacher shouted at her daughter and pushed her to a 'naughty corner', where the child stood for 30 minutes.
Mrs Sng felt that the "punishment" was too harsh because as teenagers, "face is very important".
She also said: "If the teacher had not apologised, I'd have gone to higher authorities."
Housewife Rosaline Chee, 40, who has an 11-year-old son, also shared her sentiments.
"My son is so precious to me and it's not up to the teacher to punish him.
"If he misbehaves and has to be taken into hand, leave it to the parents. Teachers should focus on their role as educators."

Visit STOMP for more stories.