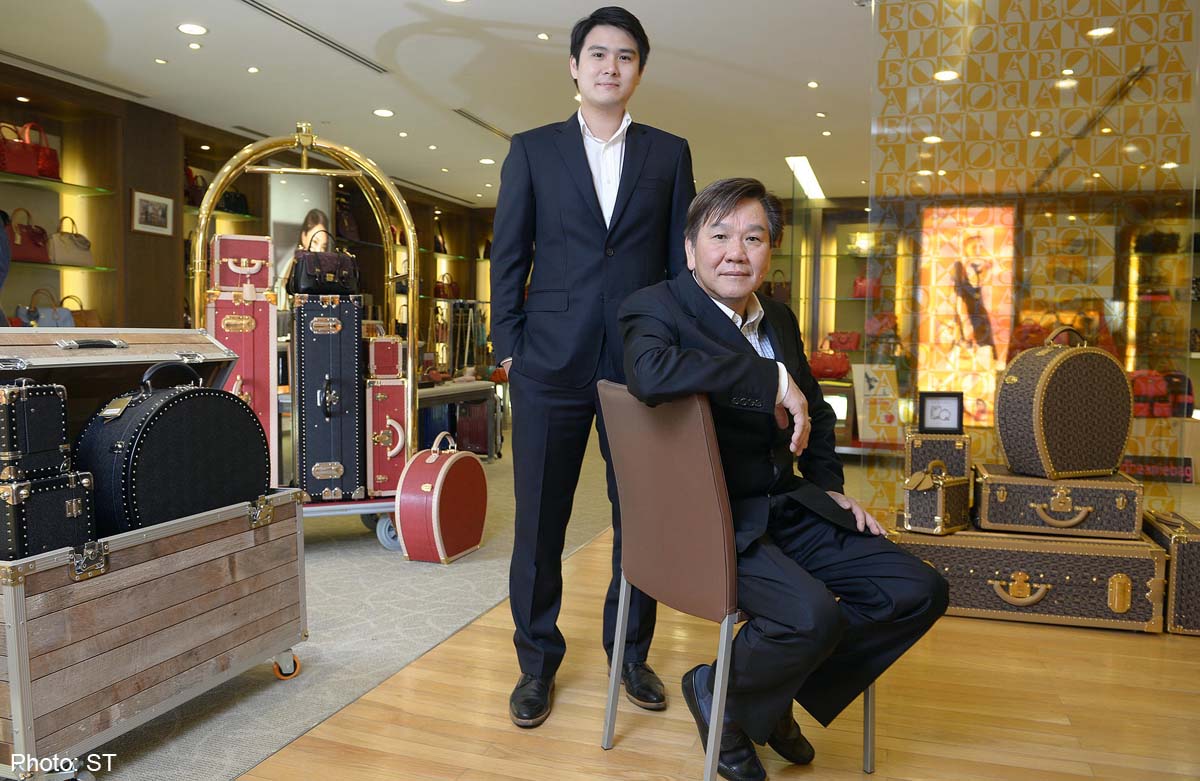 SINGAPORE - When he takes out a stack of sepia-toned photographs that date back to the 1970s, Mr Chiang Sang Sem, founder, executive chairman and chief executive of the handbag and accessories company Bonia, gets nostalgic.
He points to a boxy-shaped brown leather satchel that he is carrying over his shoulder in a photo taken in Rome, Italy, in 1979. A smile begins to crack across the quiet and reserved 60-year-old's face. Grinning with the child-like accomplishment of a 10-year-old who has just painted his first masterpiece, he says in Mandarin: "I made that."
It was 40 years ago that the Malaysia-born Singapore permanent resident ventured out on his own to start a bag-making business. He was 21 and the small factory was located in Geylang.
By then, he had already amassed about 51/2 years of experience working at other factories in Malaysia and Singapore.
Now, his business includes Bonia, Carlo Rino and Sembonia, and 13 other brands. His bags line the shelves of departmental stores and stand-alone boutiques across Asia and the Middle East.
He heads Bonia Corporation, which is listed on Bursa Malaysia, the Malaysian stock exchange. It had a total revenue of more than RM630 million (S$243.7million) in the last financial year, more than double its revenue in 2009. The group also has more than 30 subsidiaries.
The company has about 150 boutiques globally and its bags are available at 1,000 points of sale.
Bonia here has long been associated with the aspiring middle class and characteristics such as style, quality and value. The average price of a handbag is about $350.
But over the years, with the use of more expensive materials such as ostrich leather, Italian leather and the introduction of crocodile-embossed calf leather; plus progressive and on-trend Italian designs by an Italian bag designer, the brand has begun to shed its stigma of making bags for just "aunties".
Remove the Bonia tag and some of the bags in its showroom at Bonia House in Defu Lane could easily pass off as ones designed by a high-end Italian label.
In fact, a close look at the stitching and hardware of Bonia's new collection showed that the workmanship is right up there with some of the best.
These days, its bags are by no means cheap, especially with some priced in the mid- to high hundreds.
Asked if the brand's signature jacquard and monogram fabrics and canvases, as well as its Boston bags, are inspired by a certain French fashion house and Mr Chiang laughs.
He says: "There will always be classic bag designs and the Boston bag is one of them. Designs and colours also move in cycles. Many brands have a jacquard print. There is still a market for it and it has been one of our signatures for over 20 years."
Locally, Bonia bags can be found in stores such as Takashimaya and Tangs as well as at the brand's six stand-alone boutiques at Changi Airport Terminals 2 and 3, Jurong Point, North Point, Westgate and Bedok Mall.
The son of rubber tappers, Mr Chiang is the oldest of nine children. They grew up in a kampung in Malacca.
He could not afford to continue his studies and knew that he would have to support himself. So he left the town for greener pastures in Penang, where his father's younger brother was based, at the age of 15.
He worked for two weeks as a cinema attendant but realised soon after that there was "no future in it", and decided to take up a job at the handbag factory of his uncle's friend.
With no experience or skills, he was eager to learn everything in the small factory that employed about 10 people.
It helped that he used to enjoy drawing and working with his hands when he was a child, so designing and sewing were skills he picked up naturally, he says.
He worked in Penang for two years, earning RM15 a month, doing everything from cutting polyurethane and PVC and fashioning the piping around the edge of the bags, to stitching and glueing the pieces together.
He moved to a larger bag factory in Kuala Lumpur, where he worked for another year before coming to Singapore.
He says of the move: "A lot of good things seemed to be happening in Singapore at the time and I thought the country had potential."
Here, he started work in yet another bag factory, in 1971. By then, with his experience, he was earning $60 a month. He moved again and the tenacious man had worked his way up to a design supervisor, with a monthly salary of $200.
In 1974, he cobbled together his savings of $1,200 - he borrowed another $3,800 from relatives - to start his own factory with seven workers, three of whom were his younger brothers. The factory was located in Geylang.
He paid them $1 a day and did not pay himself for the first few months.
Life was tough at the start but he persevered. He bought a second-hand sewing machine, slept on a foldable bed in his factory and worked 15-hour days, six days a week. Having worked in Singapore for more than two years before starting out on his own, the business-savvy founder had already built up a strong network of suppliers and customers.
He and his team produced bags for other companies whenever orders were placed, making 50 to 60 bags a day. During Chinese New Year, they worked every day to meet the demand. He would sell the bags at $3 or $4, and made about 50 per cent on each bag. Come Chinese New Year, he would charge $5.
He would then deliver them personally, with as many bags as he could transport on his motorcycle. "Balancing on my motorbike was not a problem," he says with a chuckle.
It took about four months to recoup what he had borrowed and, before long, his prospects started looking brighter. He moved to bigger factory spaces around the island, from Geylang to Aljunied to Eunos, hired more workers and upgraded from motorbike to a car - a Datsun, a Mazda and, later, a Mercedes- Benz.
By 1978, he had 70 to 80 workers in Singapore and had set up a factory in Johor Baru. The factories would produce bags as licensed manufacturers for other brands.
It was also at about this time that he began making and selling bags under his own label, Bonia. He realised that there was a lot of money to be made in the retail business as well.
In 1981, he moved the Johor factory to Kuala Lumpur and opened the first Bonia boutique at City Plaza in Geylang. In 1990, he opened another factory in his hometown of Malacca.
Listing the company in Malaysia in 1994 was a dream come true for the kampung boy. His two younger brothers also sit on the board of Bonia Corporation.
Things were looking up, says Mr Chiang, who is married with five children and lives in a semi-detached house in the Katong area, when not working in Kuala Lumpur.
He has four sons - William, 36; Alex, 34; Daniel, 28; and Fong Xiang, 25 - and a daughter Christine, 26, all of whom work in the company, running different brands and segments of the business.
One of his sons died in a car accident in 2000 and he does not want to elaborate on it.
Getting to where he is now was not all smooth sailing, Mr Chiang recalls.
He was hit when retail chain Emporium Holding, which had 22 shops islandwide, went into receivership in 1986. Sales at the chain accounted for about 30 per cent of his turnover at the time.
And slowly, other departmental stores which also stocked his bags started closing in Singapore, including Japanese chains such as Yaohan and Daimaru. Then came the Asian financial crisis, which erupted in 1997/1998.
His mood turns sombre when he recounts how he had to close his Singapore factory after two rounds of retrenchments and sell off nine properties at a loss to pay creditors.
The company almost became insolvent and he says his heart ached at the thought of losing something he had built up from nothing. The company's share price dropped from more than RM10 to about 50 sen. "It was the darkest point in my life," he says, shaking his head. "We were over-committed. We had expanded too quickly."
He had months of sleepless nights. At times, he says he felt so helpless that he would head to his favourite spot at the Minds Resort and Golf Club in Kuala Lumpur just to escape, and to try and clear his head.
Friends who saw him through these dark days include Mr Sandy Liao, 62, who also runs a leather manufacturing company, and Mr Tan Kheng Kwang, 64, a retiree who had worked in merchandising advertising. They have been friends for more than 25 years.
They say that while Mr Chiang keeps silent about his troubles, he is a dependable friend.
Mr Liao says: "We had met about 25 years ago and were friendly competitors at the time. We bonded over exhibitions and industry talk about leather goods.
"It was a tough time for all of us, and though quiet, he shared his troubles because we spoke the same language, coming from a similar industry, running a family business. But he is never one to rest - he is always thinking ahead."
It took two to three years to recover from the effects of the crisis. Since then, Mr Chiang has learnt the importance of having a strong cashflow. He also restructured the business as a cautionary measure to weather further downturns.
Sars in 2003 affected the company, causing a 50 per cent drop in sales over a two-month period, but it emerged from the global financial crisis five years ago largely unscathed.
These days, Bonia runs three factories - in Malacca, Kuala Lumpur and Guangzhou. The China factory is a joint venture. In all, the factories employ 4,000 workers. The company has about 7,000 employees on its payroll, if other staff such as bag promoters are included.
Of his father's work ethic, Daniel, who has been exposed to all parts of the business for the last six years, says: "It is always about thinking ahead and he is never stingy with his advice.
"There are expectations, but he has a big heart and is open to new ideas and empowers us with opportunities to make decisions."
The older Mr Chiang's mood livens up again when asked about the inspiration behind his bags. He says: "My first trip to Italy was amazing. I was so inspired. Italy was the fashion capital in those days."
He gesticulates animatedly about bags he saw, his eyes wide open with enthusiasm.
Ask him how he came up with the brand name Bonia and he says it was partly because he visited Bologna on that trip back in 1979. "Bologna, Bologna, Bonia.... it sounds quite good, right?
rltan@sph.com.sg

Get the full story from The Straits Times.