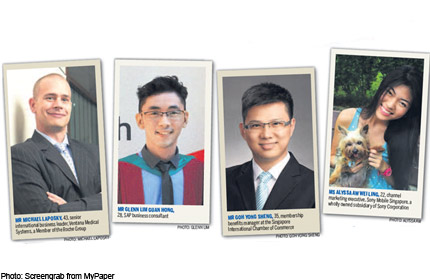 Moving on to a new role
I was a regional (APAC) marketing manager at Roche Diagnostics when I started theUniversity at Buffalo (UB)Executive MBA (EMBA) programme at the Singapore Institute of Management (SIM). Upon its completion, I was transferred to the United States and now have global portfolio responsibility for our main cancer diagnostics platforms.
I pursued an advanced degree as I felt it was necessary to sharpen my global business acumen in order to advance my career. I chose the programme because it offered the flexibility to gain a formal business education while maintaining a very heavy travel and work load. I was also impressed by UB's established history in Singapore for its longest running EMBA programme.
The programme sharpened my strategic thinking skills and gave me greater confidence whenworking across different functions, such as finance, operations and marketing.
Clinching a job interview
I graduated with a diploma in IT majoring in financial informatics from Nanyang Polytechnic and then worked as aweb designer with A*Star. In September 2011, I pursued a double major in Cyber Forensics, Information Security and Management, and Business Information Systems by Murdoch University, Perth in Western Australia at SMF Institute of Higher Learning, formerly SMa Institute.
Business acumen and analytical skills are highly sought after in any enterprise today and the career prospects that come with the degree are huge.
I would not have clinched my current job if I had not picked up the skills to be a business strategist to help companies cut cost and generate profits from the course.
I took the Business Intelligence module and did my research on SAP, IBM Cognos and Micro strategy which contributed to my knowledge on how to tackle data and convert them into something meaningful and useful for corporate use. It came in useful during my job interview.
A sense of personal growth
I embarked on PSB Academy's Diploma in Business Administration in 2007 and progressed to the Bachelor's Degree programme with Loughborough University at PSB Academy and graduated in September 2013.
The Diploma programme had given me a good foundation which led me to the degree programme. I chose this course of study as it was relevant to my job. Loughborough University has a reputable standing and the lecturers were helpful in preparing us to meet the university's rigorous standards.
From the degree programme, I've gained training and exposure to business concepts which are current and applicable in the business world. The overall learning experience had been positive for me as my thinking was stretched and new ideas piqued my curiosity further.
As a result, I'm now empowered to become a more effective business executive.
PSB Academy and the programme have played an important role in my professional and academic development. I feel that I'm well prepared to take on senior or leadership roles in the future.
Successful career switch
After completing my studies at Singapore Polytechnic's School of Business with a Diploma in Human Resource Management with Psychology (with Merit) in 2010, I started my career as a management support officer. But I decided to take up full-time studies to pursue a Bachelor of Science (Honours) in Marketing to increase my chances of a career switch to marketing.
The degree programme was awarded by the University of Bradford, United Kingdom, in partnership with the Management Development Institute of Singapore (MDIS) in 2011. It went beyond inculcating the fundamental theories of marketing strategies, enabling me to learn through real-world applications through practical assignments, research and analysis.
I graduated this year with first class honours. Prior to my convocation, I clinched a job with a multinational company as a marketing executive. I knew I could count on applying my knowledge and skill sets gained from the programme. The soft skills that I acquired in the programme such as presentation, teamwork and leadership also boosted my confidence as I embark on my new career.

Get My Paper for more stories.