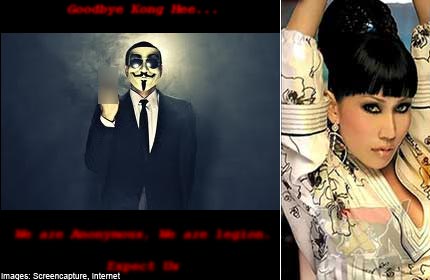 SINGAPORE - The hacker who on Monday infiltrated the official website of City Harvest Church co-founder and pop singer Ho Yeow Sun, popularly known as Sun Ho, has claimed to be from international hacker group Anonymous.
If true, this could be the first time the hacktivist group has claimed credit for hacking a Singapore website. This also raised concern over who Anonymous could strike next here.
The hacker's claim was made on a webpage hosted on a Spanish site that netizens posted links to yesterday.
Going by the name The Messiah, the hacker threatened in a message to leak personal data of City Harvest supporters, because Anonymous took issue with the church.
He said Ms Ho's website had data of 5,000 users, such as their names, e-mail addresses and passwords.
Anonymous has claimed responsibility for many high-profile hacking attacks on corporations, government agencies and religious groups globally.
In July, the group said it hacked into servers of the United States' Federal Emergency Management Agency and leaked online what seemed like contact details of people linked to the agency.
Anonymous also took credit for hacking Sony-branded websites in 2011.
In his message, The Messiah criticised City Harvest repeatedly, and said Ms Ho's website was targeted as she was the church's global representative.
He added that Anonymous intends to send evidence gathered, presumably against City Harvest, to the Government.
Church founder Kong Hee, who is Ms Ho's husband, and five church leaders are on trial for a misuse of $50 million in church funds for financing Ms Ho's pop career in the US and for covering this up.
IT security experts told My Paper that the cyberattack on Ms Ho's site had characteristics similar to those of previous Anonymous online incursions, namely site hacking and potential leak of gathered data. Still, it is not certain that the hacking was done by the group.
But, if Anonymous was responsible, this would be the first time the group has claimed credit for hacking a website here, said Mr Wahab Yusoff, vice-president of McAfee in South Asia.
Mr Paul Oliveria, security lead of TrendLabs at Trend Micro, said: "Attacks like these can be borderless. Regardless of who the attacker is or claims to be, businesses and organisations should always prepare for worst-case scenarios."
In January, Minister for Communications and Information Yaacob Ibrahim said in Parliament that the Government "takes a serious view of security breaches and remains vigilant to cybersecurity threats".
Replying to questions over People's Association websites being hacked late last year, he added the Government has put in place "stringent security measures to secure our government websites".
tsjwoo@sph.com.sg

Get My Paper for more stories.