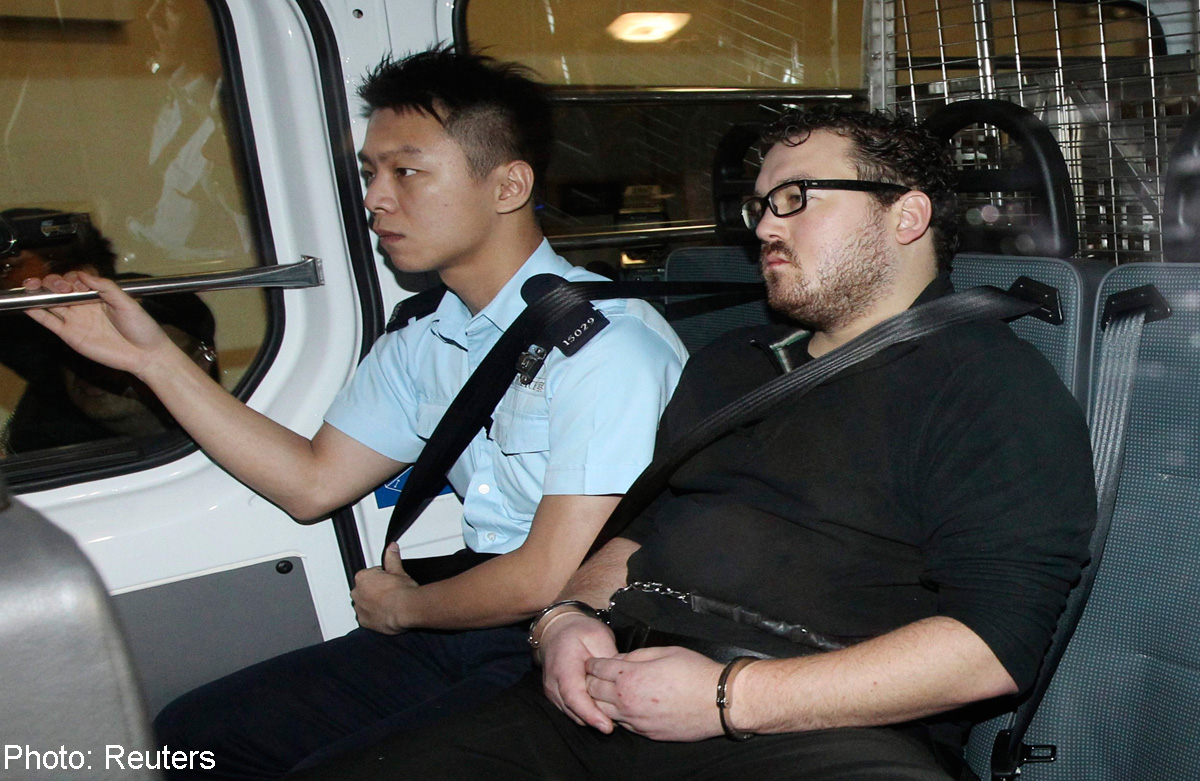 Fresh claims have emerged that the British banker charged with the murder of two women in Hong Kong was obsessed with having sex with "two or three women".
One woman's decomposing body was found in a suitcase on the balcony of his luxury flat, and another was found with her throat slashed. Both women are Indonesian. (See report, right.)
Rurik Jutting, 29, who until recently worked with Bank of America Merrill Lynch, also held drug-fuelled parties lasting for days at his plush Hong Kong flat, the Mail Online reported.
Meanwhile, an acquaintance in the banking industry recalled Jutting being distraught two years ago after his then-fiancee allegedly cheated on him with another man.
The woman, named by UK daily The Telegraph as Sarah Butt, 28, a British trader, had met Jutting in 2010 when they were both working for Barclays in London. She reportedly had an affair after moving from London to New York.
"She wanted to marry him (Jutting)... and he proposed, but she ended up cheating on him," the source was quoted as saying. "It was him ultimately who broke it off. I think he took her infidelity quite badly."
British TV station Channel 4 quoted a former girlfriend as saying that Jutting was deeply unhappy because of his job.
The woman, who did not want to be named, dated Jutting for about two months after meeting him in July last year, the month he moved to Hong Kong. They met at a bar where she worked.
"He's a perfectionist," she said. "He was a very nice person with me because I was his girlfriend. He was always strict with other people. He liked a variety of sex, two or three girls. He was never violent towards me."
In online updates, Jutting showed off his new life with a bevy of women. Many of the pictures featured Ms Ariane Guarin from the Philippines, who was known to friends as Yanie. But they appear to have broken up in September, the Mail Online claimed.
Ms Guarin had divided her time between looking after her children in a small town in the Philippines and partying with Jutting, who called her his "beautiful honey".
The Filipina, whose family lives in a small town near Manila, is seen wearing jewellery in shots with Jutting and appeared to have come into money.
On Ms Guarin's Facebook page, friends had posted requests for money, while she boasted of building a new home in the Philippines.
But another Filipina, believed to be a friend of Ms Guarin, told the Mail Online that she is his current girlfriend.
Speaking from Quezon City in the Philippines, she said she had been in a relationship with him for two months, and last spoke to him on Oct 20, 11 days before he was arrested.
Jutting's family in England was too distraught to comment. His mother runs a milkshake bar in Surrey, near London, and his father is an engineer.

This article was first published on November 5, 2014.
Get The New Paper for more stories.