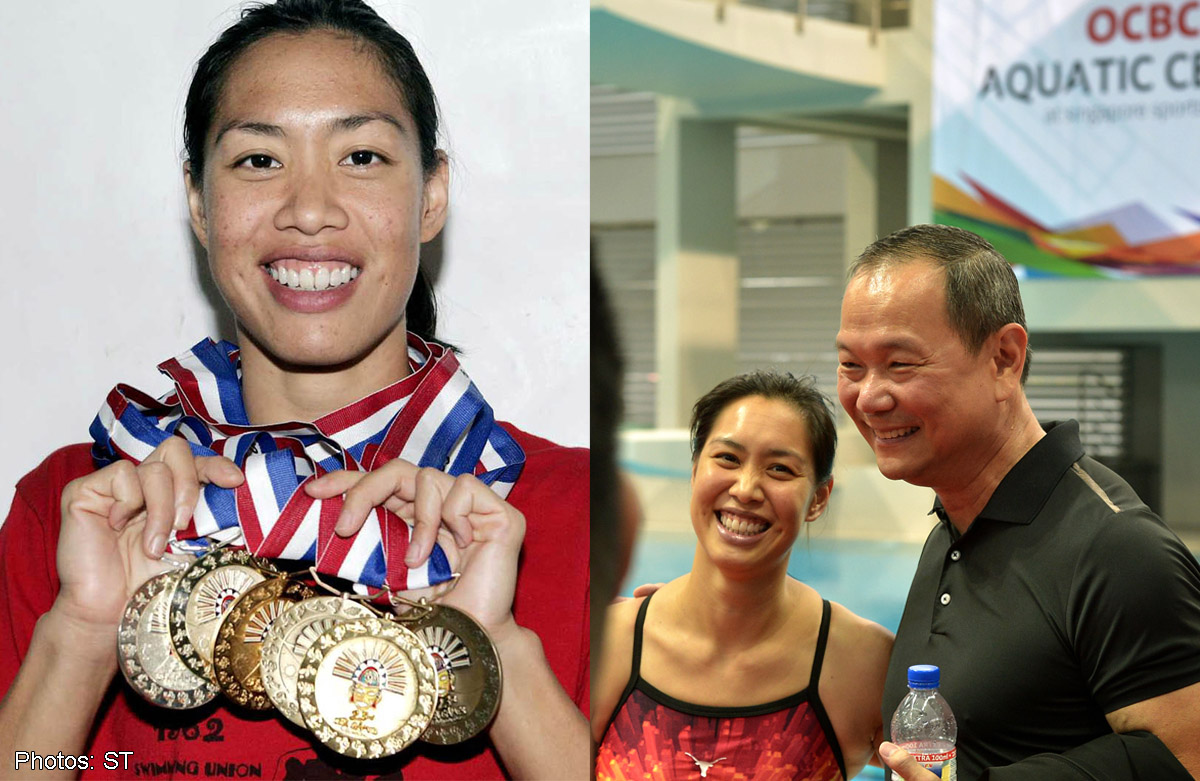 Joscelin Yeo's son David turns one today, her older boy Sean will be three in September.
Predictably, they keep mum busy, but I had to ask if she swims with her boys.
"Yes I do," she said, her face lighting up in a smile.
"I don't swim very often these days and probably the only time I do is with the boys."
It is strange to think that Jos no longer spends much time in the water.
She grew up in front of our eyes through her exploits in the pool.
She became the greatest gold-medal machine in South-east Asia, she won two bronze medals at the Asian Games, she competed at four Olympics and was crowned Sportswoman of the Year on three occasions.
Singapore knew her as the Golden Girl.
She celebrated her birthday 15 days ago and now, the newly-minted 35-year-old wants to give back to Singapore sport.
She told me she's been knocking on the doors of a couple of sports organisations already over the last few months, but the silence has been deafening.
"Sport has always been a big part of my life," she said.
"I want a chance to give back. I want to give back because I believe in sport."
It is baffling why Jos is struggling to find a way to lend her expertise and help grow Singapore sport.
She attended the University of California, Berkeley, and the University of Texas, and holds a Bachelor of Science degree in kinesiology.
In 2009, she became a non-elected Nominated Member of Parliament for two-and-a-half years.
These days she is a counsellor.
She wears motherhood well.
Tall, fit, elegant and engaging, Jos continues to interact with Singaporeans who come up to her to shake hands, have a quick chat and snap photos.
She retired in 2007, after amassing an incredible 40 gold medals at the South-east Asia (SEA) Games.
She made her first splash at the Games in Manila in 1991 at the age of 12 and two years later, she produced one of the greatest individual performances in the 55-year history of the event, mining nine gold medals in front of her own at the Toa Payoh Swimming Complex.
She forever became our Jos then, and 12 years later her SEA Games career came full circle when she competed for the final time in the biennial event, in Manila, plundering six golds to reach the magical 40 mark, pipping countrywoman Patricia Chan's previous all- time gold-medal record by one.
I remember watching her at the time, tracking her swims, willing her on, wishing to see history made once again by one of our own.
How Jos delivered.
JOY AND PAIN
She will be the first to acknowledge her athletic career was not only about gold medals, smiles and hugs, flowers, victory waves and high fives.
She has bristled at the media, her bouts of moodiness did not make her the most popular athlete on occasion, she argued with authority and also flopped in the pool.
Amid the victories, endorsements and acknowledgements, she also endured pain and sadness growing up.
Like any teenager.
I tell her maybe there are some in the sports industry today who are wary of her, who don't wish a tangle with her feistiness.
I suggest there will be some who will be intimidated working with one of the country's giants of sport.
Said Jos: "That's funny. I have so much experience in sport and I don't think I've made any enemies in my career.
"I've been pretty neutral and I pretty much get on with everybody."
She is indelibly linked with the SEA Games, and I hope the organisers at Singsoc will ensure she plays a unique role when Singapore hosts the event for the first time since 1993 next year.
Husband Joseph is 100 per cent behind her quest to get back into sport.
She has trained and competed in the United States and Australia, two world-class sport environments.
Swimming has given her a passport to travel all over the globe and given her a world perspective.
Today's athletes will look up to her, they will be excited to be involved with her, they will puff out their chests when she stands by their side.
Today our Jos will hold a small birthday party for her son David with the rest of the family.
Her boys David and Sean won't know anything about mum's unique place in Singapore sport.
I hope by the time they do, Jos is once again back in the Singapore sports fold, this time working to produce more like her.
This article was published on May 17 in The New Paper.


Get The New Paper for more stories.