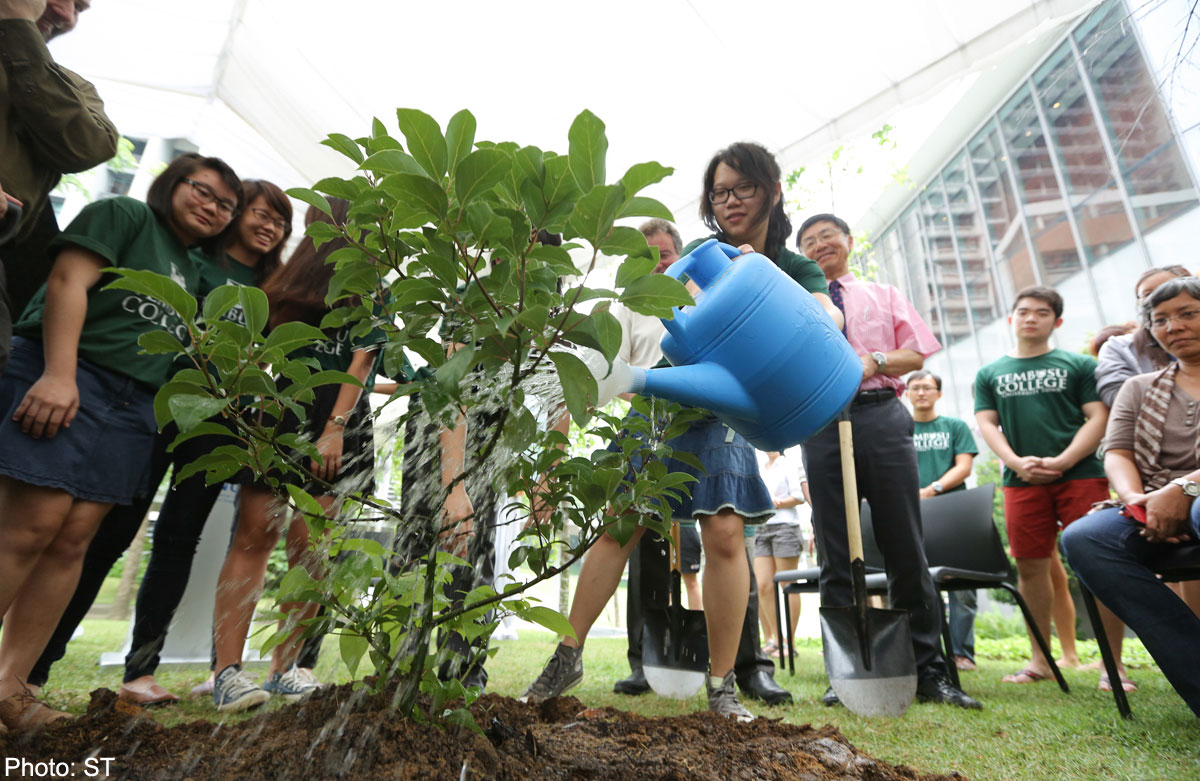 SINGAPORE - At Tembusu College in the National University of Singapore stands a camphor sapling that defied the odds.
The hip-high tree, planted in a ceremony yesterday, was grown from a seed that came from a tree blasted by the Hiroshima atomic bomb in 1945.
Nearby, a plaque explains its origins and marks it as a symbol of peace and the environment.
In December 2012, eight students from the residential college began looking after some seeds that had been sent to Singapore and coaxing them to grow as part of an international programme, Green Legacy Hiroshima.
The programme was started in 2011 by the United Nations Institute for Training and Research (Unitar) and the Asian Network of Trust Hiroshima (ANT-Hiroshima) to promote peace and abolish nuclear weapons. Seeds are collected from trees that survived the blast and planted around the world.
Though the camphor tree in the Japanese city was badly damaged and had to be propped up, it continued to grow new shoots and produce seeds again.
But not all were viable, and just one of the Singaporean students had any gardening experience.
Still, six grew to saplings, two of which have now taken root in Singapore soil: one in NUS and the other at the Singapore Botanic Gardens.
Tembusu College rector Tommy Koh, also Ambassador-at-Large at the Ministry of Foreign Affairs, said yesterday the sapling should represent care for the environment and world peace. "We want peace between nations but we also want peace between men, women and nature," he said.
Team member Sarah Wee, 22, a second-year life sciences student, even visited the original camphor tree, still alive in Hiroshima. "One side of it was badly damaged. I was quite amazed that it actually survived to produce all those seeds," she said.
Ms Wee said she hopes the project, and the accompanying exhibition of write-ups and photos, will spark interest among her peers. "When students walk past and read the plaque and read about how this tree came to Tembusu, and about the war, there might be a little bit of interest that's planted in them," she said.
Professor Shin-ichi Uye of Green Legacy Hiroshima said plants grown from seeds of Hiroshima trees such as camphor, persimmon and gingko are in partner botanical gardens, schools, and universities in 18 countries, including Singapore, Afghanistan, Russia and the United States. "We are hoping that the partners and the offspring of the trees will act as ambassadors of peace," he said.
caiwj@sph.com.sg
This article was published on April 23 in The Straits Times.


Get a copy of The Straits Times or go to straitstimes.com for more stories.