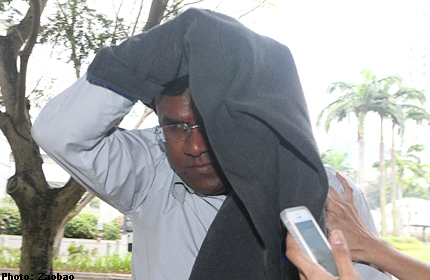 SINGAPORE - She offered me sexual services for $200, said former aircraft technician Sivakumar Selvarajah , 42, at his trial on Thursday.
He is accused of posing as a police officer before raping a girl, 16, on July 16, 2010. He allegedly told the girl that he would take her to a police station if she refused to have sex with him.
He faces three other charges - of making the girl perform oral sex on him without her consent, molesting and then raping her later that day at Tampines Industrial Avenue 4.
Sivakumar - represented by lawyers Amarjit Singh and Foo Cheow Ming - denies the charges.
He testified that the acts were consensual, saying that he paid the teen only $50 as he was not "fully satisfied" with her services.
The court heard that the now jobless Sivakumar felt that he had been hauled to court because he shortchanged the girl of $150.
He limped towards the stand with the help of a crutch on Thursday.
When examined by Mr Foo, he told Justice Choo Han Teck that he had left his flat at Woodlands Ring Road on July 16, 2010, to collect some "electronic stuff" from a vendor at Senoko for work purposes.
He claimed that while driving, he spotted two teenage boys behaving suspiciously at a multi-storey carpark at Block 685 on Woodlands Drive 73.
He drove to the fifth floor of the carpark, walked down a flight of stairs and spotted the boys smoking and littering.
After telling them not to litter, he returned to his vehicle and saw someone throwing a piece of tissue out of a nearby car.
Upset by this second act of littering, he said he went to the car and knocked on the window on the driver's side. That was when he spotted the girl performing oral sex on her then 20-year-old boyfriend.
Sivakumar asked the girl's boyfriend if he had littered after the young man pulled up his shorts.
The boyfriend, he claimed, denied littering but later admitted it.
Sivakumar said he told the boyfriend to get out of the car and together, they walked to the opposite side where he spotted a few condom wrappers and tissue on the floor.
He told the boyfriend he was going to tell the police they had littered the carpark.
The girl walked out of the car shortly after this and when he asked her where she lived, Sivakumar claimed that she lied and gave him a false location.
He claimed that she later revealed that she lived in Tampines and that she would show him where she lived after she asked him not to inform her parents and the police.
All this while, Sivakumar stressed that he did not present himself as a policeman before the couple.
He said the girl entered his car while her boyfriend returned to his own vehicle and the trio left the carpark.
Responding to Deputy Public Prosecutor Sellakumaran Sellamuthoo, the accused admitted that he could have informed the police about these acts of littering at any time but did not do so.
Sivakumar also said he wanted to send the girl home and tell her parents about their daughter's activities but the girl was unaware of his intention.
While he was driving her home, he claimed that the girl offered sexual services to him for $200 and that she was "so seductive" when she did so.
He succumbed to temptation and accepted the offer, he added.
Wrong
"Normally, I never do. Yes, I know what I did was wrong. But my mind was totally 'away'," he told the court, adding that the girl directed him towards Tampines Industrial Avenue 4 and he parked the car between two trailers.
He had sex with her in the back seat of the car but "it was for a very short period of time" as he "suddenly felt uncomfortable".
Sivakumar said: "(I) felt that the environment was too open, it was daylight. There were trucks passing by. There was a guardhouse opposite and they could see what I was doing."
Despite this, he finished the act and gave her $50.
He testified that the girl was unhappy and angry because of this and asked him for the balance.
He added that when he kept silent, the girl said: "Okay. That's it. Never mind. Just send me back."
He told the court that he later drove the girl to a place near Tampines Interchange, where she got out of the car, slammed the door and walked away.
Justice Choo will deliver his verdict on Aug 7.
If convicted of pretending to be a policeman, Sivakumar can be jailed up to two years and fined.
And if found guilty of rape, he can be jailed up to 20 years and fined or caned.