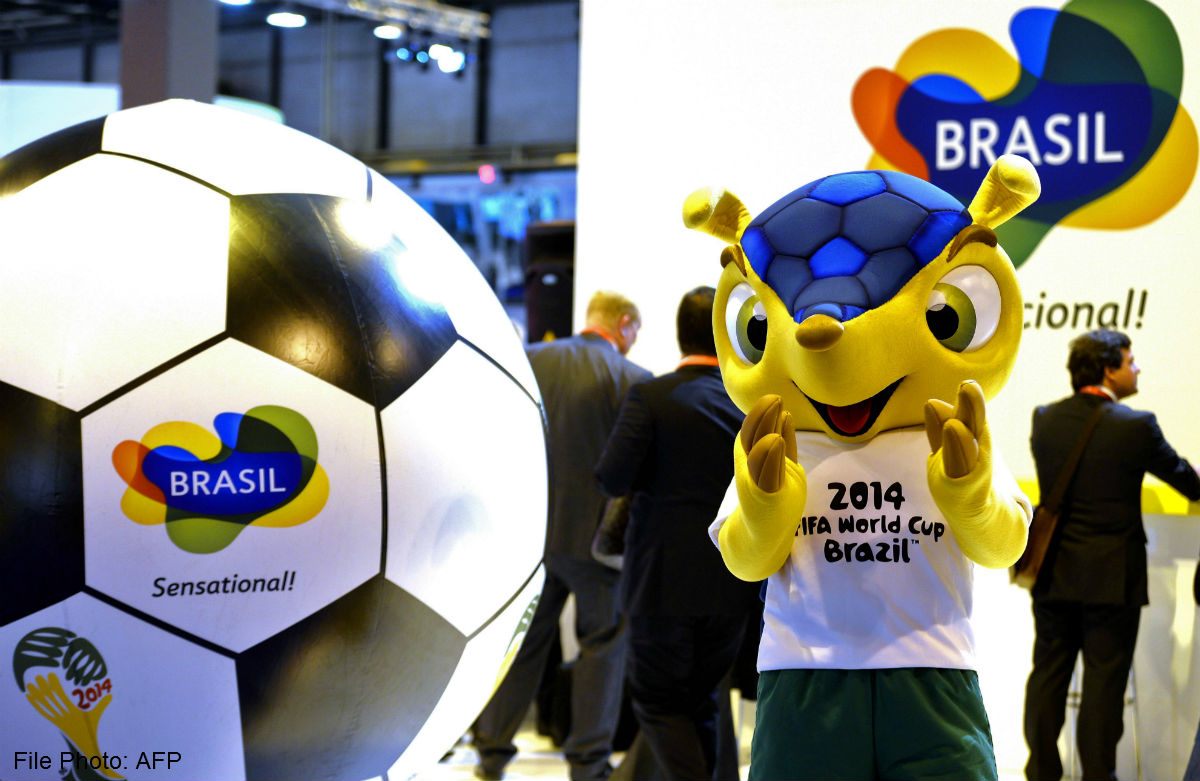 WITH less than five months to go before the World Cup kicks off in Brazil, Singapore's race to bag television rights for the tournament could head into extra time.
At least 208 territories worldwide have already secured the rights, but cable-TV providers SingTel and StarHub told MyPaper that they are still locked in negotiations with Fifa, the sport's world governing body.
Experts and fans are fearing a replay of the 2010 World Cup fiasco, when Singapore's TV deal was reached just 35 days before the first match in South Africa.
Then, Singapore subscribers paid $70 (early-bird price, with GST) each to watch all 64 matches - a four-fold increase from 2006.
The signs are ominous this year.
StarHub has been in talks with Fifa since 2012, and Ms Lee Soo Hui, head of the telco's media-business unit, said several factors have made negotiations "very challenging".
Cost is an obvious stumbling block, and Ms Lee noted that prices for sports content are soaring worldwide.
Time is not on Singapore's side either. Due to the time difference in Brazil, most of the matches for the June 12-July 13 tournament will be played in the wee hours of the morning, making it difficult to attract viewers.
As a result, StarHub "does not expect a strong response from sponsors and advertisers", who can help to defray the cost of the TV rights.
The telco has promised to "acquire the content at a sensible rate, so as to keep the World Cup affordable for the majority of Singapore viewers".
But market forces are at work.
In 2010, SingTel and StarHub reportedly paid about $20 million for the rights, about half of what Fifa was asking for.
In contrast, Singapore's World Cup TV rights were reportedly purchased for around US$5 million (about S$6 million) in 2006.
The price hike is down to the stiff competition between SingTel and StarHub in recent years, said Mr Vivek Couto, executive director at Media Partners Asia.
The wildcard this year will be the Republic's cross-carriage law, which states that pay-TV operators must share exclusive content with one another. This law will further complicate negotiations, said Mr Couto.
A case in point was last year's wrangle over TV rights for the English Premier League. SingTel insisted it did not sign an exclusive deal for the rights, but was still ordered by the Media Development Authority of Singapore to share its 2013-2016 Premier League content with StarHub.
Singapore's other telco, M1, which also has a pay-TV service, said it will not bid for this year's World Cup rights, but is exploring the option of cross-carrying the content.
Meanwhile, tech blogger Alfred Siew believes it is in the telcos' interests to sew up a deal as soon as possible. This will give them more lead time to secure sponsors and come up with more attractive packages for fans.
Said football fan and undergraduate Wei De Wong, 21: "If the rumours are true and if they are going to increase the price again, it will be unacceptable.
"I will just watch it at a friend's house or at a pub. I might even share the subscription costs with my friend."
adrianl@sph.com.sg

Get MyPaper for more stories.