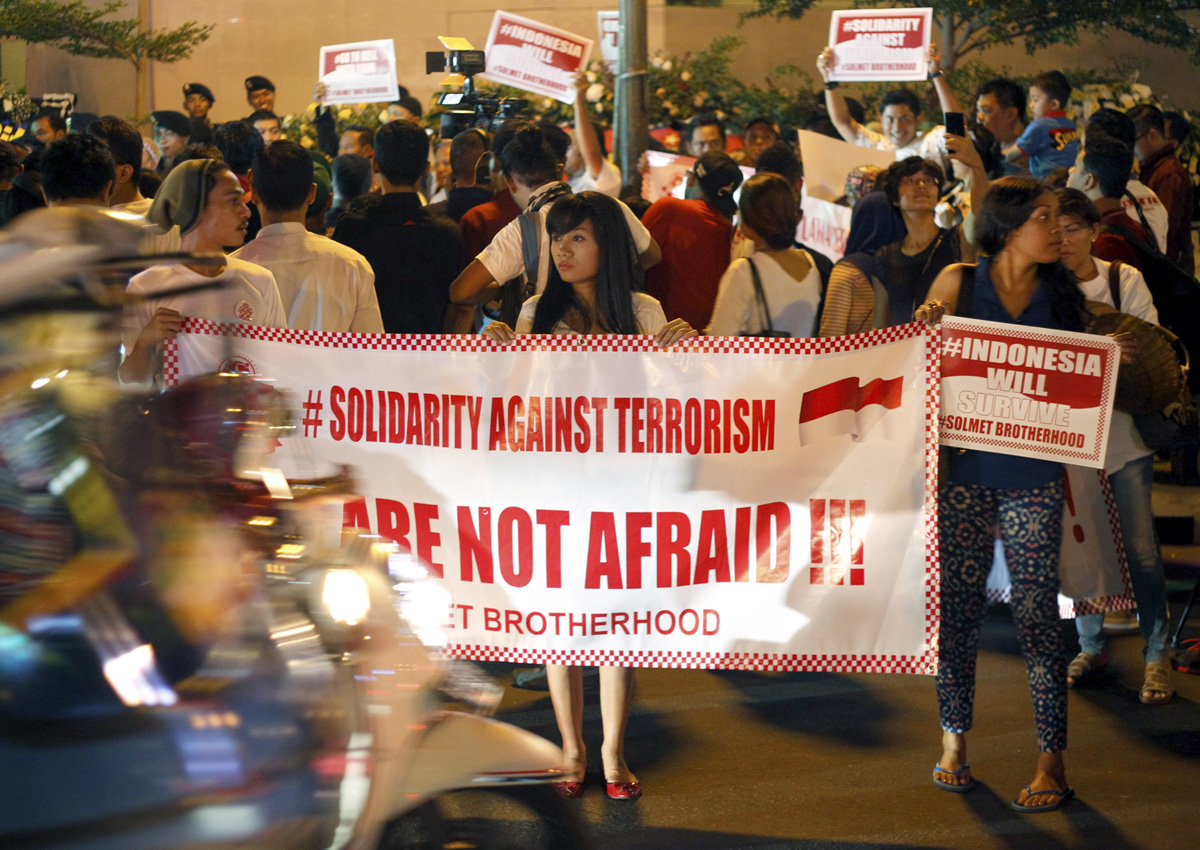 S'poreans can learn from the swift, collected way the people of Jakarta responded to the Jan 14 attacks, by rejecting attempts to divide society.
Two Thursday afternoons ago, my heart skipped a beat when I learnt that terrorists had stormed a Starbucks cafe across from Sarinah Department Store in Central Jakarta.
I have lost count of the number of times I had arranged meetings with contacts and friends at that coffee shop over the three years that I was reporting from Indonesia.
The easily accessible cafe is close to government buildings and several major media outfits, and Sarinah is a recognisable, if ageing, landmark.
The blasts in the heart of a city closely connected to Singapore - there are more than 40 flights a day between the two - are a chilling reminder of how close the terror threat is.
Singapore has been a target in recent years, and there are constant fears that the brazen nature of attacks like those in Paris and Jakarta could inspire copycat attacks elsewhere in the region.
There are several thousand Singaporeans in Jakarta, and many Singapore banks and companies have offices there as well.
Militants have also targeted Singapore interests in the past.
In 2010, Indonesian investigators discovered a map of Singapore's MRT network in the home of a terror suspect who was killed, with Orchard station circled. And in 2011, members of a cell led by radical Abu Umar planned to target Singaporeans as they came out of the embassy in Jakarta.
Last week's revelations by the Ministry of Home Affairs about a radicalised study group of 27 Bangladeshi workers in Singapore were the closest brush with a significant militant cell this country has had in years.
How safe are we?
As President Tony Tan Keng Yam said of terrorism in his address at the opening of Parliament earlier this month: "We are fully on guard against this threat, but we cannot rule out the possibility of an attack in Singapore."
Many security analysts have also said the question to ponder is no longer whether an attack will happen here, but whether we are prepared for what to do when an attack happens.
Last year, four radicalised persons intending to travel separately to take up arms under the Islamic State in Iraq and Syria (ISIS) were detected and detained here. The "Plan B" for one of them, if he did not get to travel, was to attempt to assassinate the President and Prime Minister.
But what of radicalised individuals who have yet to be detected, and plots yet to be found out and foiled?
Jakartans' response to the Jan 14 attacks was swift, collected and considered. Should there be a terror strike in Singapore, would Singaporeans react in a similar fashion?
As our region becomes increasingly fertile ground for terrorism and our neighbours are targeted, can we take a leaf from their book on how their people respond to terror and reject the extremists' ambitions to divide society?
In the aftermath of the Jakarta blasts, residents and workers in nearby offices rallied round to help victims. Ojek, or motorcycle-taxi, drivers offered free rides to those returning home early, while drivers of other vehicles offered lifts to complete strangers.
Social media users popularised the hashtag #KamiTidakTakut - Bahasa Indonesia for "We are not afraid" - in a show of defiance of the radicals' attempt to spark mayhem.
The day after the attack, hundreds of people gathered at the scene and held rallies rejecting terrorism.
The Jakarta Post reported that some spread pictures of fans of John Lennon singing his peace anthem, Imagine, under the traffic lights in front of Sarinah.
"Johannes, the initiator of the rally, echoed his effort to create peace in the country, and promised to keep spreading the love, despite the terror attack that aimed to rip it away. 'I'm here to spread love and affection. We shouldn't let Indonesian society fall and become a victim of terrorists' vicious action'," the paper reported.
Some travellers cancelled their plans to head to Indonesia, and several airlines waived charges for those who opted to reschedule their flights. Such worries are understandable, but as it turned out, they were unnecessary.
Perhaps the fact that Jakarta is no stranger to terror attacks helped prepare its residents, and frequent visitors to the capital, mentally.
On Christmas Eve in 2000, a series of coordinated bombings by the Jemaah Islamiah (JI) regional terror network masterminded by its operations chief Hambali, now in Guantanamo Bay, targeted several churches in the heart of the capital.
In 2003, a suicide bomber set off a car bomb outside the JW Marriott Hotel, killing 12 and injuring more than 150 others.
A year later, the JI targeted the Australian Embassy, and in 2009, the JW Marriott was struck again.
These attacks resulted in considerable investment by the authorities and the private sector in hardening security across the city, especially at high-end hotels and shopping malls.
And at a time when radicals threaten to attack places of worship of minorities in Indonesia, youth-wing members of the country's largest Muslim group Nahdlatul Ulama step forward every year to help keep a protective watch on churches and temples.
Such efforts have paid off . The authorities have seen numerous terror plots prevented, including foiling a 2013 attempt by a cell group to bomb the Myanmar Embassy just hours before the men were about to set off home-made bombs.
Major security companies around the globe have taken on board the lessons from such attacks.
In recent years, buildings, malls and hotels in Singapore have put upgraded surveillance systems in place, and counter-terrorism awareness is part of the training for security guards at condominiums and office buildings.
Many "soft targets" such as shopping malls and public areas here have also been the sites of regular exercises designed to test how the authorities and first-responders react to a sudden attack. These drills and efforts to physically strengthen our security are much needed, and ought to be stepped up.
There are also plans to beef up the installation of security cameras across the island.
But might there be a need to shift to more visible, if inconvenient, measures such as security checks at MRT stations and scanners at major shopping malls to deter and prevent any possible attacks?
Such features are a reality of life in cities like Jakarta and New Delhi. All that is needed for a nefarious plot to succeed is for perpetrators to exploit cracks, however slight they may appear to be, in the security armour that is already in place.
Whether security needs to get to that stage will, critically, depend on the attitude of people.
Are we lulled into a sense of complacency because we assume that the Government and security agencies have it all covered? That is an area of vulnerability in the armour that can most easily be exploited.
As significant a challenge for Singapore is how we, as a society, respond when an attack does take place. We cannot assume it will not happen.
Several Singapore ministers have made the point that the Government and people need to do more to safeguard racial and religious harmony, so that in the event of an attack, our social cohesion is not damaged.
Over the past year, as Singaporeans celebrated the country's 50th year of nationhood, many have said they felt a greater sense of kinship with fellow citizens.
But in a time when terror and security threats loom large regionally and further afield, how strong will that kinship hold?
Terrorists don't just aim for a high body count and damage to property and infrastructure, but to also instil fear and suspicion and cause disruption to our way of life.
Uncomfortable as they may be, these are realities we have to deal with. Will we point fingers and target specific groups of the population? Or will we see the perpetrators for who they are - individuals who have no legitimacy to represent any group, and who are driven to act because they are repulsed by Singapore's diversity and longstanding harmony?
Should an attack happen, can we react in a similar vein as those in Jakarta and declare "Kami Tidak Takut"?
There was another sentiment arising from the Jakarta episode that I hope can and will prevail here: "You messed with the wrong country."
zakirh@sph.com.sg

This article was first published on Jan 24, 2016.
Get a copy of The Straits Times or go to straitstimes.com for more stories.