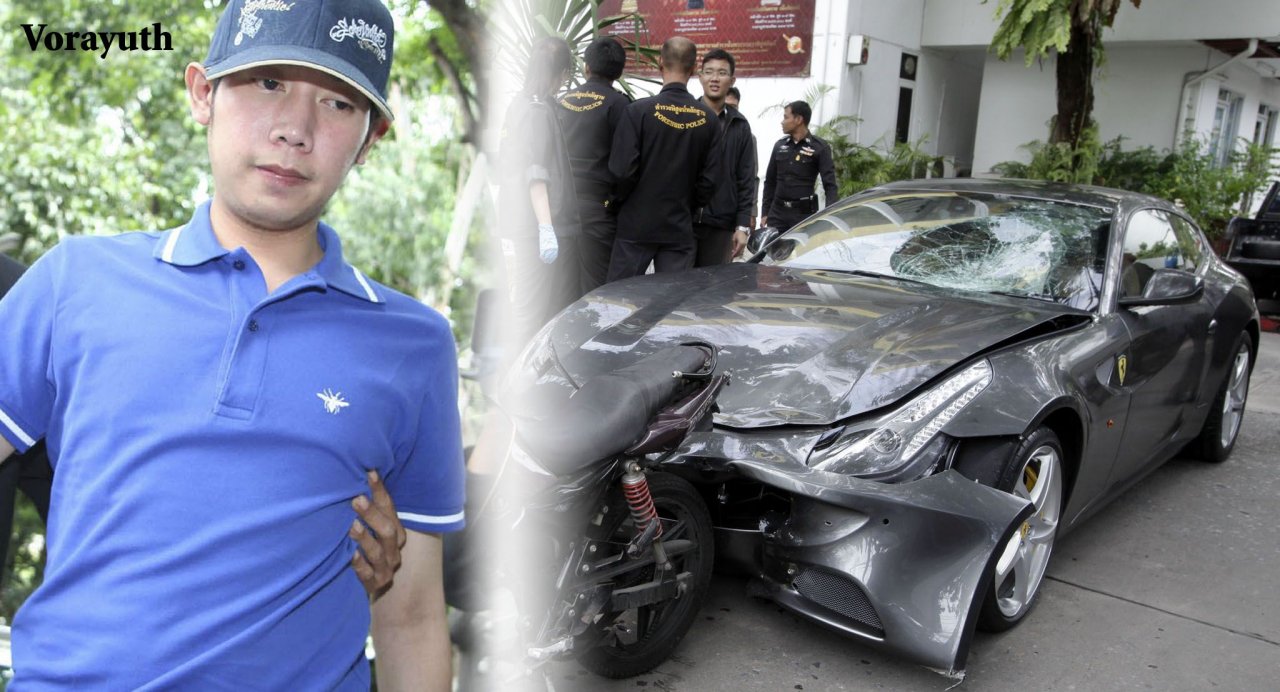 An arrest warrant will be sought for Vorayuth "Boss" Yoovidhya, the heir to the Red Bull fortune who is accused of running over and killing a police officer in 2012, after he again failed to meet prosecutors in Bangkok yesterday because he was "preoccupied" overseas.
Somnuek Siengkong, spokesman for the Office of the Attorney-General, said the 31-year-old grandson of the late Chaleo Yoovidhya - who co-founded the company that bottles the energy drink Red Bull - had obviously been stalling|and was attempting to evade justice after his lawyers had requested multiple postponements.
He said police would soon bring him to face the prosecutors' indictment, and if he was not in Thailand authorities could proceed to seek his extradition to face justice in Thailand.
Somneuk said the Office of the Attorney-General had also concluded that "new evidence" submitted by Vorayuth's side did not have sufficient weight to negate the evidence in the case.
The appeal was made to the Commission for Law, Police and Justice of the National Legislative Assembly, claiming that police and prosecutors were divided on the speeding charge.
He said the appeal, which Vorayuth used as grounds for previous postponement requests, was therefore invalid.
Vorayuth, who has repeatedly ignored previous summonses and is yet to be charged with a crime, was due to face his accusers yesterday but his lawyer requested a further postponement on the grounds that he was "preoccupied" overseas, Sutthi Kittisupaporn, chief of the Department of Southern Bangkok Criminal Litigation, said.
Vorayuth offered the same excuse for not appearing for a previous summons on March 30.
Vorayuth was scheduled to meet prosecutors over the hit-and-run death of police Senior Sgt-Major Wichean Klinprasert on Bangkok's Sukhumvit Road in 2012.
Vorayuth's non-appearance on March 30 further riled public opinion soon after news reports indicated that he had been living a lavish lifestyle overseas for years.
He was accused of hitting and killing the 47-year-old patrolman with his Ferrari early in September, 2012, and dragging the body for a considerable distance.
The statute of limitation has since expired for the charges of speeding and reckless driving causing property damage, but he remains accused of reckless driving resulting in death, which has a 15-year statute of limitation, and refusing to stop to assist a victim, for which the statute ends in September.
The first offence carries a maximum jail term of 10 years and the latter six months.
It has previously been reported that Vorayuth has enjoyed a jet-set lifestyle in Thailand and abroad. He has been seen touring around the world or watching the F1 Red Bull racing team in Europe.