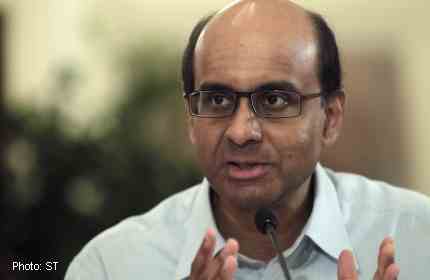 SINGAPORE - Singaporeans should remain fairly conservative in borrowing, urged Deputy Prime Minister Tharman Shanmugaratnam - even though new curbs on home loans are starting to stabilise the property market.
He said buyers should beware of overextending themselves as interest rates could easily rise. "By and large, I think Singaporeans are very sensible about it, but there's always a bit of herd mentality in every property cycle," he added. "On the way up, everyone must join in because they don't want to miss out."
The new rules were introduced last month in a bid to cool the housing market.
They require prospective lenders to consider borrowers' total debt obligations, including repayments on their car. And banks cannot approve loans for buyers whose monthly debt repayments exceed 60 per cent of their gross monthly income.
Last week, Minister for National Development Khaw Boon Wan said the new rules were likely to be permanent and structural to stabilise the property market. The measures are also designed to close loopholes that let people avoid tougher loan limits on second and subsequent properties.
"We want to make sure it's not so easy to get around the rules," said Mr Tharman.
But although the measures are starting to take effect, going for a larger property in the hope of bigger gains is still dangerous, he added. This is because interest rates have been at an "all-time low" for two years now, and could rise significantly.
He was speaking on the sidelines of Sunday's Jurong Lake Run, which attracted 15,000 competitors. It was the first outdoor race here since the haze hit record levels last month.
Mr Tharman praised those who had volunteered to help.
"If you compare it to how it could have been otherwise without this sort of collective spirit, I think we've done well and we want to do better the next time," he said.
Mr Ong Hock Bee, 48, was one of several visually impaired runners who took part in the event.
Aided by a friend who guided him using a towel, he finished 10km in a time of 51 minutes - his personal best. "When we started, I didn't realise we were running so fast," said Mr Ong. "At about the 8km mark, I just decided to push all the way."
The event raised $140,000 for four beneficiaries, including the Lakeside Family Centre and mental illness charity Club Heal.
roysim@sph.com.sg