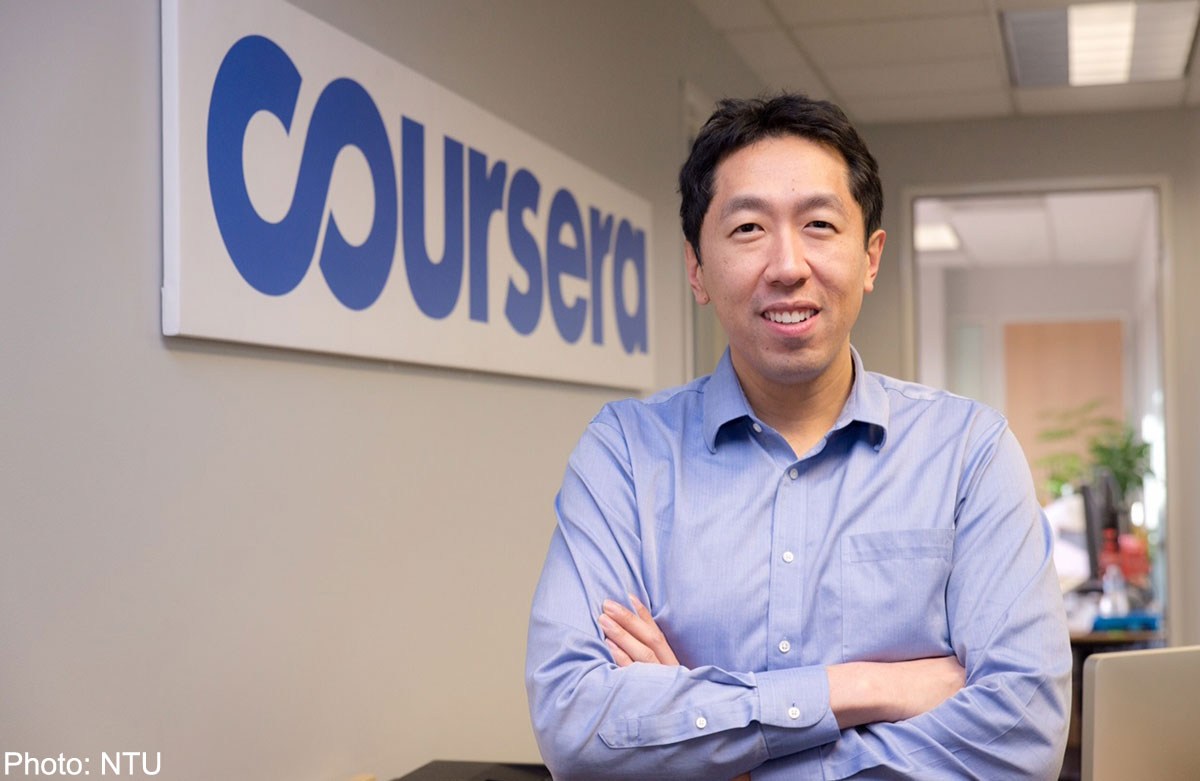 Stanford University professor Andrew Ng co-founded Coursera, an education platform that offers top-drawer university courses for free.
In just two years, the San Francisco-based company has built a subscription base of 6.5 million users worldwide, which includes 55,000 Singaporeans. It offers more than 600 courses, popularly called Moocs, short for Massive Open Online Courses.
So it is somewhat surprising when the 37-year-old who teaches the popular Machine Learning course online and offline in Stanford is emphatic when he says that Coursera's aim is absolutely not to replace brick-and-mortar universities.
The computer science professor, who also heads the Stanford University lab on artificial intelligence, has a Singapore connection.
He came to Singapore with his family when he was eight and studied in Anglo-Chinese School (Primary), then Raffles Institution and Raffles Junior College before heading to the United States to Carnegie Mellon University, the Massachusetts Institute of Technology and finally University of California, Berkeley, where he did his PhD.
Having studied in the best schools around the world, he firmly states that online courses however well-designed cannot replicate what happens in lecture theatres and tutorial rooms.
"Think of your favourite professor or teacher in school. Do you think it will be possible to replicate the classroom experience you had with that teacher?" he asks.
The way he puts it, Coursera's mission sounds simple yet absurdly ambitious - to provide degree courses to millions of people around the world for free, while also transforming how top universities teach.
Using a combination of video lectures, online quizzes, homework assignments and forums, Coursera courses are interactive and provide the student with grades, feedback and the ability to collaborate with peers.
The courses are free, but those who want them to count as credentials can pay a small fee, between US$29 (S$37) and US$69, and take up courses on the "signature track", where they will receive a certificate on completion.
Recently, Coursera announced that students who take a series of related courses can attain certificates of specialisation.
Each series will comprise three to nine Moocs, culminating in a project in which students will have to apply their skills, by building an app, coding a secure webpage or producing a 5,000-word essay, for instance.
Still, Prof Ng says: "We have only scratched the surface of what's possible."
"As we continue to grow, we are also motivated by our mission to serve as a platform for our partner institutions to navigate the online education space and experiment with new technologies that can help improve the learning experience." He feels that professors are spending too much time giving lectures and grading manually.
"If we use the online platform to provide content, then professors can devote more of their time to interacting and having one-on-one mentoring with students," he says.
What he is referring to is "flipped-classroom teaching", where students attend lectures online and then use class time to do the harder work of assimilating that knowledge, perhaps through problem-solving, discussion and debates.
When a student takes a Coursera class, the system tracks the learner's every move. The data is then made available to professors and the partner universities to improve teaching.
Prof Ng explains that in his Machine Learning class, for example, a particular post helped a lot of students find the correct response to a question in a quiz. In the next round of the course, he included that information.
He is also excited to talk about the trend of more employers accepting Mooc certificates for hiring and promotion purposes, and foresees online platforms like Coursera, Udacity and edX playing a bigger role in continuing education.
"With the world changing so fast, the old model of going from high school to a four-year university education and then to work is fast becoming outmoded. Now there's a need for people to regularly go back to learning, to relearn and update their skills and knowledge. I see online learning platforms like ours enabling that."
Critics have been quick to note Moocs' high dropout rates, but Prof Ng contends that the "sampling" fallout is high.
Some 100,000 students may enrol in a given course, but only 5,000 may complete it.
"Coursera offers an avenue of risk-free exploration for people who want to try something new or challenging. If 5,000 people end up completing the entire course, that is still a huge number when you consider the number of students a single professor could reach in a regular class," he says.
He applauds the National University of Singapore (NUS) and especially Nanyang Technological University (NTU) for having embraced online learning and for experimenting boldly with it to improve the educational experience of their students.
"As yet, not many universities give credits for their courses. I would say universities like NTU and NUS are really at the forefront of this," he says.
NUS was the first Singapore university to offer courses on the Coursera platform at the beginning of this year. It also uses the platform for courses that national servicemen can take to earn credits ahead of joining the university.
NTU took it a step further - some courses taught by its professors will earn undergraduates credits which count towards their degrees.
It also applies to prospective students such as working adults and those in polytechnic, junior college and secondary school. Those who pass can transfer their credits to NTU if they enrol there later.
While not all NTU courses on Coursera will offer credits, university officials have said that more credit-bearing courses will be launched in the coming years.
To ensure that there is no cheating, the credit-bearing courses will be run on Coursera's signature track. This allows students to use webcams to show they are the ones doing the work. Also, at the start of the course, a student's unique typing pattern will be captured.
"It's not as unique as a fingerprint, but it is true that no matter how hard I try, it will be difficult for me to type the way you do," says Prof Ng.
But cheating is still possible, he admits.
"A student can get someone well versed in the subject to provide him with the answers, just as a student can employ someone else to write term papers for him," he says.
But he insists that cheating is not yet a problem for him to layer on more measures.
Explaining how he would measure Coursera's success, he says: "I measure success in the number of people we are able to reach who would otherwise not have had access to high-quality education resources.
"That goes for a poor high school student in China or a mum who is taking courses during her spare time to help her get back in the workforce, or even a full-time employee who wants to advance his skills without taking leave from work. We believe that access to education should be a human right, and we want to make this a reality for everyone."
sandra@sph.com.sg

Get a copy of The Straits Times or go to straitstimes.com for more stories.