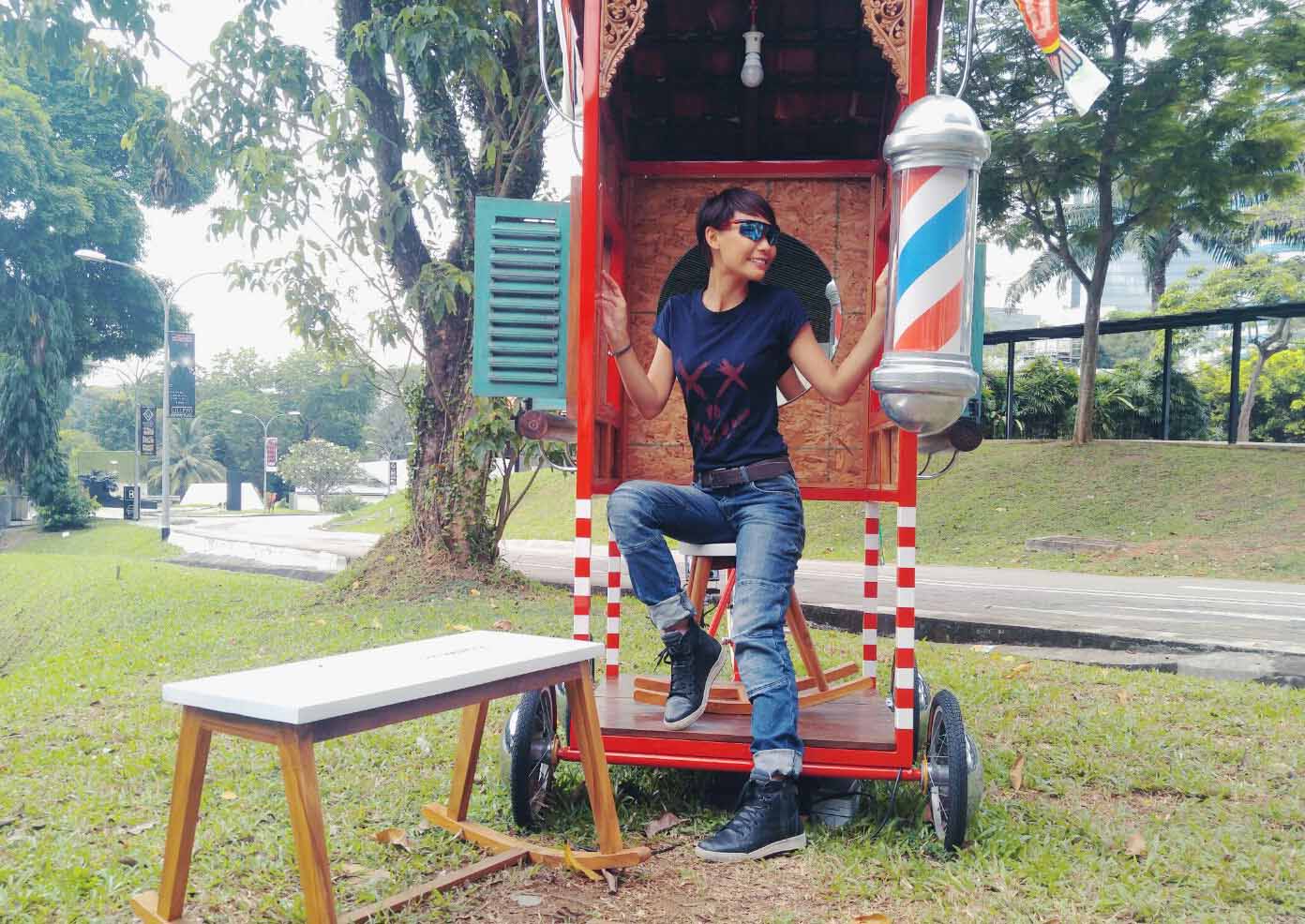 InstaScram touches base at Singapore's art spaces this exciting episode. Our little island is definitely not culture-starved, with annual and monthly events dedicated to the arts such as Singapore Art Week and Singapore Night Festival, to name an excellent few.
As far as the arts is concerned, the general public is accustomed to seeing art practised, displayed and performed in more conventional areas such as museums, theatres, galleries and even schools. But what about at former military headquarters? Or even in an old mansion, built in the 1930s that once housed a girls' home?
We ride to explore the 6.4 hectares of the bustling contemporary arts enclave Gillman Barracks. The colonial-style black and white buildings with its multitude of spacious outdoor areas, numerous galleries, public museums, non-profit organisations and even eateries, it is a far cry from the military history that dominates the area.
As the name implies, the barracks were first erected in 1936 to shelter military personnel, from the 1st Battalion, Middlesex Regiment and the 2nd Battalion to the Loyal Regiment of the British Army. It was named after General Sir Webb Gillman, a British army general who died in 1933.
This military outpost was one of the last to fall to the Japanese during World War II. But, when Singapore gained independence, it was developed as a training ground for national servicemen, in 1971. It was vacated in 1990 and it was only in September 2012 that Gillman Barracks was restored and redesignated to an arts hub, catering to art-related enterprises and residences.
And truly, it has since lived up to that aim, helmed by government initiatives, the National Arts Council and JTC Corporation. Currently, the Barracks house 15 galleries displaying local and international art, like Mizuma Gallery and Fost Gallery, and even the NTU Centre for Contemporary Art. Most of the galleries revise its events and workshops, but some galleries are permanent. Visitors are free to walk in anytime during their opening hours to get a fresh dose of the current trends in the art landscape.
Is the future of Gillman Barracks as an arts cluster certain? With more limelight being focused on these arts spaces, the hope is that we learn to appreciate them while they still exist. And eateries like Creamier, Masons and Handlebar Singapore are providing great dining experiences as well. Creamier, born out of the heartland estate of Toa Payoh, expanded to Gillman Barracks, serving their unique blend of lovingly handcrafted ice cream and coffee.
And which other unlikely place is art practised and created? InstaScram's search for art spaces brings us to a mysterious mansion, Mount Emily Mansion, known alternatively as Emily Hill.
Its first confirmed owner was in 1935, a wealthy Japanese dentist named Jukichi Ikeda. It was also not coincidental that in the late 1930s, the Japanese consulate-general was based there, as a small Japanese community had moved in the area.
Its vantage point would have been an extremely grand one, overlooking Mount Emily as a whole.
This house has served many purposes. It has been the former Mount Emily Girls' Home in the 1980s, a counselling centre for drug addicts, and even part of the Nanyang Academy of Fine Arts. All its history bears testament to Singapore's need to preserve such cultural pieces of architecture, like all these other beautiful mansions that depict slivers of our past, before we lose all tangible forms of memory altogether. It is in this respect that we ride to explore its history and current legacy.
And the current team from Emily Hill Enterprise Ltd does just that, with their plan to take over the space as a dedicated arts body and providing a one-of-a-kind space for the flourishing of different types of craft and performance. 11 artists and creatives, and Kult Kafe, a bar, take up residence here. It is also a popular venue for weddings and music performances.
Its legacy is also explored in fiction. In July 2016, a Young Adult novel, 'Mount Emily Revisited' was published, centering around Mount Emily Girls' School and following the time-travelling capers of two young schoolgirls, Patsy and Elena. The book was penned by Low Ying Ping, and was awarded the 'Best Young Adult Title' at the Singapore Book Awards 2017. It follows the success of the first in the series, 'Mount Emily', which was shortlisted for the Popular Reader's Choice Awards 2016 for the English (Children) Category.
And even with other centrally-located art spaces like Aliwal Arts Centre, Goodman Arts Centre and even the Esplanade, where you can find a multitude of performances, there is still an urgent need for certain spaces to be demarcated solely for the arts. Only then, can our city-state be fully enriched with cultural vibrancy and diversity.
Follow @instascram_sg on Instagram for more of the best photogenic places in Singapore, and Facebook for more updates!