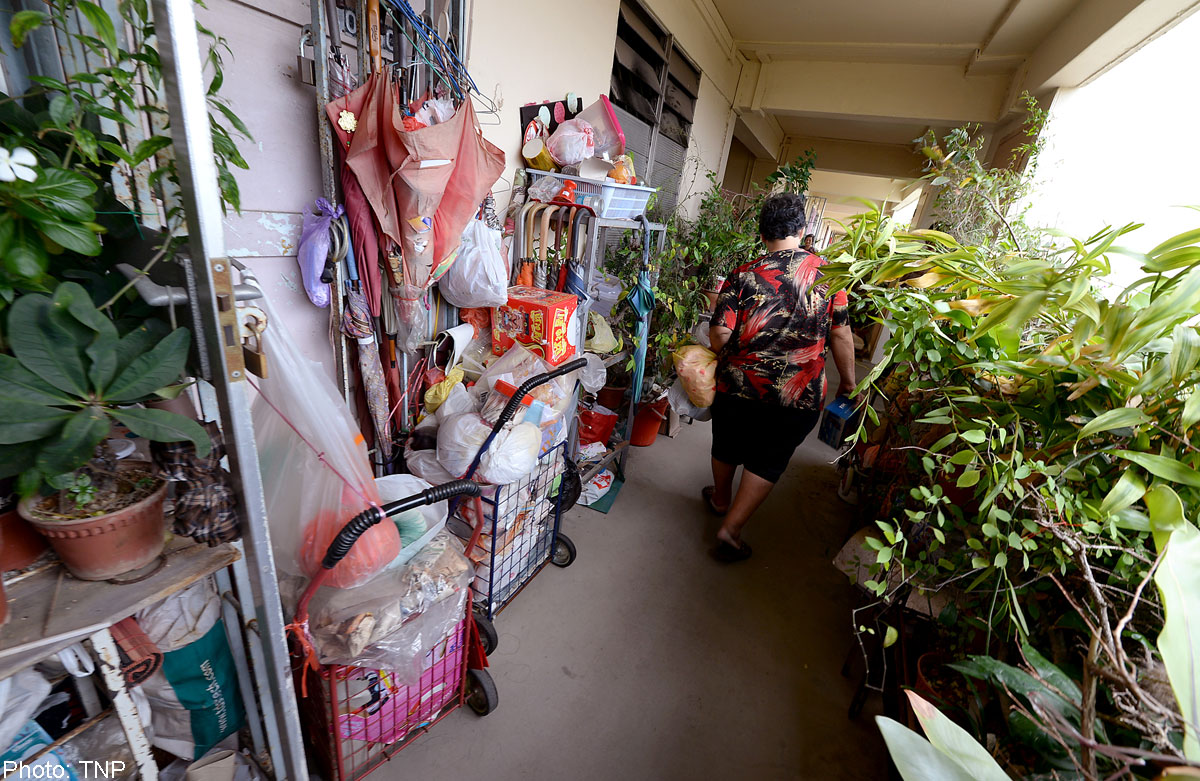 At first, it is impossible to spot the door to Madam Chua's flat.
There are so many things along the corridor outside the 58-year-old's flat in Block 3, Lorong Lew Lian in Upper Serangoon that the entrance to her home is not only disguised, it is actually blocked.
Faded umbrellas, biscuit tins, empty plastic bottles and two shopping trolleys brimming with filled plastic bags stand in front of what turns out to be her purple door.
For more than 10 years, Madam Chua has been hoarding things and her habits have caused her items to spill out into the common area.
She would not show us her three-room flat, but said that there were only some newspapers inside. "How can I sell these? They are my treasures," she said. "My things have never blocked anyone's way."
Madam Chua used to work as a cleaner, but can no longer find a job as her swollen legs make walking difficult.
So she spends most of her day outside her home. "I sit outside on the staircase because it's cooler," Madam Chua said.
She sleeps inside her flat, but when she needs to use the toilet, she goes to the public toilet downstairs.
When The New Paper visited, she initially did not want us to photograph her door and corridor. When asked about the potential fire hazard, she replied: "Stoves can cause fires. Do you tell people to stop cooking?"
From her collection of recyclables, she takes out a white container, formerly used for storing herbal products.
"It's not so easy to find a container like this," Madam Chua tells us. "I found it in the trash. People don't know, but you can reuse this for anything, even to store water for washing your hands," she said. She puts the container back into a plastic bag.
LIVES ALONE
Her husband died in 1999 and she lives alone, though her two daughters and son live nearby.
"They come over to sell my recyclables for me sometimes. But they don't do it properly. And once my daughter got so angry that she threw my things to the ground, and some of them broke," she said.
She then drank some water from a plastic carbonated drink bottle, then used it to water a plant. Madam Chua said, "Some people say I'm unhygienic. But I'm not!"
One of her neighbours, an 82-year-old who came from the same kampung as Madam Chua, said: "I help her move things around sometimes."
The elderly woman, who was next to Madam Chua, agreed that her things did not obstruct the corridor, but added that she often advises Madam Chua to sell off her recyclables, to no avail.
The Marine Parade Town Council recently cleared the corridor. A spokesman said: "We are aware of Madam Chua's case which has been ongoing for more than 10 years.
"We have liaised with Madam Chua's daughter to clear the obstruction along the common area.
Get The New Paper for more stories.