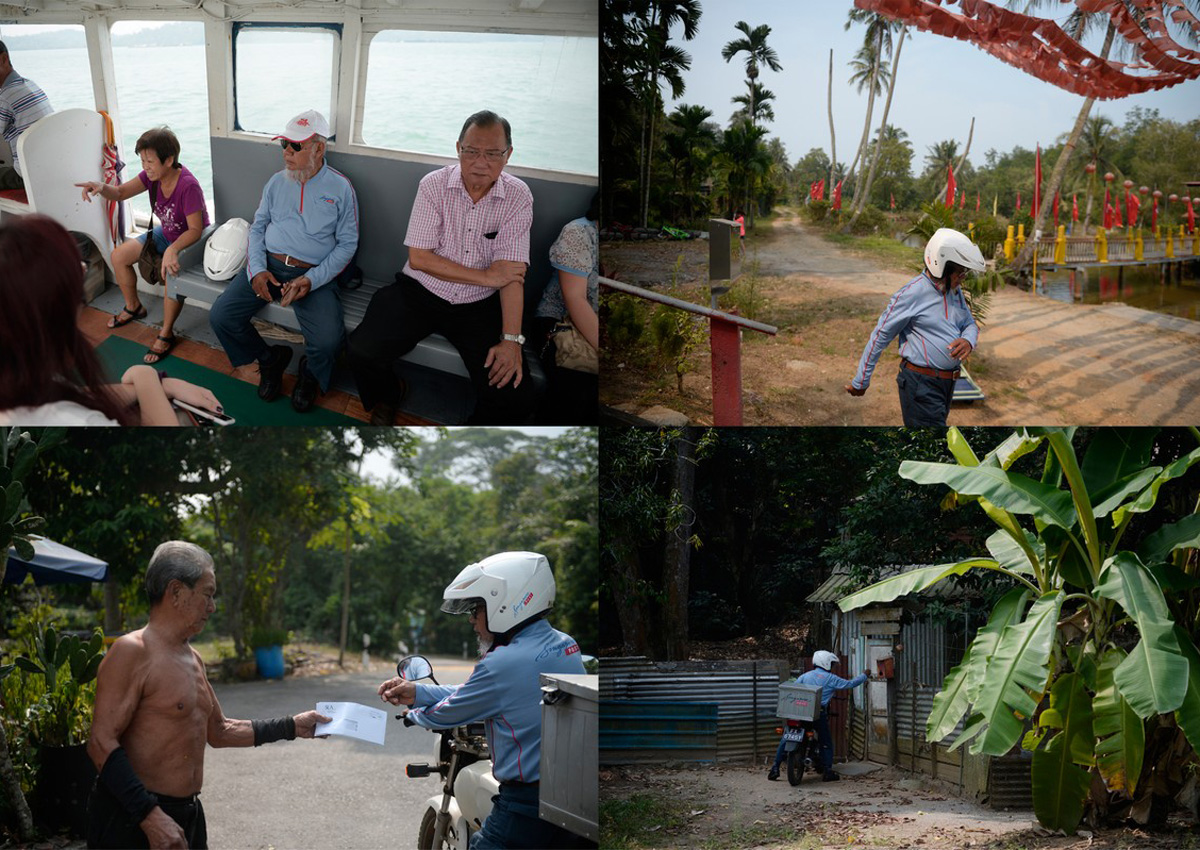 A recent test by Singapore Post to use a drone to deliver a package to Pulau Ubin may be a sign of things to come.
But two of Singapore's longest-serving postmen, Mr Haron Jomahat, 75, and Mr Salim Nahrawi, 69, do not think machines are ready to replace humans just yet.
Each has been on the job for about half a century.
"Cannot... how can? The houses are so deep in the jungle," said Mr Haron, who has been Pulau Ubin's postman for the past 14 years.
The part-timer, who joined SingPost, then known as the Postal Services Department in the 1960s, said the winding paths on the 10.2 sq km island are hard to navigate and uneven.
Home addresses are also not in running order. This makes delivering letters on the island a skilled task, which takes about three hours to complete.
Mr Haron told The Straits Times he knows where the more than 30 shops and 20 houses are and gets to them by motorcycle.
It is challenging only when it pours, he said. "The road becomes very muddy and slippery."
Both senior postmen agreed that the human touch that they - and not robots - can extend as well as receive is also what they love most about the job.
"The villagers know me well," said Mr Haron.
Pulau Ubin's village chief Chu Yok Choon, 70, said Mr Haron is a familiar face. "I respect him for delivering our letters even in his old age."
Mr Salim, who has been a postman since 1965, said that what he values most is talking to people he meets on the job.
Over the past 50 years, he has delivered to kampungs and swanky skyscrapers. But he said he is still as enthusiastic as when he made his first-ever delivery - to a kampung in Pasir Panjang. He was a mere 18 years old then.
He said: "It's the people. You see them every day and become a familiar figure."
Today he delivers letters to companies in the Central Business District, including those in office buildings in Shenton Way.
Mr Ismail Rasul, 64, a relief security guard at Lumiere building, spoke fondly of Mr Salim .
"He is very 'smiley' and will always wave or say hi to me when he comes by ," said Mr Ismail.
Another security guard, Ms Rashimi R., 21, who works at Anson House, said Mr Salim or "uncle" would often ask how she was and if she had had lunch. "If I am quieter than usual or look a bit down, uncle will ask 'why, feeling sleepy?'."
Mr Salim recalled the days when he delivered letters by hand, to each and every house within the kampung in Pasir Panjang.
Residents would wait excitedly for him, as they had no other means of communicating with friends and family abroad except via snail mail. When he handed them mail, "they would keep thanking me though I tell them it is just my job", he said.
Mr Salim said the first high-rise residential flats he delivered letters to in the late 1960s had no mailboxes like the ones at void decks of Housing Board blocks now. Postmen had to slot letters under the door of each unit. They would start on the top floor - usually the 15th floor for Mr Salim- and work their way down.
"Once I slotted a letter through the window and, alamak, it dropped into the fish tank," he said, chuckling.
Singapore has left such mishaps behind with the centralised mailboxes now at each block of flats.
Automation and self service are also part of modern postal facilities. In 2013, SingPost introduced POPStations - automated kiosks where parcels can be posted or picked up .
In September, it flew a drone over 2km, between Lorong Halus on the mainland and Pulau Ubin, to deliver a letter and T-shirt in a packet.
It is not clear whether and when robots will take over mail delivery, but Singapore's two oldest postmen said they would work for as long as possible .
"I like this job, it has become part of my life," said Mr Haron.
Mr Salim said: "You can use robots in certain places... maybe in the factory to do sorting.
"But for deliveries... there're no feelings there. You cannot talk to the robot, and say thanks."

This article was first published on November 19, 2015.
Get a copy of The Straits Times or go to straitstimes.com for more stories.