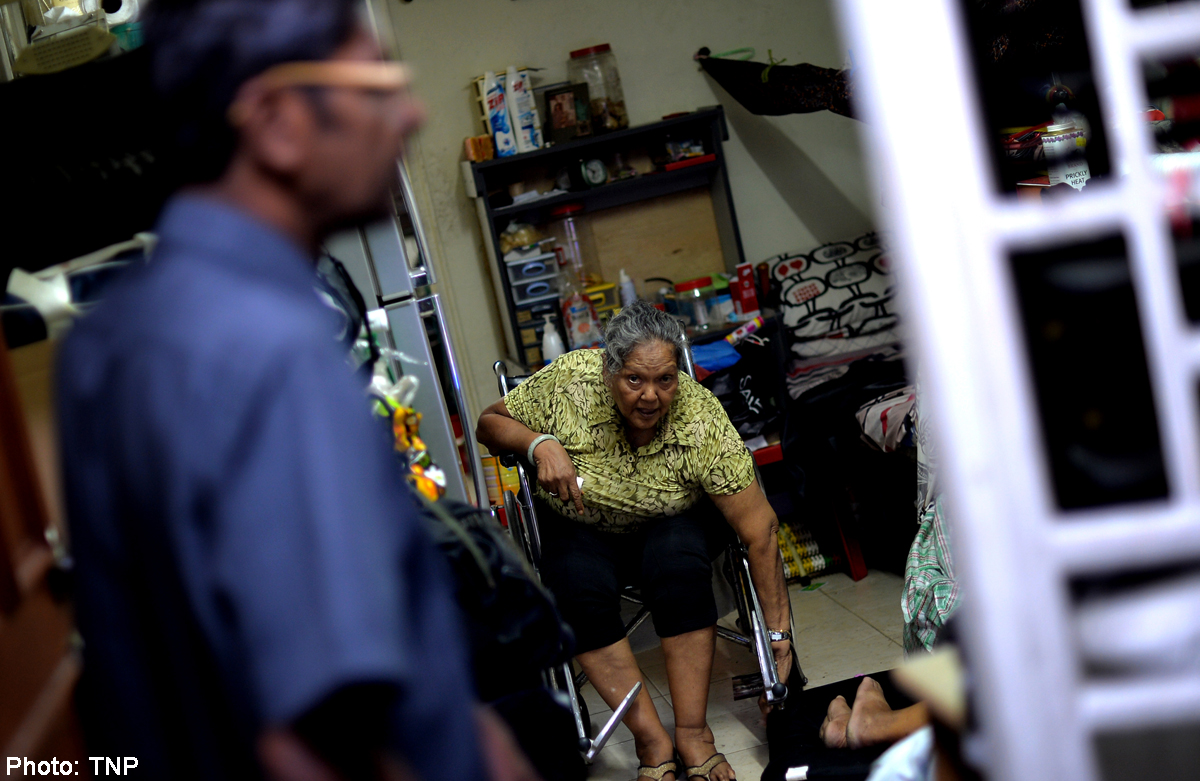 Two months ago, she noticed him sleeping, drenched in water, at a staircase landing beside the coffee shop she frequents.
He looked like he was around her age, except that he was filthy and wore tattered, unwashed clothing.
"Poor thing," says 74-year-old Lily Teo, who uses a wheelchair to get around.
For the next few days, she kept seeing him at the staircase each time she went to the coffee shop near Lorong 1 Toa Payoh.
He was at the same spot, with some cardboard, wearing the same dirty shirt.
The retiree wondered why he was there and how he could sleep that way.
She finally got her answer when a friend and nearby resident, Mr Paul Thanabal, told her Mr Tan See Bah's background
"His children don't want to take care of him. He has no place to go," she recalls.
The mother of three shuddered at the thought of being abandoned by her children.
"I told myself, 'This is a human being. A human being cannot live like this'."
So for the past two months, Madam Teo has allowed Mr Tan, 68, to stay in the two-room rental flat, which she shares with her son and grandson.
Says Mr Tan, eyes welling up: "I am grateful. I am forever indebted to her."
Madam Teo points out their living arrangements.
"I sleep on the bed, he sleeps on cardboard on the floor. It's nothing much, but it's safer and more comfortable than sleeping outside," she says.
Each time we ask if she was afraid for her safety when her son and grandson are not around, or if Mr Tan might abuse her kindness, she brushes the questions away.
She says in Mandarin: "He's not scary. He's just a poor old man. Why should I be scared?"
And she adds: "My house also has nothing worth stealing."
The flat is indeed spartan. Stacks of plastic bags line the side of the living room, leaving only a narrow corridor to move around.
Whenever Madam Teo tries to move in her wheelchair, she bumps into something.
Despite her desire to help Mr Tan, her own health and financial situation are not in the best shape.
Her legs have been weak ever since she retired as a cleaner more than a decade ago.
Her grandson works as a mover and earns $400 a month while her son is looking for a job.
She also receives a $200 grant from a social welfare group every month, most of which is spent on food, bills and medicine. The family has been behind on rent for half a year and owes HDB several hundred dollars, she says.
To survive, they have to scrimp and save.
Every Wednesday, she joins the other elderly folk living in her cluster of rental flats at a nearby multi-purpose hall for a weekly outreach activity conducted by the Care Corner Family Service Centre (Toa Payoh).
She smiles, saying: "There can take free food, like bread and rice."
So why take in someone when she can hardly fend for herself?
Says Madam Teo: "He sleeps on our floor, doesn't take up much space. We don't collect any money from him. He can come and go as he likes."
"We treat each other like family now."
To show his gratitude, Mr Tan contributes by buying food using what is left of his savings.
As a former hawker, he whips up simple meals for the family every day.
"They say my prawn noodles are good. Sometimes other (elderly) neighbours drop by and eat together too," says the divorcee. Before he met Madam Teo, he had rented a house in Johor Baru until he ran out of funds.
He came back to Singapore in July, hoping that his four children from his first marriage would accept him.
But they did not pick up his calls. When he visited his eldest daughter's home, she shut the door on him, he says angrily.
When contacted by The New Paper on Sunday, his children say they want nothing to do with him.
Without a home to return to, he wandered the streets for around a month until he encountered Mr Thanabal and Madam Teo.
For now, Mr Tan receives a court-mandated maintenance of $130 from his two daughters every month, which he uses to buy food and pay his phone bill.
He is hoping for his rental flat application to be granted so he can stop imposing on Madam Teo and her family.
"I don't know how long that will take," he says, shaking his head.
Thanks to Madam Teo, he has all the time he needs.
"His own children can do that to him, but I won't.
"If he wants to stay, I won't kick him out," she says.
HDB says...
"HDB rental flats are heavily subsidised and meant for needy families without other housing options and family support.
"Therefore, only tenants and authorised occupiers are allowed to occupy the rental flats.
"Subletting of rental flats is not allowed, and will be investigated.
"Some of these needy cases (of individuals living in an interim place) may have deeper underlying personal and social issues, which extend beyond housing.
"If HDB is alerted to such cases, we will work with the relevant social and government agencies to see how we can extend more holistic assistance to them."
(ngjunsen@sph.com.sg)

This article was first published on Nov 09, 2014.
Get The New Paper for more stories.