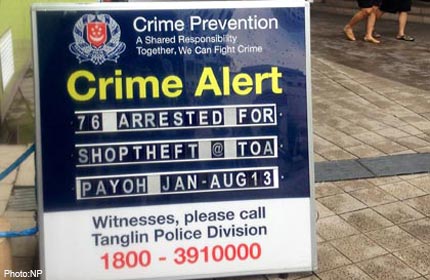 SINGAPORE - Cathay Cineleisure Orchard said its mall management and security team conduct regular briefings with tenants to advise them to be more stringent in shop security, especially during festive periods when there are bigger crowds.
And all shoplifting cases will be referred to the authorities.
Its spokesman said: "Cathay Cineleisure Orchard does not experience frequent shoplifting cases as most shoplifters tend to target high-end products, departmental stores and supermarkets.
"From mall records, shoplifting cases can happen at any time of the year and are not limited to the holidays." It said the mall has had two cases of shoplifting this year. Both cases involved teenagers.
The president of the Security Association of Singapore, Mr T Mogan, said shoplifters tend to strike when stores are crowded, especially at events such as sales.
The association represents about 130 security firms and Mr Mogan, who has been in the industry for 25 years, said that if shoplifting suspects are caught, security officers will notify the store manager, who will decide what to do.
Said Mr Mogan: "Security officers are not encouraged to physically subdue anyone.
"If a suspect runs away, we will immediately call the police. We will then make use of CCTV footage to try to identify him or her."
Mr Davy Chan, a security consultant at a toy store, said that shoplifters tend to loiter around the shop for a long time, usually near the items they intend to steal.
He said: "They just walk around the same area and tend to appear to have no interest in their surroundings.
"If we find any on a young person 15 years old and below, we will call his or her parents, who will have to come down and pay for the unpaid goods.
"We will notify the police if the suspect caught is 16 years old and above," said Mr Chan.
Ms Elim Chew, founder of streetwear chain 77th Street, emphasised the importance of well-trained staff members.
She said that with training, they are usually able to sniff out shoplifters.
She admitted, however, that some thieves may slip through the cracks. "But the staff will always be doing their best,"said Ms Chew.
She also uses security cameras positioned in strategic locations to keep an eye on items displayed in "risky" areas.
She added that it is her company's policy to report every act of shoplifting to the police.
"Singaporeans in general are honest people, so shop thefts are the exception to the norm," said Ms Chew.

Get The New Paper for more stories.