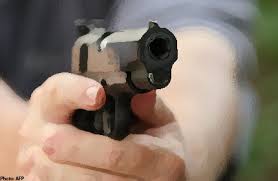 GEORGE TOWN - Three suspects, said to be in their teens, have been nabbed in connection with the shooting of a 43-year-old restaurant owner who is now in a coma at the Penang Hospital.
The three were picked up at separate locations in Bukit Mertajam shortly after the shooting at Jalan Kendi in the Taman Merak Business Centre in Bukit Tambun, about 16km away.
Acting on a police tip-off, Penang police chief Senior Deputy Comm Datuk Abdul Rahim Hanafi said the suspects were said to have stolen the motorcycle used in the shooting.
"We believe they could shed light on Wednesday's incident. We need to know how the stolen motorcycle could have ended up in the wrong hands which used it for the shooting.
"We have since obtained a seven-day remand order on them," he said when contacted.
SDCP Abdul Rahim added that the victim's condition is critical.
A family member said he had requested to be warded at the Penang Hospital before he slipped into a coma.
South Seberang Prai OCPD Supt Shafien Mamat said police are investigating whether the victim had any links with triads.
He said the suspects fled the scene on a motorcycle which bore a false number plate.
Police later found the machine abandoned along Jalan Perindustrian Bukit Minyak, about 5km from the crime scene, he said.
The victim is said to own a restaurant in Taman Kasawari in Simpang Ampat, near Nibong Tebal, where another shooting had occurred more than two weeks ago.
In the Aug 24 incident, six men seated outside the shop escaped with their lives when unknown assailants on a motorcycle fired random shots at them.
The shots hit the victims in the legs and buttocks.
They were rushed to the nearby Sungai Bakap Hospital, where their condition was later reported to be non-critical.