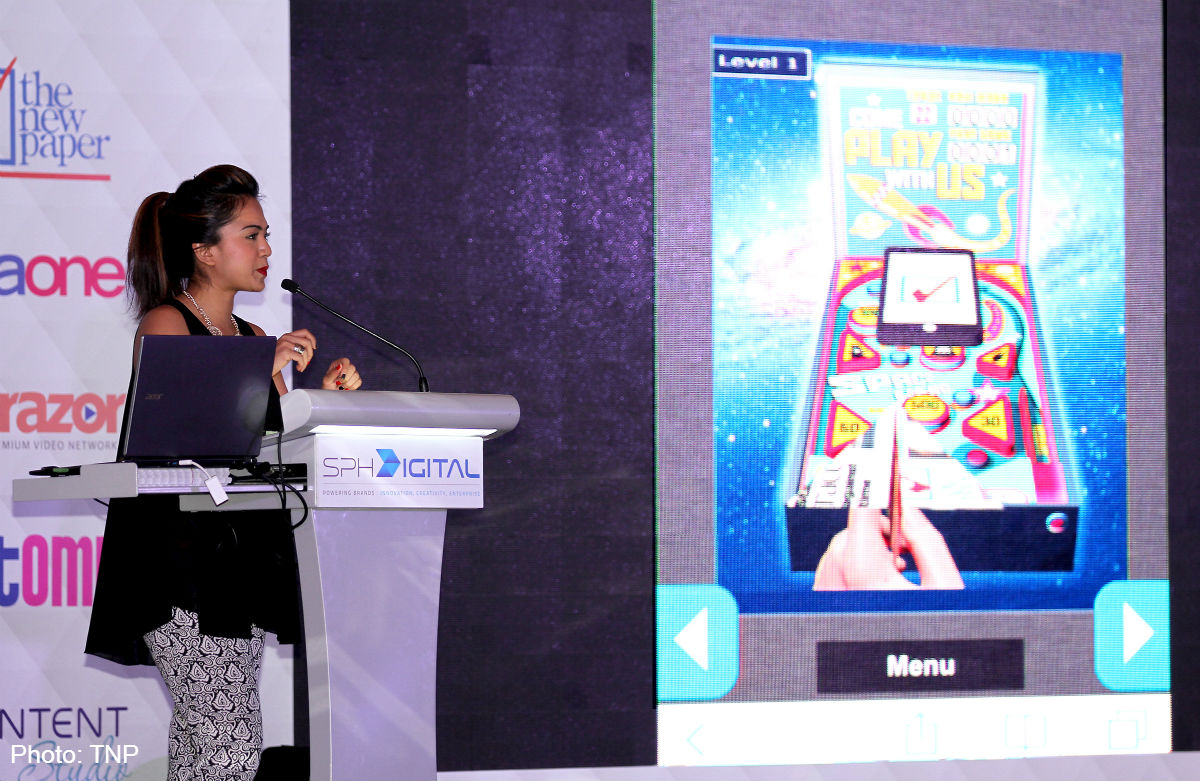 You will soon see an App unlike any other.
That was the promise The New Paper made to more than 500 trade professionals who turned up at the launch of the Singapore Press Holdings' suite of digital advertising solutions at Swissotel The Stamford yesterday.
Giving a sneak peek into TNP App, which will be launched before the World Cup next month, TNP multimedia journalist Catherine Robert surprised the crowd with a demonstration of the interactive elements built into the new product.
First up was a display of a Paper Aeroplane interactive ad conceptualised and executed within six days.
Said TNP deputy editor Murali Subramaniam: "We came up with the idea last week and wanted to show how quickly such an ad could be put together and be ready to go.
"Judging by the reactions we got afterwards, I think some were surprised at how quickly such an engaging ad could be produced and put into action."
Starcom Media's digital manager David Lim agreed, adding that interacting with the audience was a key facet for advertisers in the digital sphere.
He said: "Digital is the next big thing... (actually), it has already arrived for a while now. It is a bandwagon that all of us have to jump onto."
Apart from interactive ads, the new TNP App will differentiate itself from other news portals with its emphasis on giving users a fun and engaging experience.
Said Mr Murali: "We already have the youngest print readership of any newspaper in Singapore. Now the trick will be to engage an even younger group of people who live in a digital world full of games, entertainment and instant rewards.
"So while you read the thrilling news, entertainment and sports that TNP is renowned for, the App will also allow users to play games, earn points, send in their own photos and get exciting rewards in return."
Singapore Turf Club's corporate communications senior manager Eric Loh said he was glad to see TNP entering the digital arena in a serious manner.
POSITIVE MOVE
He said: "I see it as a positive move. TNP has a young profile of readers and is known for its sports coverage.
"With the World Cup coming, I think the timing is very good."
Other than the TNP App, trade professionals were also given insights into SPH Razor, its new Content Studio and new digital advertising opportunities in The Straits Times.
Mr Julian Tan, head of SPH Digital, said the organisation's 25 websites collectively reach an audience of 23 million unique browsers and command 360 million page views per month.
He said: "SPH Digital wants to be more than just a media platform to brand owners.
"What we offer are opportunities to create unique digital brand campaigns that will excite audiences and generate returns for their investment.
"With our strength in the wide reach and the variety of our websites, SPH Digital is the most comprehensive yet targeted base for marketers who face increasing challenges of reaching and engaging their target audience in a crowded market."
colintzx@sph.com.sg
This article was published on May 9 in The New Paper.


Get The New Paper for more stories.