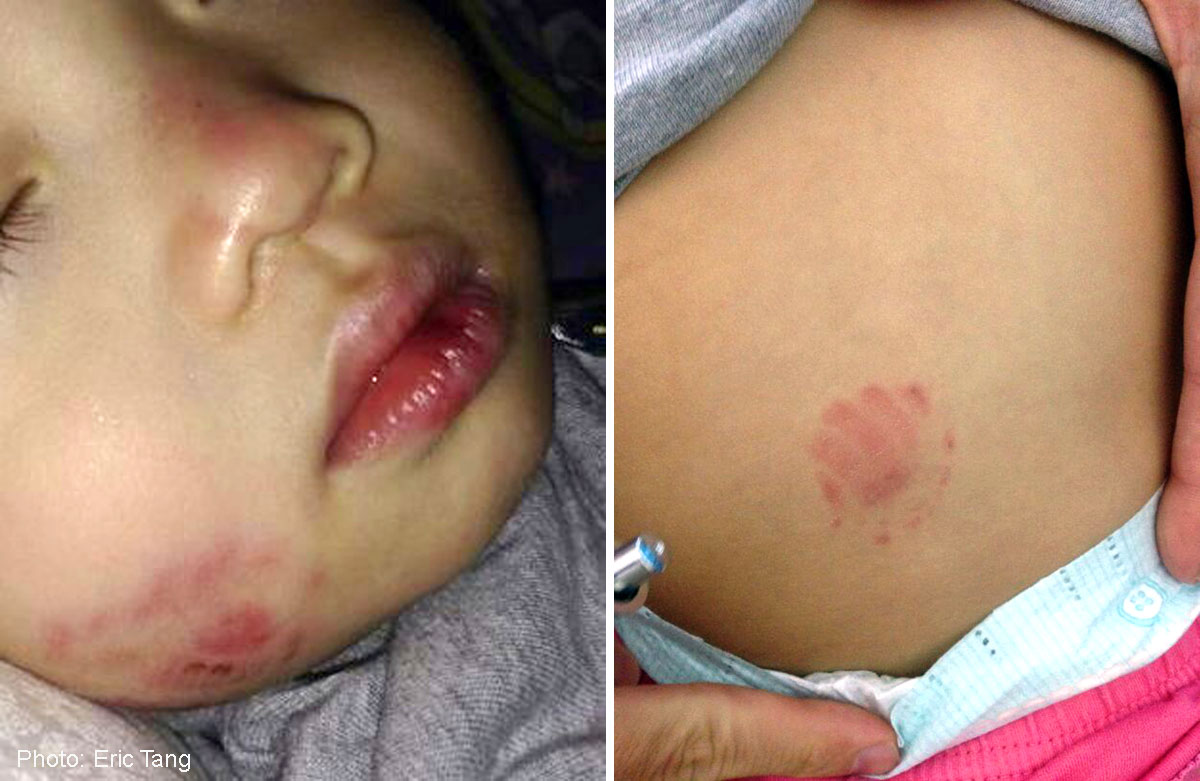 SINGAPORE - When the Tangs picked up their twins from the childcare centre in Ang Mo Kio on Monday, they were horrified to see the condition their daughter was in.
Two-year-old Jaime looked like she had been through a bout in the boxing ring. She had bruises on her face, nose and back.
"Her lips were also cut and swollen," her father, Mr Eric Tang, a 39-year-old engineer, told The New Paper.
"When we arrived at around 5.30pm, a supervisor approached us immediately to apologise. She told us our little girl was injured. We didn't know how badly until we saw her," he said.
Mr Tang claimed that the supervisor told him a boy "around Jaime's age" had beaten her up during nap time, but no reasons were offered.
The beating had gone unnoticed by the caregivers.
"Then an hour after we picked their kids up, the principal of the centre called and told my wife that Jaime fell between two mattresses during nap time. This was how she got hurt," he said.
Mr Tang's claims could not be verified, as attempts by TNP to contact the childcare centre for comment were unsuccessful.
He also claimed that when they took Jaime to a private clinic to assess her injuries, the GP said her bruises were "not consistent with those from a fall".
The couple decided to make a police report, after which they were told to take the child to KK Women's and Children's Hospital (KKH) for a thorough check.
"She was looked at by the doctors at KKH, but we were not privy to what was written in the report. We were told by the hospital that the findings were confidential and would be sent to both the police and the Ministry of Social and Family Development," he said.
The police confirmed a report on the incident was made on Monday.
A spokesman for KKH said the hospital was unable to share any information about the case in view of patient confidentiality.
INVESTIGATIONS
The Early Childhood and Development Agency's (ECDA) spokesman said the safety and well-being of children is of utmost importance.
"We are aware of the incident at the infant and childcare centre. ECDA is investigating and working closely with the centre to ensure that proper child management and supervision guidelines are adhered to," she said.
A check by TNP found that the childcare centre had changed ownership in June last year. But attempts to contact the new owners drew a blank.
The Tangs have withdrawn Jaime and her twin brother Ethan from the childcare centre.
OTHER KIDS HURT IN CHILDCARE
AUGUST 2011
A former kindergarten teacher asked a five-year-old girl under her care to remove her clothes and stand naked in front of her classmates. She also swung the girl against a whiteboard and pushed her into a box of toys.
The teacher was given 21 months' probation and escaped jail time because she had been a victim of sexual abuse as a child.
APRIL 2013
A principal of an educare centre was accused of yelling at a primary schoolboy, slapping and pushing him against a wall. She also allegedly made the boy stand in a corner with a cardboard box covering his head for more than three hours.
The principal denied the allegations, saying her godson had put the box over another boy's head as they "were playing around" when the photo was taken.
JULY 2013
A three-year-old boy suffered a fracture after alleged rough treatment by his childcare teacher.
Closed-circuit television footage at the childcare centre showed the woman grabbing the child by the arm and dragging him to a corner before lifting and dropping him twice onto the floor.
The centre was put on six months' probation, and the teacher was sacked and arrested by the police.
OCTOBER 2013
A six-month-old baby was badly scalded and suffered second-degree burns on his arm and wrist 20 minutes after being dropped off at an infant care centre. The teacher told the parents she had accidentally spilt coffee on him.
Its management admitted the teacher was "clearly negligent in carrying out her duties", and that it would be taking "the appropriate disciplinary action against her".

Get The New Paper for more stories.