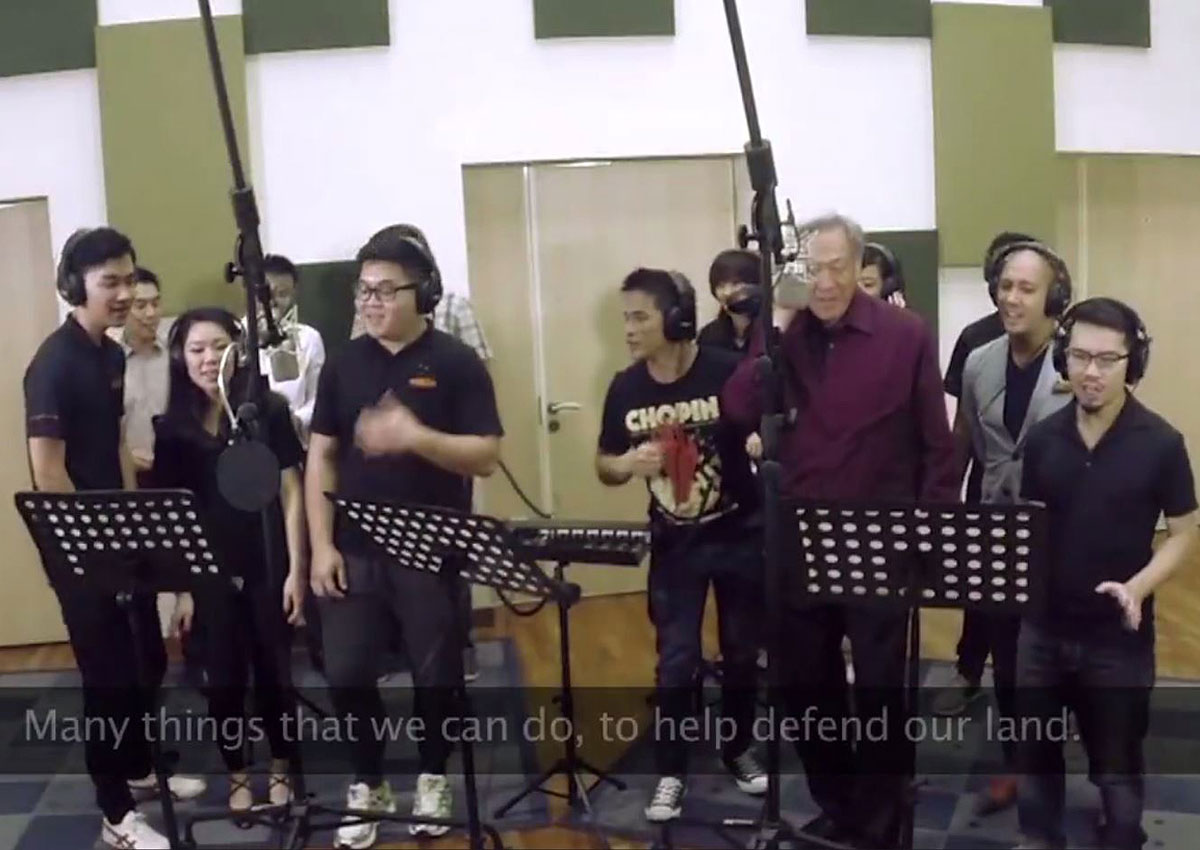 A rock band and a pop singer have come together to work on the most unlikely of songs - one of the first national songs that promotes the concept of Total Defence.
Home-grown singer-songwriter Gareth Fernandez and rock band QuickPick have put their own modern spin on the 1984 ditty, There's A Part For Everyone.
The refreshed song, along with a new music video, was released yesterday ahead of Total Defence Day on Monday.
It is commemorated every year to remember the day in 1942 when Singapore fell to the Japanese in World War II.
The annual Total Defence drive, which started in 1984, reminds Singaporeans of the country's limited resources and the crucial role they play in defence.
Originally penned by composer Gerald Png, the song was then aimed at rallying Singaporeans to defend Singapore.
While the song was "good for that time", its new lyricist Mr Fernandez said it is "no longer appropriate" today because it focused too much on the military and uniformed groups.
"The original lyrics also referred to all military personnel as men, which is not as relevant in today's context," said Mr Fernandez, 26, who changed most of the lyrics.
His aim was to create an emotional appeal for people and to drive home the message that defence is "everyone's personal responsibility".
The new version is also catchier and more upbeat.
The militaristic undertones of the song have been replaced by a catchy guitar solo, said the band's vocalist Jack Seat.
The 36-year-old said: "The rhythm is different, it's more contemporary and it's something that you can sing along to."
The band, which was set up in 2007, usually performs covers of popular rock songs such as Two Steps Behind by Def Leppard.
The Total Defence song is a familiar tune that has been played regularly at National Day Parades, most recently during the SG50 parade last year.
Colonel Tan Boon Kiat, director of the Defence Ministry's Total Defence and National Education department Nexus, said he hopes that the updated song will "inspire and rally Singaporeans together as we face whatever challenges that lie ahead".
Ms Calin Wong, 30, who is also a vocalist in the band, said that giving the iconic song a makeover was a task "too exciting not to accept". And she is confident that the public will enjoy the new version, which will not be "too cheesy or cliched".
A teaser of the music video, which was released last week, has already gone viral as it featured Defence Minister Ng Eng Hen lending his vocals to the song.
<<Total Defence - Put your heart, your mind, your will (and vo...

<<Total Defence - Put your heart, your mind, your will (and voice) to our defence>>The Total Defence song first sung in 1984 is a familiar old tune. So this year, the song gets refreshed with some new lyrics and a more upbeat arrangement. The chorus calls for every Singaporean to put your heart, your mind, your will for our defence. But staff asked if I would add my voice too! (Kena sabo) Here's a sneak preview of me with some members from the Singapore Armed Forces Music and Drama Company, and local band QuickPick, singing the new version.Will put up the full music video performed by QuickPick next week. At this time, when our unity and safety is threatened by extremists, there is a part for everyone to stand together. Sing with us for our defence!- Ng Eng Hen#TD2016#KeepSGStrongConnexionSGThe Singapore ArmyThe Republic of Singapore Air ForceRepublic of Singapore Navy

Posted by Ng Eng Hen on Thursday, February 4, 2016
As of 7pm yesterday, the teaser had been viewed more than 82,000 times with over 1,000 shares on Dr Ng's Facebook page.
domteojy@sph.com.sg

This article was first published on Feb 11, 2016.
Get a copy of The Straits Times or go to straitstimes.com for more stories.