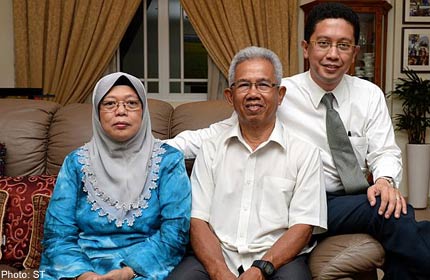 SINGAPORE - When Dr Abdul Razakjr Omar was growing up, his parents had to visit the pawnshop five to six times a year to make ends meet sometimes. But he says they never made him feel disadvantaged.
In fact, his parents were generous with gifts when he scored 90 marks and above in school. After doing well in his Secondary 1 examinations, he got a BMX bicycle.
"It took them months to save for that," says the 43-year-old consultant cardiologist at Raffles Heart Centre.
In return, he says, he shares his achievements with his parents - retired soldier Omar Harun, 69, and housewife Junaidah Ismail, 63.
Dr Razakjr, a Singapore Armed Forces medical education scholar who became the first Malay heart specialist in Singapore in 2005, won this year's Berita Harian Achiever of the Year award.
When he was at the National University of Singapore, his father also worked as a part-time delivery man to put him and two younger siblings through school. His mother worked part-time in a factory as needed.
Says Dr Razakjr: "They showed us that we didn't have to come from a rich family to succeed. For example, I had a new bag, two new pairs of school shoes and three new sets of uniforms each year."
In contrast, he recalls his parents' own scant wardrobe, with his father perpetually in army greens and his mother with just a few sets of clothes.
Says Madam Junaidah: "It was their time to do well. We could have less."
Mr Omar, who has a Primary 6 education and was a driver in the army, agrees: "I wanted them to do better than me."
These days, Dr Razakjr makes sure he takes his parents on thrice-yearly holidays he has with his family, to places such as Europe and Canada. He and his siblings also bought a silver Volkswagen Jetta for them.
Says Dr Razakjr: "They don't need these material things because they have lived all their lives without them. But it's our way of showing our love."
He and his vice-principal wife Salina Binhan, 42, have two children, Emira, 16, and Mirza, 12. They live in a terrace house in the Thomson Road area.
His parents live in an HDB maisonette in Bukit Panjang with his single siblings - a 41-year-old sister and his younger brother, 32, both professionals working in multinational corporations.
How did you make sure your three children had a good education?
Mr Omar: We took them to bookshops to inculcate in them a love of reading. We also spent a lot of money on books such as Enid Blyton novels and Reader's Digest magazines.
Dr Razakjr: I remember enjoying reading the Encyclopaedia Britannica at 10.
Mr Omar: I also drilled them in all their schoolwork in primary school to make sure they knew the correct tenses and spelling.
Madam Junaidah: All the homework they were supposed to do was laid out on the table for their father to check when he came home from work.
Why were you so strict?
Mr Omar: The thinking in the Malay community was that we were crossing the river using logs when the Chinese were crossing oceans on ships.
Dr Razakjr: He felt that the Chinese community was more progressive.
Mr Omar: Looking at my Chinese neighbours, I felt their kids were doing better. It could be that they were giving better food to their children. I thought if I gave my kids good fish, their brains would function better. I bought them good food - they ate more, we ate less.
Dr Razakjr: He also made sure we worked three times harder than the next guy.
Mr Omar: I told my children, if the neighbours' kids work one hour, you work three. I gave him Primary 1 work before he started school.
Dr Razakjr: I had to learn the 13 times table at six years old.
What was the most trying period with Dr Razakjr?
Dr Razakjr: In upper primary, I was more interested in football and hanging out with my new friends in Clementi Primary School. My grades dropped from the 90s to the 70s.
Mr Omar: We tightened the discipline and gave him a time-table.
Madam Junaidah: We made sure he studied till midnight if he had to.
Dr Razakjr: One month before the PSLE, my father gave me a stack of 10-year series papers, which he got from a relative. You couldn't buy those in 1982. I found I could do them, realised I had a bit of talent and learning became fun. I scored 3As and one B, but I can't remember for which subjects.
Who is stricter?
Dr Razakjr: My dad was a tiger.
Mr Omar: Both he and his sister got the same treatment - I took them for makan or gave presents if they did well. Otherwise, it was caning.
Madam Junaidah: Once, in Primary 5, he wore two pairs of jeans when reporting bad results. But he got caned on his palm instead.
Dr Razakjr: My marks were in the 70s, but he expected way more than that.
If the parent-child roles were reversed, what would you do differently?
Madam Junaidah: I would study three times as hard as the next person to qualify for higher education.
Mr Omar: If my parents were supportive of my education, I would study very hard as well.
Mr Razakjr: I would do the same - instill perseverance, hard work and resilience in my children. Make sure they are thrifty too.
eveyap@sph.com.sg

Get a copy of The Straits Times or go to straitstimes.com for more stories.