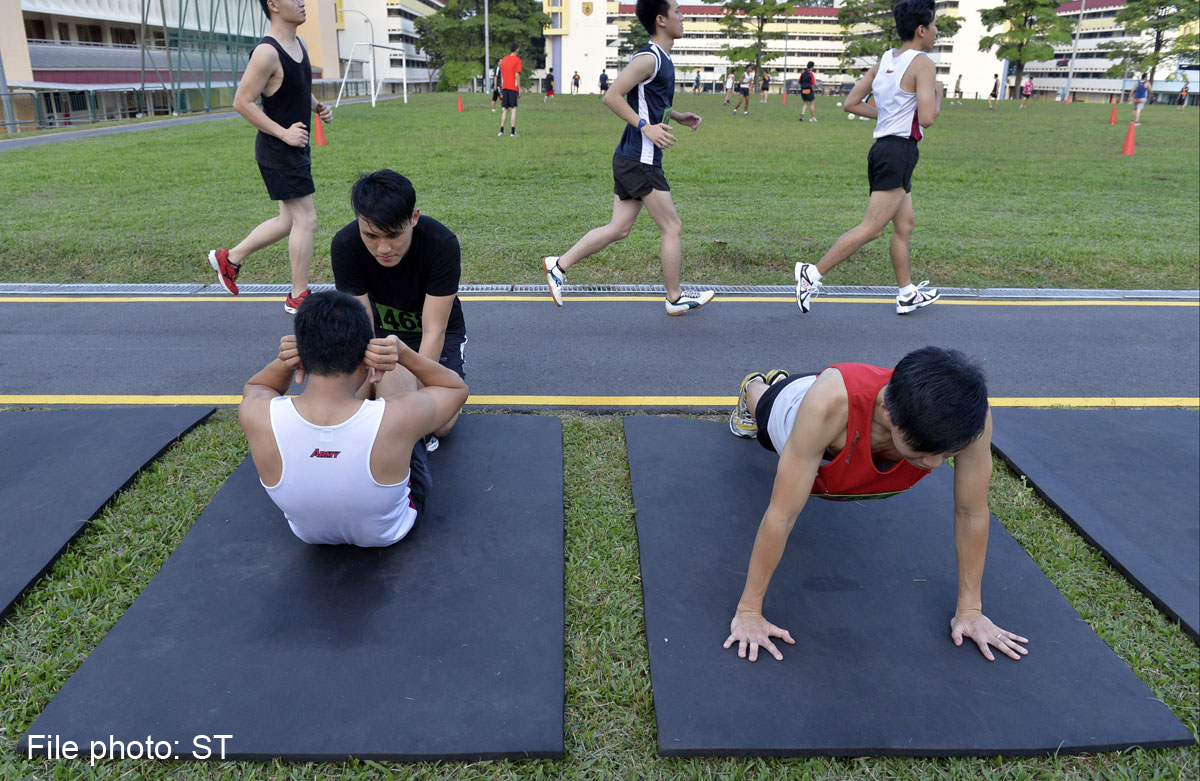 CORRECTION: NSmen will be called up for in-camp training if they have skipped the military fitness test for a total of 3 times, not 3 times in a row, as mentioned in the article below. 
---
SINGAPORE - Confinement, the bane of conscripted soldiers here, will continue to haunt reservists who skip the mandatory military fitness test three times in a row.
Instead of a $100 fine - the usual penalty currently - citizen soldiers will soon be locked up in camp, "forced" to exercise and still pay a monetary penalty.
The new regime starts in January, with a five-day boot camp aimed at getting operationally ready national servicemen (NSmen) fit, said the Singapore Armed Forces (SAF).
It comes amid recent efforts to toughen up citizen soldiers here and get them in shape.
Measures have also been taken to make the Individual Physical Proficiency Test (IPPT) less of a chore for NSmen who have to juggle family and work commitments. These include a stripped-down fitness test starting in April and more convenient venues to train for the test.
But despite giving them more leeway to keep fit, the military said it is inevitable that there will be persistent offenders.
"There will be a small number of NSmen who may not have a valid reason for not attempting their IPPT," the army's assistant chief of general staff (training), Colonel Ng Ying Thong, told The Straits Times.
Now, those who skip the IPPT three or more times are fined or risk being thrown into detention barracks - the army equivalent of prison - for up to a week. It is understood that recalcitrant defaulters have been spared the jail term and usually get away with a fine of $100.
The new confinement will "focus on teaching NSmen the different types of fitness modalities and fitness habits", said Col Ng.
He said the SAF aims to partner NSmen to leadhealthy lifestyles and the fitness camp is a "constructive programme aimed at helping NSmen train for and do well in their IPPT". Barred from leaving camp premises, offenders will get fitness training and attempt the IPPT.
Col Ng declined to reveal the number of repeat offenders. It is unclear whether they will get their salaries from the Government when sent to boot camp.
The 2010 figures from the Ministry of Defence - the most recent available - showed that half of the 116,000 NSmen who take the test annually fail it.
The Straits Times understands that the idea of confining and forcing IPPT defaulters to exercise in camps has been on the cards since last year.
Several NSmen told The Straits Times they were briefed on details of the new penalties earlier this year. One of them, a 34-year-old insurance agent who declined to be named, said: "With all the measures to make it easier for us to train and keep fit, it will be foolish of anyone not to be bothered to do something and risk being confined."
jermync@sph.com.sg

This article was first published on Oct 31, 2014.
Get a copy of The Straits Times or go to straitstimes.com for more stories.