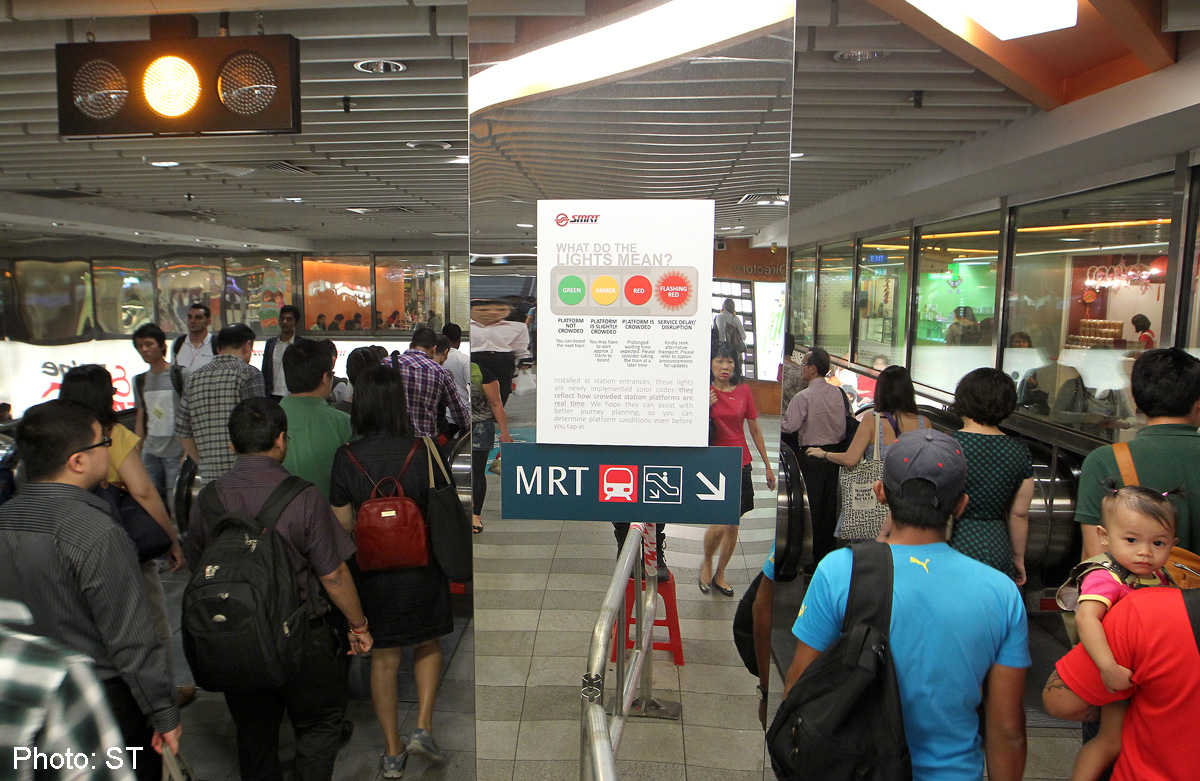 SINGAPORE - Commuters have given the green light to a new system which tells them how crowded the platforms are at MRT stations.
"Traffic lights" are in place at the entrances of Tanjong Pagar and Ang Mo Kio stations in a trial which began last December.
Passengers The Straits Times spoke to last Friday at lunchtime liked them so much that they want them rolled out at other stations.
If the lights are green, it means the platform is clear and commuters can catch the next train. Amber means a wait for approximately two trains to pass before they can board, while red indicates a crowded platform and "prolonged waiting time".
Flashing red means a service is delayed or disrupted.
However, there is nothing to stop commuters from proceeding to the platforms should they decide they want to wait for the next service.
Train operator SMRT said that the system allows commuters to "make informed decisions prior to reaching the fare gates".
These could include catching a bus or taxi or just going for a coffee while they wait for a later train.
"When I see it's red, I'll choose to take the taxi instead," said personal assistant Gan Kak Shing, 29. "They should roll it out at other stations but put up more posters informing people about it."
Trainee manager Anand Raj, 28, said: "It's very useful. If I see that it's crowded, I will just take the bus and not waste time."
Assistant manager Zaw Win, 30, called it a "great idea", adding: "I won't waste time waiting for the train if I need to rush to the office."
Signals at the two stations - each has a single platform serving two directions - are updated in real time by station managers who have views of the crowd pool.
Ang Mo Kio and Tanjong Pagar were selected for the trial as both see high commuter traffic, especially at peak hours.
An SMRT spokesman said the system is part of a new six-month initiative "to bring greater convenience to commuters and enhance the overall customer experience".
audreyt@sph.com.sg

Get a copy of The Straits Times or go to straitstimes.com for more stories.