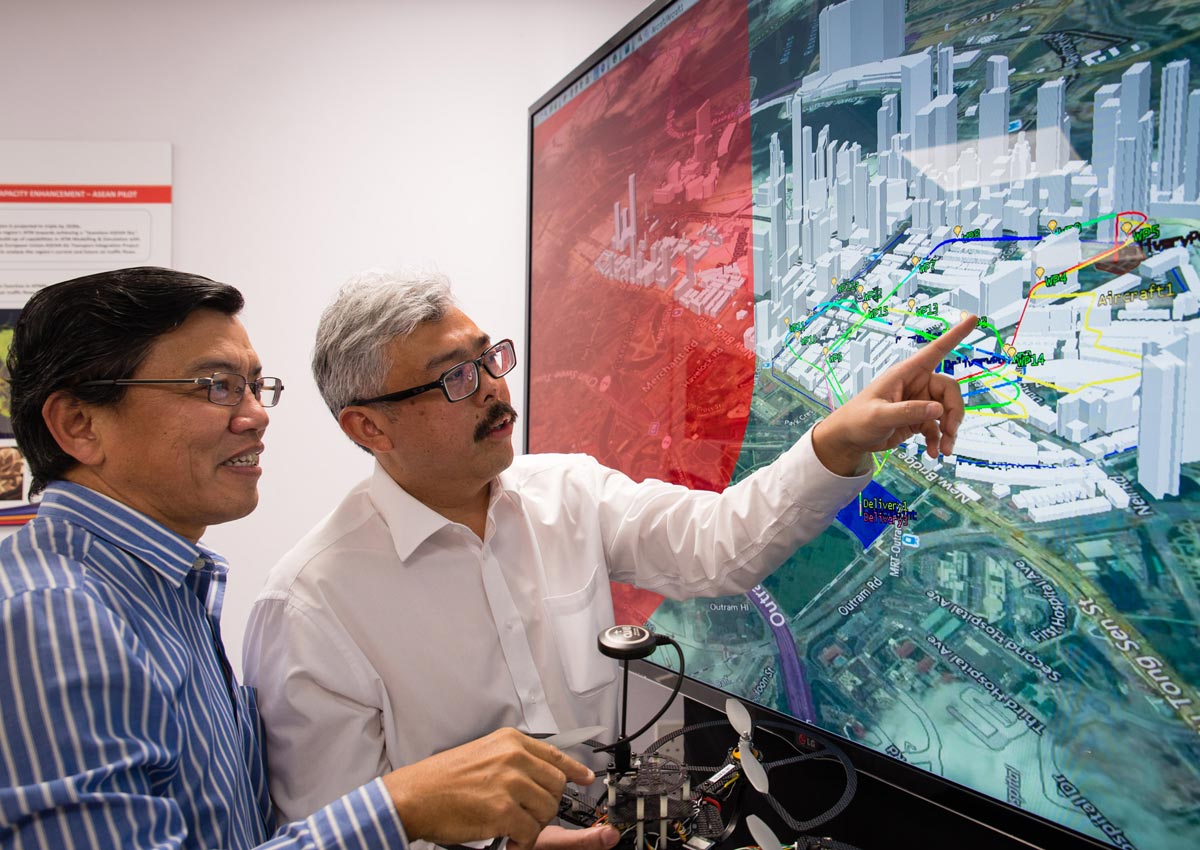 Drones used by companies and government agencies to take photographs and conduct land surveys and inspections are crowding the skies, prompting an urgent need to prevent them from crashing into one another and possibly hurting people as they fall to the ground.
The situation has led researchers of Nanyang Technological University (NTU) to undertake a study to enable hundreds of these drones to fly safely and efficiently in Singapore's urban airspace.
Essentially, they want to come up with a traffic management system for drones, much like how cars on the road have established traffic rules and infrastructure.
"Like our land and sea, the urban airspace is also a finite resource. With so many airspace users, there is a need to manage this urban airspace," said Mr Mohamed Faisal Salleh, a senior research fellow at NTU's Air Traffic Management Research Institute.
The institute was set up jointly with the Civil Aviation Authority of Singapore (CAAS) in 2013.
The project is likely to take up to four years to complete, and is led by Professor Low Kin Huat from the School of Mechanical and Aerospace Engineering.
The ideas are currently undergoing conceptual design and tested using computer simulations.
They will be tested in the open skies in 2018 in places like Tuas, away from crowded public areas but with sufficient building density to be a good test-bed.
The focus on drones for commercial and industrial use means hobbyists are unlikely to be affected by the programme, the researchers said.
In airspace management, a key part is to divide the space into air blocks - areas similar to lanes on a road - within which drones can be programmed to fly.
The researchers will also explore the feasibility of designated landing or take-off areas, and how existing infrastructure like roofs of high-rise buildings can be used as emergency landing sites to minimise the risk of injuring people.
One concept being tested is geofencing, in which virtual fences are set up around restricted areas so drones cannot fly over them.
Another is collision detection, which will help drones detect and avoid nearby drones.
Also being tested is the setting up of control stations across the island to track the number of drones in the air, their traffic flow, speed and how far apart they are from one another.
The study comes at a time when drone use is increasing among both hobbyists and commercial entities.
The CAAS, which regulates the commercial use of drones, has received more than 1,300 applications for operator and activity permits since June last year, when a revamped regulatory framework took effect.
It has also received about 1,000 activity permit applications, it said.
Of these, 87 per cent are for aerial photography, videography, surveillance or inspection.
lesterh@sph.com.sg

This article was first published on December 29, 2016.
Get a copy of The Straits Times or go to straitstimes.com for more stories.