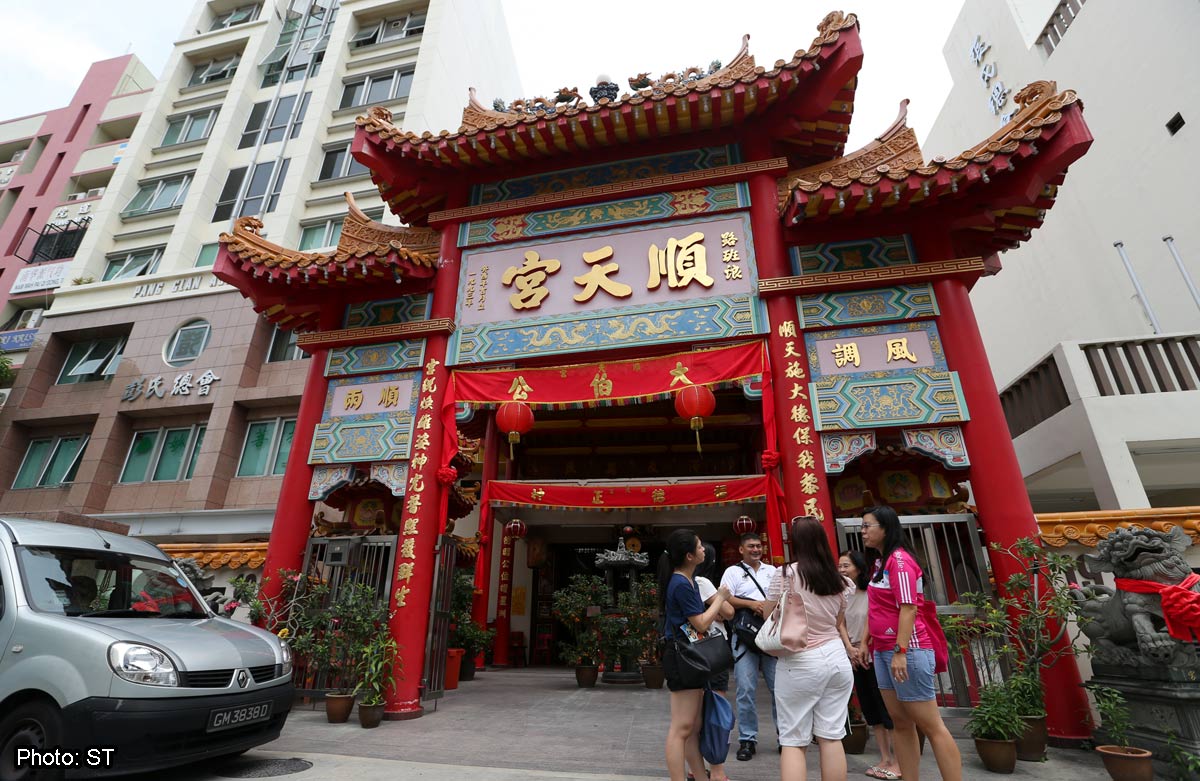 SINGAPORE - Madam Kelly Chong, 42, has lived in Geylang Serai for more than 10 years, but yesterday was the first time she got a glimpse of its history.
The head of regional sales in a German company was one of 40 people who went on a 21/2- hour walking trail of landmarks in the area, including places of worship such as the Soon Thian Keing Temple.
They also visited the pre-war shophouses at Lorong 24A Geylang, now home to businesses such as a dance studio and cafe, and Chinese clan associations.
The trail was developed by the Geylang Serai grassroots organisations, the Integration and Naturalisation Champions (INC) - which helps to welcome new immigrants here - and the National Heritage Board. It was launched yesterday at Khadijah Mosque by Dr Fatimah Lateef, an MP for Marine Parade GRC, as part of the Singapore HeritageFest.
Mr Lee Hong Ping, organising chairman of the INC committee, said this is the first time that a trail has been created for Geylang Serai. "Most people think of the area for its food and shophouses, but there's much more," he said. More than 120 buildings in the area house religious groups, volunteer welfare organisations and clan associations, he said.
"We're trying to introduce to people what goes on inside these places," he added.
The trail features 13 heritage spots such as the former Geylang Fire Station, which opened in 1929, and the former Queen's Theatre, a cinema which closed in 1982.
It also showcases 10 famous food places, such as durian stalls at Lorong 36 Geylang and stalls selling wonton mee and putu piring (steamed flour cakes with coconut filling) at the Haig Road Cooked Food Centre.
The public can take part in guided tours conducted once a month by volunteer guides.
Madam Chong, a Hakka, found the visit to the Char Yong Association, a Hakka clan association, most memorable. "I know a bit about Hakka culture from my parents, but not much. So it was quite insightful to hear about the traditional Hakka trades in Singapore's early days, such as pawnbroking," she said.
ateng@sph.com.sg

This article was first published on April 26, 2015.
Get a copy of The Straits Times or go to straitstimes.com for more stories.