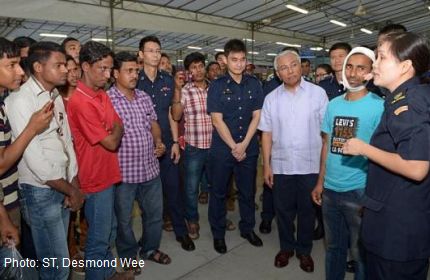 SINGAPORE - A transient worker engagement initiative was launched on Sunday to engage transient workers on a broad range of issues ranging from crime prevention, cultural understanding, and safe and harmonious living.
The "Project Transient Workers Outreach", spearheaded by the Central Police Division and with stakeholders such as the Singapore Police Force, Central Narcotics Bureau, Singapore Civil Defence Force), National Crime Prevention Council (NCPC), National Council on Problem Gambling (NCPG) as well as transient worker dormitories.
The event was held at the open field beside Burmah Road. Senior Parliamentary Secretary, Ministry of Manpower & Ministry of Education, Mr Hawazi Daipi graced the event as the Guest-of-Honour.
The outreach will be done via a series of roadshows at transient worker congregation nodes and dormitories where these workers will be educated on a broad series of issues such as local laws, social ills and anti-social behaviours to avoid.
To sustain and enhance the outreach, a foreign workers' ambassador programme will be also be implemented.
Under this programme, workers will be appointed as "Home Team Southern Sector Foreign Workers Ambassadors" and will help to spread important knowledge and messages disseminated through Project Transient Workers Outreach to their colleagues in the dormitories or at social gatherings on their off days.