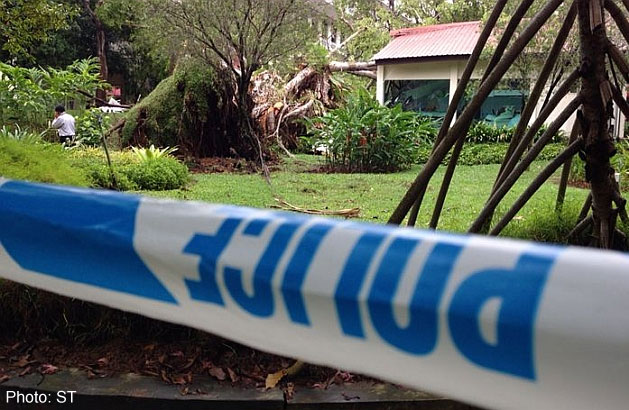 A tree, about 3m in diameter and 15m in height, is believed to have uprooted after a storm earlier in the day and then collapsed on a pre-war building causing part of it to cave in. The accident happened on Thursday afternoon on the grounds of Alexandra Hospital.

Get the full story from The Straits Times.
In a statement, the SCDF said:
At 2.49pm, SCDF was alerted to a rescue incident at 378, Alexandra Road. The above-mentioned resources were dispatched to the incident site.
Upon SCDF's arrival, a single-storey building (approx. 20m by 10m) fitted with a zinc roof had collapsed after a tree, approximately 15m in height and 3m in diameter, fell onto it. As a result two casualties were trapped under the rubble.
SCDF firefighters together with DART rescuers immediately commenced rescue operations after stabilising the fallen tree and the building structure.
The search and rescue operation had to be conducted cautiously by delicately creating space within the collapsed structure using hydraulic cutting and lifting equipment.
The first casualty was rescued in about 40mins while the second casualty, who was pinned under the concrete debris was extricated about 45mins later.
SCDF paramedic as well as a medical team from Alexandra Hospital were at the location to render medical assistance to both casualties.
The casualties were sent to the Alexandra Hospital by SCDF ambulance.
The whole search and rescue operation took about 90mins.