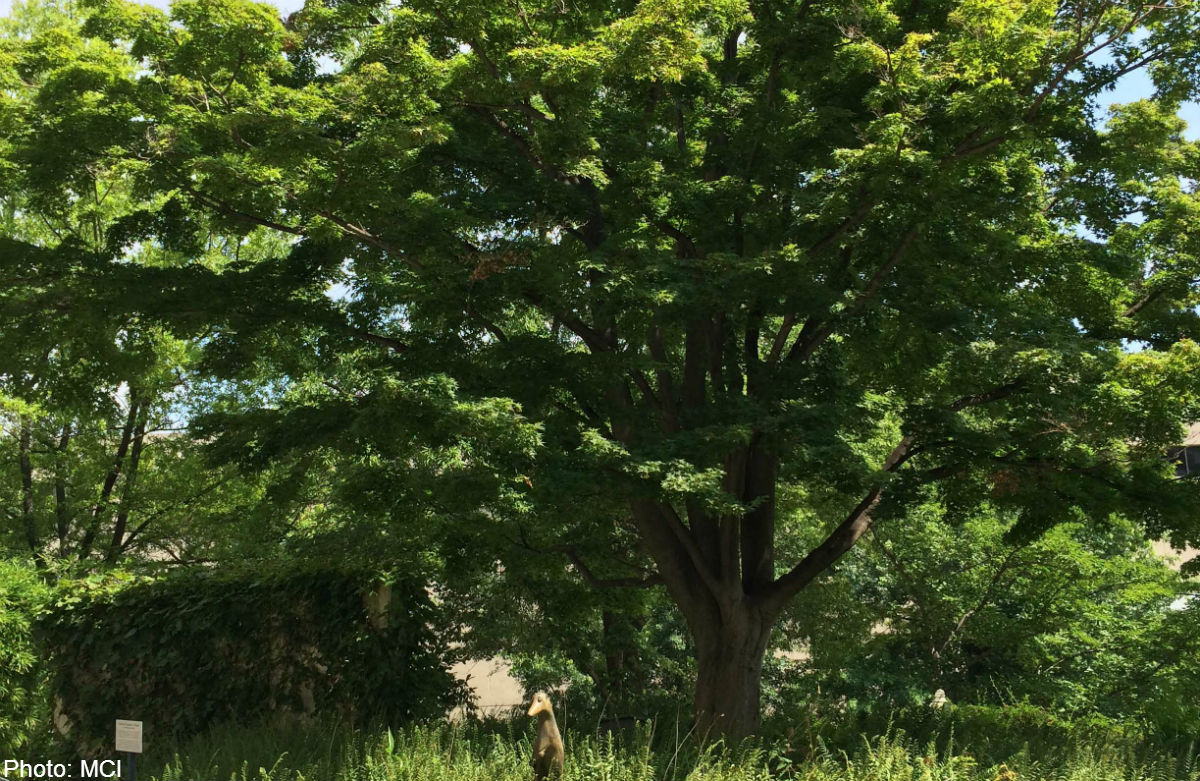 SINGAPORE - During his speech at the 90th birthday celebration of former president S.R. Nathan on July 3, Prime Minister Lee Hsien Loong sprang a pleasant surprise.
He had a slide flashed on the giant screen which showed a lush green tree. The photograph of the tree was taken by Mr Lee during his recent visit to Washington.
What was special about the tree was that it was planted by Mr Nathan as a sapling when he served as Singapore's ambassador to the United States from 1990 to 1996. During that time, the embassy had moved into a new chancery building and the tree was one of those hand-picked by Mr Nathan.
PM Lee said he had made several visits to Washington but it was only now that he could visit the chancery.
Said the PM: "When he (Mr Nathan) was Ambassador in Washington, our embassy moved into a new chancery building. He went to a nursery in Connecticut and chose specially a beautiful antique tree, Littleleaf Japanese Maple, to plant in the embassy garden.
"When I visited Washington last week, I went to the embassy for the first time after all these years of being in Washington and I saw the tree. I took this picture of the tree to share with Mr Nathan and with all of you tonight. The picture is not very good but the tree is beautiful. I am sure Mr Nathan will be happy to see that it is lush and thriving as are the many other trees that he planted in the organisations he led and the people he touched."
PM Lee also used the image of Mr Nathan as a tree planter to highlight his role in nation-building.
Added the PM: "To me, Mr Nathan's most important role was as a tree planter. Wherever he went, he nurtured young seedlings into mature trees. He built up young sometimes nascent organisations into mature institutions - in the NTUC, in SID, in MFA, in the elected presidency. He mentored young promising officers and helped them to fulfil their potential and I count myself a beneficiary. He helped Singapore to build and to grow into a modern, prosperous and stable nation."
The birthday celebration was a grand affair at the Shangri-La Hotel, with more than 700 guests. In addition to friends and family, people from all walks of life, including students, shared the joyous occasion with Singapore's senior leaders. They included President Tony Tan Keng Yam, Emeritus Senior Minister Goh Chok Tong and Deputy Prime Ministers Teo Chee Hean and Tharman Shanmugaratnam.
In his address, Mr Nathan recalled his many friendships in his long and fulfilling life.
He said the people who made a difference to his life included former prime minister Lee Kuan Yew as well as the late deputy prime minister Goh Keng Swee, senior minister S. Rajaratnam and former president Devan Nair.
"I count among my greatest privileges the opportunity I had to work among our founding leaders at various stages of our young nation's history," he said.
In her welcome address, member of the birthday celebration's organising committee Jennie Chua read out a birthday greeting from former US president Bill Clinton. She said that his was one of the many greetings that Mr Nathan had received.
Ambassador-at-large at the Ministry of Foreign Affairs Gopinath Pillai paid tribute to Mr Nathan in his speech.
Said Mr Pillai: "In the many years I've known Mr Nathan, the quality that I find most striking is his ability to relate to people. He thrives on meeting people, shaking hands and taking photographs. He will dive into a crowd and Mr Nathan will know the names of the uncles or cousins or brothers of every Ah Tan or Ahmad or Arokiasamy."
During the celebrations, Mr Nathan was presented with a book of 90 photographs titled SR @ 90. The book was produced by Tamil Murasu and sponsored by Mr Mohamed Abdul Jaleel, a noted philanthropist and founder of the MES Group.
As the party neared its end, Ambassador to Turkey and Tamil Murasu chairman S. Chandra Das said in a video tribute: "I'd like to assure Mr Nathan that we will be here to organise his 95th birthday."

Get a copy of tabla! for more stories.