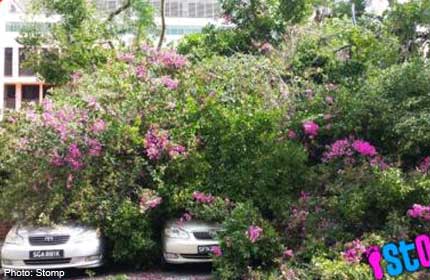 A couple of trees collapsed at Toa Payoh Central today (September 12) and left seven cars buried under the foliage.
STOMP contributors Ridjal and Keira, who were both present at the scene of the incident, said nobody was injured.
STOMP contributor Ridjal said:
"I saw a giant bunch of trees that had collapsed in the car park behind HDB Hub at around 4pm today.
"This is really 'jia lat'. I think this incident is not covered under basic insurance."
STOMP contributor Keira also reported the incident to STOMP and said that she was alerted to the incident when she heard a loud sound outside her office.
In her email to STOMP, she wrote:
"A huge tree suddenly fell onto seven cars parked at a carpark at Toa Payoh.
"One of the cars is a Mercedes Benz.
"A few residents were just metres away from the area, but fortunately, they were not injured.
"Police then came and secured the area."

Visit STOMP for more stories.