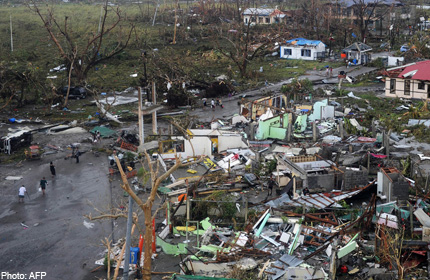 There are Singaporeans in the Philippines who have been uncontactable since Typhoon Haiyan hit the country on Friday.
The Ministry of Foreign Affairs confirmed late on Sunday night that it "is in contact with the family members of Singaporeans who are uncontactable after the typhoon in Tacloban".
Three Singaporeans in Tacloban City have been uncontactable,
Channel News- Asia reported, naming them as Eileen Heng, Alyssa Chee and Vanessa Chong, all 23.
The final-year students at Flinders University in Australia were reportedly staying with host families and working as volunteer dieticians.
The last time their parents heard from them was early on Friday morning, before communication lines were knocked out, CNA said.
Said the ministry: "Our embassy in Manila is working with the Philippines authorities to ascertain their safety."
Haiyan, one of the most powerful storms ever recorded, killed at least 10,000 people in the central Philippines, a senior police official said on Sunday.
Huge waves swept away coastal villages and devastated Tacloban.
Haiyan destroyed 70 to 80 per cent of structures in its path as it tore through Leyte province, said police chief superintendent Elmer Soria.
The Singapore Red Cross is sending emergency relief supplies worth $100,000 to the Philippines.
A team of volunteers will leave for the region in the next few days to help with the distribution of relief items.
The Singapore Government will donate $50,000 through the Red Cross to support the relief efforts.
Prime Minister Lee Hsien Loong has written a letter to Philippine President Benigno S. Aquino to convey his condolences.
The US, Australia and the European Commission have also pledged aid.
The World Food Programme said it was airlifting 40 tonnes of high-energy biscuits, as well as emergency supplies and communications equipment.
In Vietnam, six people were killed and dozens wounded as Haiyan approached the coast, state media reported, even though the storm had weakened considerably since moving on from the Philippines.
The Vietnamese authorities have moved 883,000 people in 11 central provinces to safe zones.

Get The New Paper for more stories.