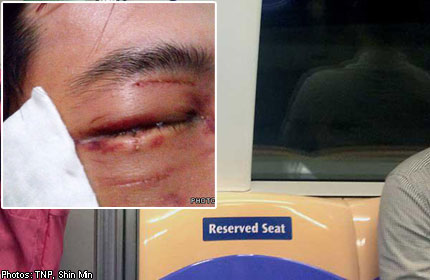 SINGAPORE - A male train commuter was punched by a man in his 60s -- after both of them got into a dispute apparently over a seat on the MRT.
According to a Shin Min Daily report, the 35-year-old commuter's mother, Mdm Seow, told reporters her son was seated in a train headed towards Novena at around 4pm on Jul 9 when the older man -- who was seated along the same row of seats -- calling out the former to give up his seat to a woman on the train.
After the commuter gave up his seat, he did not understand why the 'uncle' - who was unhappy - asked him to get off the train at Novena station, added Mdm Seow.
"My son said that when he got out of the train cabin, the man swung his fist at his face two or three times, hitting him on the nose and his right eye."
When the police arrived at the scene after a report was lodged, the older man apparently told the authorities that the commuter was not happy at being asked to give up his seat and kept staring at him, before he followed him out of the train.
Thinking that the commuter was going to hit him, he decided to act first in self-defence.
On the other hand, Mdm Seow was unhappy that the older man had demanded her son give up his seat.
"My son may be young, but young people can also feel tired after work and, thus, need to get a seat to rest.
A spokesperson for the police said in response to a media query that investigations are currently ongoing.