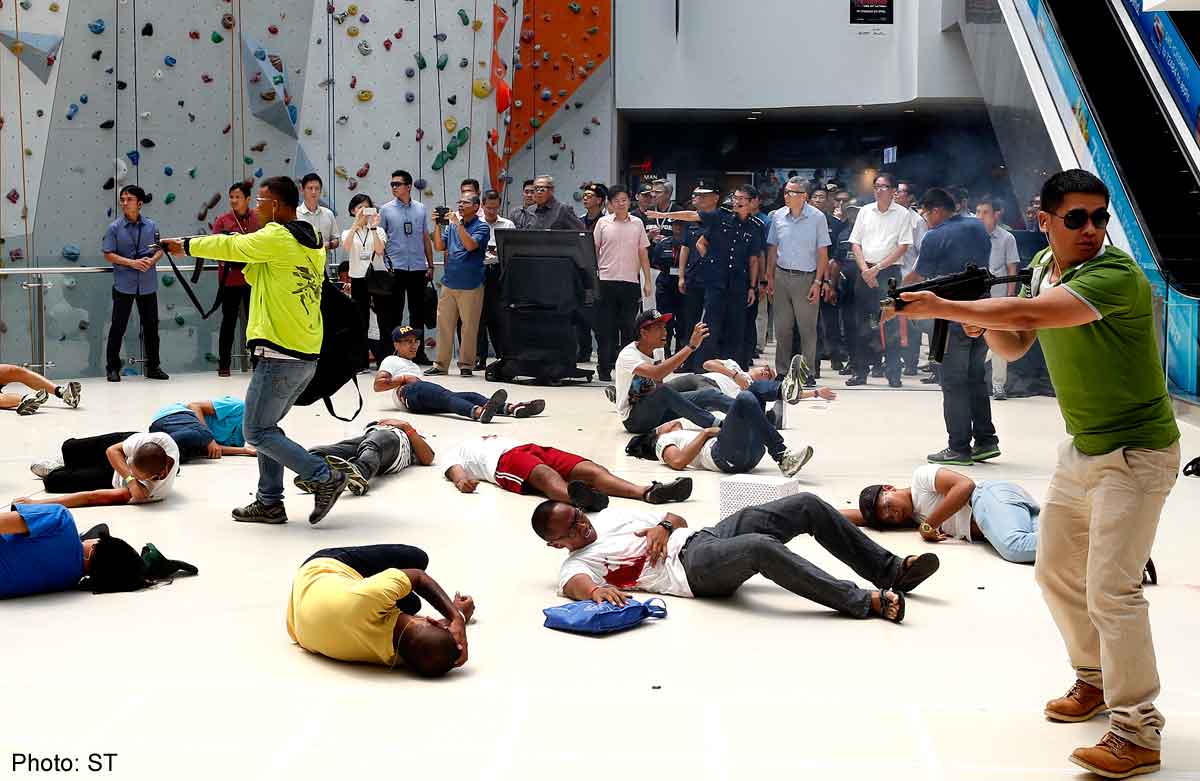 The drama began at 1pm yesterday, with two cars exploding outside the Singapore Sports Hub, before a chemical agent was released inside the stadium.
As flames were being put out at the carpark and the sporting event crowd was evacuated from the stadium, a suspicious package was found with a bomb inside.
Those who fled for safety to the nearby Kallang Wave Mall found themselves facing four gunmen disguised as shoppers firing indiscriminately into the crowds.
Complete with flames, smoke, fake blood and even a a remote-operated robot to defuse the bomb, the ninth edition of Exercise Northstar - which involved nearly 2,000 people - was a two-hour spectacle in itself.
But it was also one that was necessary to ensure that Singapore remains prepared for any such eventuality, said Prime Minister Lee Hsien Loong.
"I think it has worked well. And I am also very happy to see a lot of volunteers participating. They are a part of the crowd simulation, or pretending to be casualties, but they are learning something as well," Mr Lee said. "I think many of these volunteers actually will be participating in the SEA Games, either as competitors or in the opening ceremony, and I think we're inoculating ourselves just in case anything happens."
He, along with Deputy Prime Minister Teo Chee Hean, Defence Minister Ng Eng Hen and other members of the Cabinet, observed how 600 officers from seven key national agencies - including the Singapore Civil Defence Force (SCDF), the Singapore Police Force and the Singapore Armed Forces - reacted to the mock attacks.
It was also the first time that volunteers had been involved in the exercise, which was introduced in 1997 to test the Government's response to major emergencies.
SCDF's Lieutenant-Colonel Alan Toh, the ground commander for the exercise, said it was a good opportunity to stretch the various agencies and have them working together.
Retirees Francis Ng and his wife Catherine Loh, both 75, were the oldest among the 1,300 volunteers.
They took part on the invitation of their 40-year-old son Ian - a community management officer with the SCDF.
"It was a good experience," said the senior Mr Ng. "We should have more exercises that Singaporeans can participate in."
kxinghui@sph.com.sg

Get a copy of The Straits Times or go to straitstimes.com for more stories.